All-in-One Citrus Starter Kit
Citrus x meyeri; Citrus aurantifolia; Citrus mitis
---
* Images shown are of mature plants
---
Product Details
| | |
| --- | --- |
| Mature Height: | 5-10 ft. unpruned |
| Mature Width: | 3-4 ft. |
| Sunlight: | Full Sun |
| Spacing: | 8-10 ft. |
| Growth Rate: | Moderate-Fast |
| Drought Tolerance: | Good |
| Harvest Time: | February-March |
| Year to Bear: | Can Fruit the 1st year! |
| Botanical Name: | Citrus x meyeri; Citrus aurantifolia; Citrus mitis |
| Does Not Ship To: | AZ, CA, FL, GA, LA, TX |
| Grows Well In Zones: | 4-11 patio / 8-11 outdoors |
| You are in Growing Zone: | # |
Growing Zones: 4-11 patio / 8-11 outdoors
(hardy down to 20℉)
Product Description
Three Citrus Favorites in One Easy Pack!

Now, you can get three of your favorite citrus fruits in one convenient package: the Meyer Lemon, Key Lime, and the luscious Calamondin Orange Bush!
Our All-in-One Citrus Kit comes with a 1-gallon Meyer Lemon Bush, a 1-gallon Key Lime Bush, and a 1-gallon Calamondin Bush. These citrus stars are perfect for a backyard orchard in warmer climates - or as house or patio plants in areas with cooler temperatures.
No matter where you plant them, you'll enjoy the sweet tangy fruit of the Meyer Lemon, the bright, tart Key Lime, and the fragrant and rich Calamondin - a cross between a mandarin and a kumquat! These fruits are perfect for juicing, baking, savory dishes and more.
With this pack, you'll get the promise of delicious citrus fruit at home - along with glossy, evergreen foliage and sweet-smelling citrus blooms. Plus, a compact bush size means they're easy to plant in nearly any sunny spot. 
And although all of these citrus bushes are self-pollinating, you'll get triple the pollinator power with this pack, for a greater fruit harvest!
The best part? We're here to help make sure your new citrus trees stay happy and healthy. Add on a Citrus Tree Care Kit to make sure your Meyer Lemon, Key Lime, and Calamondin Orange bushes thrive, with citrus fertilizer, micronutrients, natural insecticide and more, in one easy pack.
Don't wait - these All-in-One Citrus Kits will sell out fast. Get yours today!

Fresh Squeezed Citrus Juice
What better way to enjoy your citrus than by drinking it, fresh squeezed? Create a citrus cooler by juicing your oranges, lemons and limes into a pitcher and adding water and sugar, to taste. For extra garnish, you can even add some citrus slices to the top of your mixture for presentation purposes. You'll be sipping on this thirst-quenching, tantalizing treat all day long!   
Pollination Info
All-in-One Citrus Starter Kit Pollination
All-in-One Citrus Starter Kits are self-fertile. You will get fruit with only one plant. However, adding an additional All-in-One Citrus Starter Kit will drastically increase the size of your crop.
Planting & Care
1. Planting: The Meyer Lemon, Key Lime and Calamondin will all grow best when planted in a warm, sunny spot with well-draining soil. Six hours (or more) of direct sun is best.
If you're planting in containers, select pots that are 1 to 2 pot sizes larger than your shipped containers (one for each plant). Fill the bottom of your pot with a 2-inch layer of crushed stone to improve drainage. Center your tree, fill with soil, water well, and place near a south-facing window.
Note: The leaves of the Meyer Lemon can be toxic to pets.
2. Watering: Allow the soil to dry down to 2 inches between waterings.
While the roots prefer to stay on the dry side, citrus leaves love humidity. Indoor citrus trees will do best if misted daily, especially when you are running your heat during cooler months. You can also use a humidifier or fill your pot's saucer with rocks and add water - place your plant on the rocks, ensuring the bottom of the pot is above the waterline.
3. Pollination: The Meyer Lemon, Key Lime and Calamondin are self-fertile, so you'll get fruit with just one plant. You'll get a greater fruit yield the more bushes you plant. Our three-in-one Citrus Pack provides triple the pollination power!
4. Fertilizing: Fertilize regularly with a high-nitrogen blend (like you'll find in our Citrus Tree Care Kit) each month between April and September.
FGT Tip: Yellowing leaves may indicate the need for more fertilizer.
5. Pruning: Prune as needed to maintain your bushes' shape. Clip off any branches that are too long. Remove branches growing toward the trunk of the bush instead of away from it. This will maintain airflow between the branches.
Shipping Details
Shipping Alert:
You can still order, but due to cold weather, we have delayed shipping to the areas shaded on the map below. We want your new plant to thrive right out of the box, so we will wait on shipping your order until the weather is ideal. This includes anyone in Growing Zones 3, 4, 5, & 6. If you are unsure of your growing zone, visit our Growing Zone Finder.

Some plants are not available for immediate shipment, and delayed delivery is noted.

We will resume normal shipping in the Spring. Please see the table below for your approximate ship date.
| | | |
| --- | --- | --- |
| | Growing Zone | Shipping Resumes |
| | Zones 3 & 4 | Week of May 2nd |
| | Zone 5 | Week of April 11th |
| | Zone 6 | Week of March 28th |
| | Zones 7 - 11 | Ships Now! |
Estimated Shipping Time: Most orders ship immediately. As noted on the website, some items are seasonal, and may only ship in spring or fall. Once your order is shipped, you'll receive an email with a tracking number.
| Amount of Order | Shipping Charge |
| --- | --- |
| Less than $15 | $11.95 |
| $15.00-$23.99 | $13.95 |
| $24.00-$39.99 | $16.95 |
| $40.00-$78.99 | $19.95 |
| $79.00-$98.99 | $24.95 |
| $99.00-$128.99 | $29.95 |
| $129.00-$148.99 | $39.95 |
| $149 + | FREE SHIPPING! |
Compare Similar Products
Rating
Mature Height
Mature Width
Growth Rate
Sunlight
All-in-One Citrus Starter Kit
5-10 ft. unpruned
3-4 ft.
Moderate-Fast
Full Sun
Meyer Lemon Tree
8 ft. pruned
3-4 ft.
Moderate
Partial to Full-Sun (Indoors near a bright window is fine)
Pink Variegated Eureka Lemon Tree
10-15 ft. pruned
6-8 ft.
Moderate
Full-Partial
Calamondin Tree
8 ft. pruned
5 ft.
Moderate
Full-Partial
Key Lime Tree
8 ft. pruned
6-8 ft.
Moderate
Full-Partial
Limequat Citrus Tree
6-7 ft.
2-3 ft.
Moderate
Full-Partial
Customer

Reviews

& Photos

Customer Reviews

Write a Review

Ask a Question

Filter Reviews:
trees
condition
purchase
Trio of Citrus
Key Lime Tree
Planning
calamondin
route
Spring
boxes
11/03/2021
Anonymous

United States
10/13/2021
Julia

United States
I recommend this product
Citrus Trio delight
Received the Trio of Citrus in carefully packed boxes. I have since repotted and am happy in how the trees are doing. The calamondin came with several fruits. All three threes are verdant and sturdy. Currently indoors with supplemental light Planning on bringing outdoors in the Spring. Meantime, happily enjoying the fragrance from the blossoms. Looking forward when the Meyer Lemon and Key Lime tree follow the Calamondin in blooming. Happy with the purchase.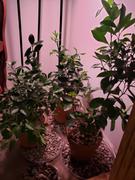 09/29/2021
Tamika S.

United States
I recommend this product
Always satisfied
My three beauties arrived and are doing well!!! The package for one of the plants was a bit of a mess, however I think it was the result of how it was handled during shipping. Every item I purchase has made me smile. You have a costumer for life. I even referred a few friends.