Product Details
Growing Zones: 4-11 patio / 9-11 outdoors
(hardy down to 30℉)
4-11 patio
/
9-11 outdoors
Mature Height:

6 ft.

Mature Width:

3 ft.

Sunlight:

Full-Partial

Growth Rate:

Moderate

Botanical Name:

Coffee arabica

Does Not Ship To:

AZ
Product Description
Harvest Home-Grown Coffee
Why Arabica Coffee Plants?
Grow your own coffee with ease...no matter where you live! Just walk over and harvest your beans when they ripen from your Arabica Coffee Plant. Dry your savory, Arabica coffee beans in your oven or roaster. Once they have completely cooled, they are ready to grind and make into a delicious brew.
It offers year-round growth. This will become your favorite houseplant. It produces colorful cherries against a background of glossy dark green foliage. They go from green to yellow, to orange, then finally to deep red. Each cherry will produce two coffee beans each. And you'll get hundreds of these cherries each

And it's no-fuss. This evergreen plant requires minimum maintenance and is trouble-free. Keep it in a pot indoors or out. If you live where it's colder, just place in a room with windows during the winter or grow indoors all year round.
Plus, the Arabica's caffeine production has another huge benefit: Resisting pests, diseases, and temperature extremes. The caffeine actually acts as a shield against these tough conditions!
Why Fast-Growing-Trees.com is Better
When you order from our nursery, you receive a well-rooted, more mature Coffee Plant that quickly establishes in your home. With proper care, you even could start picking beans after the first season.
Our bigger Coffee Plants sell out fast...especially since they're so hard to find anywhere else. We recommend that you order now, while they are still available!
Pollination Info
Arabica Coffee Plant Pollination
Arabica Coffee Plants are self-fertile. You will get fruit with only one plant. However, adding an additional Arabica Coffee Plant will drastically increase the size of your crop.
Customer

Reviews

& Photos

Customer Reviews

Write a Review

Ask a Question

Filter Reviews:
tree
leaves
plant
care
plants
green
damage
picture
coffee
beans
03/25/2020
John. P Haggerty
United States
I recommend this product
Coffee Plant
They came in a few days looking good and they are still doing good.
03/24/2020
Anonymous
United States
I recommend this product
Gifts
Ordered and Gave the plant as a gift
01/07/2020
Patrick B.
United States
I recommend this product
FGT has not disappointed
Very well shipped and secured! I was concerned due to cold weather and the holiday time that these plants may get treated to well via carrier service. However, FGT did a great job to ensure the plants were well packaged and protected from the elements! This is my third order in the last six months, thank you for caring!
12/14/2019
Sunil K.
United States
Good height plant
A very good height plant and looks great indoor deco. Taller than I thought it will be. Thank You
12/13/2019
Jessica T.
United States
Larger than expected!
I wasn't too sure how grown these would be but I was surprised to find them quite large! I got 4 total and one looks the best and the others look like maybe they had some shipping damage or possible weather damage due to shipping to zone 5b but they all look very healthy and everything I have purchased from Fast Growing Trees always is top notch quality! This picture shows right when I opened them. Now they are permanently residing in the heated greenhouse. Can't wait for some flowers and then finally coffee!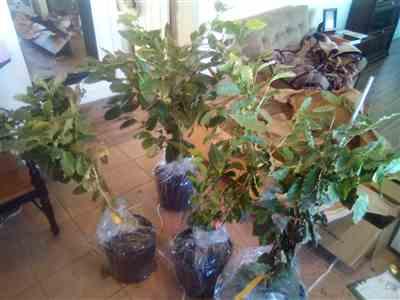 Planting & Care
1. Planting: Arabica coffee plants are self-pollinating, but will give you a better harvest with an additional plant nearby. For the best results use well-draining soil and choose a location with filtered sunlight for your plant. An east-facing window is ideal.
Select a pot that's about twice the size of your plant's shipped container, use organic soil, and place your plant in its pot. Keep the humidity up around the coffee plant by setting it on a water-filled pebble tray in its early stages. A light misting with a water bottle in the evenings is great for a more mature plant.
2. Watering: Water once weekly with warm water until it comes out of the bottom of your pot. If you're not sure when to water, simply check the surrounding soil about 2 inches down.
FGT Tip: If the leaves curl upwards, or seem crispy and dry, this can be a sign of under-watering. Drooping leaves that appear too heavy for the plant to hold up that turn a shade of dark brown or black indicate overwatering.
3. Fertilizing: Potted plants need to be fertilized every two weeks during the growing season with a low concentration of fertilizer. The best results come from using a formula like 10-10-10 or an orchid fertilizer.
4. Pruning: Remove any low-growing branches or leaves near the base with a sterilized cutting tool.
5. Harvesting: The cherries of your Arabica coffee plant take roughly nine months to fully ripen. The best way to harvest is by selective picking, where you select the best, ripest cherries for harvesting by hand. Coffee cherries don't mature all at the same time so it's necessary to pick them over the course of several days to remove your ripened cherries. The cherries are considered ripe when their skin fully turns red.
Squeeze the cherries in order to get the seeds or coffee beans out.
Shipping Details
Most items ship the next business day unless otherwise noted
Estimated Shipping Time: Most orders ship immediately, however we are currently experiencing delays and could take up to 4-7 days from date of purchase. As noted on the website, some items are seasonal, and may only ship in spring or fall. Once your order is shipped, you'll receive an email with a tracking number.
| Amount of Order | Shipping Charge |
| --- | --- |
| Less than $15 | $11.95 |
| $15.00-$23.99 | $13.95 |
| $24.00-$39.99 | $16.95 |
| $40.00-$79.99 | $19.95 |
| $80.00-$98.99 | $24.95 |
| $99.00-$118.99 | $29.95 |
| $119.00- $148.99 | $34.95 |
| $149+ | FREE SHIPPING! |
Shipping Alert:
You can still order, but due to cold weather, we have delayed shipping to the areas shaded on the map below. We want your new plant to thrive right out of the box, so we will wait on shipping your order until the weather is ideal. This includes anyone in Growing Zones 3 & 4. If you are unsure of your growing zone, visit our Growing Zone Finder.

Some plants are not available for immediate shipment, and delayed delivery is noted.

We will resume normal shipping in the Spring. Please see the table below for your approximate ship date.
| | | |
| --- | --- | --- |
| | Growing Zone | Shipping Resumes |
| | Zones 3 & 4 | Week of May 4th |
| | Zones 5 - 11 | Ships Now! |