Product Details
Growing Zones: 4-11 patio / 8-11 outdoors
(hardy down to 20℉)
This plant is perfect for your area!
4-11 patio
/
8-11 outdoors
Mature Height:

15-20 ft.

Mature Width:

5-8 ft.

Sunlight:

Full-Partial

Growth Rate:

Fast

Harvest Time:

September-November

Year to Bear:

Can Fruit the 1st Year!

Botanical Name:

Persea americana

Does Not Ship To:

AZ
Product Description
The Go-To Avocado Tree for Cold Climates
Why Cold Hardy Avocado Trees?
Home-grown avocados, no matter where you live. With the Cold Hardy Avocado Tree, it's possible. This strong tree withstands frigid temperatures as low as 20 degrees, living up to its name.
Simply plant your Avocado Tree in a container and bring it inside during the winter months - it will continue to grow. You'll get an abundant yield of fruit, year after year, and even faster than you would with seed-grown varieties. Basically, the Cold Hardy Avocado's fast growth means you're going to enjoy your avocados in at least three years instead of the 10 years or more it takes to grow fruit from seedlings.
Why Fast-Growing-Tree.com is Better
-Our Cold Hardy Avocado Tree is a proven performer.
-We've hand-picked the best, healthiest varieties to ship to your door.
-Because they've been grafted (with rootstock combined from a hardy, disease-resistant tree, and a mature tree) and grown in our greenhouse with care, they're happy and healthy from day one to your door.
-With our largest Cold Hardy Avocado Trees, you may get fruit as soon as the first year...perfect for those who want to harvest their home-grown avocados as soon as possible!
Superior flavor from a superfood. Is there anything better? The texture and taste of store-bought simply can't compare. Whether you're making homemade guacamole or the ever-popular avocado toast, the bold flavor is amazing. And the second-to-none taste isn't the only benefit you'll reap because they're loaded with vitamins A, B6, C, E.
So, the Cold Hardy Avocado Tree is one of the most versatile trees on the market. For a larger tree, plant it outdoors and watch it soar to heights of 15 to 20 feet. Or, for a shorter tree, plant in a container and you can limit growth to between 5 and 7 feet in height. Many growers find this method optimal for moving the tree between indoors and out.
Our larger sizes commonly bear fruit their very first year. And your tree will be more forgiving and easier to grow indoors or out. But demand from new orchards and home growers has put this tree in short supply. We recommend that you order yours today while larger sizes are still available!
Pollination Info
Cold Hardy Avocado Tree Pollination
Cold Hardy Avocado Trees are self-fertile. You will get fruit with only one plant. However, adding an additional pollinator will drastically increase the size of your crop. Below are the most effective pollinators we have chosen for your area...
Customer

Reviews

& Photos

Customer Reviews

Write a Review

Ask a Question

Filter Reviews:
tree
leaves
condition
plant
trees
growth
fruit
shape
avocados
02/15/2020
Jose R.
United States
I recommend this product
Avocado
The tree came in good health, with many blossoms and leaf's.
02/06/2020
Francis B.
United States
I recommend this product
Cold Hardy Avocado.
The "Fast Growing Tree" website is easy to navigate and the sub-pages load very quickly. My wife originated the order of this tree as a Christmas gift. The tree arrived within just a few days. It was contained in a sturdy box with and inner support system to prevent the tree from moving around and becoming damaged during transit. My tree arrived in really good shape with no damage to the branches or leader. It was already potted. However, I immediately up-sized the pot. This to allow growth indoors before subjecting it to the colder weather that occasionally moves through central Texas during the winter months. The tree has flourished and is doing very well near a south facing window in our home. My only disappointment was with the pruning. My tree should have been "professionally" pruned before shipment. I'm now faced with this task. One that I dislike as the pruning can't be undone should I make a mistake. I'm including a photo taken today. Showing how this tree is doing after two months.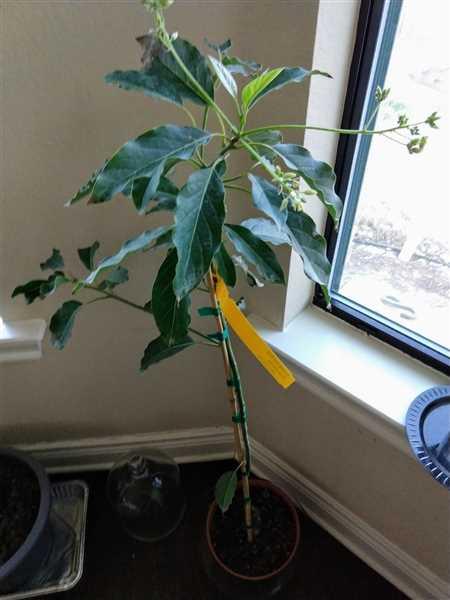 02/06/2020
Harleen J.
United States
I recommend this product
Cold and hardy avocado
It is doing good. Plant came with lot of leaves and is growing good.
01/25/2020
Beth L.
United States
I recommend this product
Avacado Tree
Both avacado trees arrived carefully packed, and in great shape. I have never been disappointed by anything I have ordered. Highly recommend!
01/22/2020
Charles J.
United States
I recommend this product
First Blossoms
FGT provided my Cold Hardy Avocado about one year ago. It was the 4' - 5' size, as I recall. It arrived safely, well packed, and seemed to thrive during the summer, outdoors, in a pot because this is Zone 5B. Now, I am excited to discover two bunches of blossoms on it, in our sun porch.. It may be too young to hold the fruit, but we'll see! I highly recommend this item, from FGT.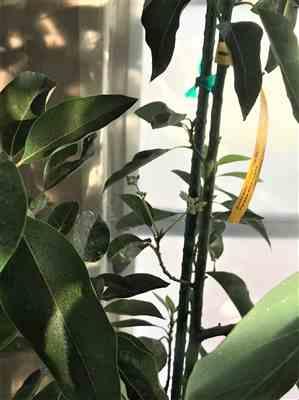 Planting & Care
1. Planting: The Cold Hardy Avocado is specially adapted to our cooler climates. They will grow in partial shade but prefer full sun when possible. And the skin of the fruit is paper-thin, and purple-black in color - they have high-quality flesh with a large amount of oil and are hardy to about 20-degrees once established.
Water the tree well before planting, then dig a hole larger than the pot you purchased it in and 1 to 2 inches deeper. Remove the tree from the pot and separate the roots, careful to avoid breakage. Water the tree and fill in the dirt as you water. Cover the new soil with mulch to retain moisture and keep weeds away.
2. Watering: Cold Hardy Avocado Trees may not need to be watered during the winter season or rainy months, but watch for extended mid-winter dry spells. Watch soil moisture carefully at the end of the irrigating season. Make sure the soil has dried out before winter arrives.
3. Fertilizing: Commence feeding young trees after one year of growth by using a balanced fertilizer four times yearly. Unusual temperature changes can cause plants to drop leaves. Leaf drop is natural and the plant will typically replace its foliage during its natural growing season.
4. Pruning: Cold Hardy Avocados need little to no training. You may wish to trim the tree's skirts to deter small critters, but other than that, this tree is never pruned.
5. Pollination: Avocado Trees are self-fertile, so you don't have to have another Avocado Tree around for it to bear fruit. If it blooms indoors, you might want to shake it a bit to spread the pollen, since you will have no bees or wind to do it for you. However, as with all fruit trees, your Avocados will each produce more fruit with two trees.
Shipping Details
Most items ship the next business day unless otherwise noted
Estimated Shipping Time: Most orders ship immediately, however some orders may ship in 1-2 business days (we do not ship on the weekends) from date of purchase. As noted on the website, some items are seasonal, and may only ship in spring or fall. Once your order is shipped, you'll receive an email with a tracking number.
| Amount of Order | Shipping Charge |
| --- | --- |
| Less than $15 | $11.95 |
| $15.00-$23.99 | $13.95 |
| $24.00-$39.99 | $16.95 |
| $40.00-$79.99 | $19.95 |
| $80.00-$98.99 | $24.95 |
| $99.00-$118.99 | $29.95 |
| $119+ | FREE SHIPPING! |
Shipping Alert:
You can still order, but due to cold weather, we have delayed shipping to the areas shaded on the map below. We want your new plant to thrive right out of the box, so we will wait on shipping your order until the weather is ideal. This includes anyone in Growing Zones 3 - 6. If you are unsure of your growing zone, visit our Growing Zone Finder.

Some plants are not available for immediate shipment, and delayed delivery is noted.

We will resume normal shipping in the Spring. Please see the table below for your approximate ship date.
| | | |
| --- | --- | --- |
| | Growing Zone | Shipping Resumes |
| | Zones 3 & 4 | Week of May 4th |
| | Zone 5 | Week of April 13th |
| | Zone 6 | Week of March 30th |
| | Zones 7 - 11 | Ships Now! |