---
Product Details
| | |
| --- | --- |
| Mature Height: | 8 ft. pruned |
| Mature Width: | 4-6 ft. |
| Sunlight: | Full-Partial |
| Growth Rate: | Moderate |
| Harvest Time: | June-August |
| Year to Bear: | Can Fruit the 1st Year! |
| Botanical Name: | Citrus clementina |
| Does Not Ship To: | AZ, CA, FL, GA, LA, TX |
| Grows Well In Zones: | 4-11 patio / 8-11 outdoors |
| You are in Growing Zone: | # |
Growing Zones: 4-11 patio / 8-11 outdoors
(hardy down to 20℉)
Product Description
Delicious Fruit, Easy and Effortless
Why Nules Clementine Trees?
Sweet, juicy, and easy to peel, the Nules Clementine is one of our favorite fruits. And with our tree, you'll have these amazing treats right at home. And not only is their growth delectable, but this tree's fruit is virtually seedless.
Plus, it's got the easy growth to match its great-tasting fruit. Place the Nules Clementine Tree on your patio - if you live in a cold climate, simply bring it inside during the winter. It produces abundantly and organically in sun-soaked areas, indoors or out.
Why Fast-Growing-Trees.com is Better
Even better? It has pest and disease resistance in tow. Trim to your desired size and watch the delicious growth emerge. It's that easy.
And the best part is that we've planted, grown and nurtured our Nules Clementine Trees, long before shipping. That means you get a greater chance of success in your own garden.

Order your crisp, super sweet Clementine Trees today!
Pollination Info
Nules Clementine Tree Pollination
Nules Clementine Trees are self-fertile. You will get fruit with only one plant. However, adding an additional Nules Clementine Tree will drastically increase the size of your crop.
Planting & Care
1. Planting: Choose a location where your tree is going to get plenty of sunlight, 6 to 8 hours per day is best. They can tolerate some shade but thrive in full sun.
Potted plants do enjoy a daily misting for humidity but placing a tray with rocks filled with water under the plant will feed humidity to the tree as the water evaporates.
If your winter temperatures are consistently below 40 degrees, plant your tree in a container that can easily be brought outside in the summer months and inside in the winter. A planter with built-in casters is a good choice so it can easily be moved. Choose a pot slightly larger than what it was shipped in that has plenty of holes in the bottom to allow for drainage. Be sure to plant in well-draining potting soil preferably recommended for acid-loving citrus plants.
2. Watering: After watering (generally weekly), allow the top 2 to 3 inches of the soil to dry out completely before watering again. Mulching can help retain the soil moisture and also combat competing grasses/weeds.
For potted Clementines, stick your index finger into the soil down to about 2 inches. If there is moisture present, hold off on watering until it feels drier at that depth. When ready to water, stop once you see it escaping the drainage holes at the base of the pot.
3. Fertilizing: Feed your Clementine Tree during the warmer spring and summer seasons with a citrus specific fertilizer once every six weeks, like the one included in our Citrus Care Kit.
During the fall and winter season, ease back to fertilizing once every 2 to 3 months. Once the tree has matured a bit and has got a few years on it, you can skip the cold season fertilization. The same fertilizing regimen should be followed for potted Clementine Trees as well. Make sure to follow the application instructions written on the fertilizer bag.

4. Pruning: Pruning can be done at any time of the year for ground-planted clementines except in the winter. Make 45-degree angle cuts to remove dead or crossing limbs and also to thin out the tree to allow more light to flow between the branches. After the tree fruits, remove any dead wood and ventilate the center of the tree. Remove suckers as they form/grow from the base as they will steal away nutrients from the primary trunk of the tree. Pruning can be done at any time of the year for the potted Clementine.
5. Pollination: Our trees are self-fertile but you can hand pollinate for indoor plants. Simply take a small, dry, fine-tipped paintbrush and stick it into the center of the bloom. Swirl it around and collect the pollen on the brush. Go to the next bloom and repeat the process until every bloom has been treated. Do this once daily and don't wash the paintbrush until after the blooms have been pollinated. The bloom will fall off naturally and the fruit will begin to form.
Note: Clementines and Mandarins are some of the few flowering plants that don't need to be pollinated to produce fruit. But they produce a smaller crop if they aren't pollinated. And if the flowers aren't pollinated, the fruit is seedless.
Shipping Details
Shipping Alert:
You can still order, but due to cold weather, we have delayed shipping to the areas shaded on the map below. We want your new plant to thrive right out of the box, so we will wait on shipping your order until the weather is ideal. This includes anyone in Growing Zones 3, 4, 5 & 6. If you are unsure of your growing zone, visit our Growing Zone Finder.

Some plants are not available for immediate shipment, and delayed delivery is noted.

We will resume normal shipping in the Spring. Please see the table below for your approximate ship date.
| | | |
| --- | --- | --- |
| | Growing Zone | Shipping Resumes |
| | Zones 3 & 4 | Week of May 3rd |
| | Zone 5 | Week of April 10th |
| | Zone 6 | Week of March 29th |
| | Zones 7 - 11 | Ships Now! |
Estimated Shipping Time: Most orders ship immediately. As noted on the website, some items are seasonal, and may only ship in spring or fall. Once your order is shipped, you'll receive an email with a tracking number.
| Amount of Order | Shipping Charge |
| --- | --- |
| Less than $15 | $11.95 |
| $15.00-$23.99 | $13.95 |
| $24.00-$39.99 | $16.95 |
| $40.00-$79.99 | $19.95 |
| $80.00-$98.99 | $24.95 |
| $99.00-$128.99 | $29.95 |
| $129.00-$148.99 | $39.95 |
| $149.00-$178.99 | $49.95 |
| $179 + | FREE SHIPPING! |
Customer

Reviews

& Photos

Customer Reviews

Write a Review

Ask a Question

Filter Reviews:
tree
leaves
growth
shape
Clementine
fruit
blooms
size
delivery
condition
02/20/2021
Jessica

United States
I recommend this product
Beautiful Clementine
Purchased 3-4ft clementine in November with the citrus tree care kit. Tree was well packaged, 4ft minimum and arrived when expected. Had a little yellowing on leaves after a few days but nothing concerning, bounced back quickly from the cold and stress from shipping. 3 months later and this little beauty is loving her winter-time kitchen window. It has more blooms than we can count and the sweet smell they produce fills the room. Its great to have something blooming in the winter when there is snow on the ground for another month or so.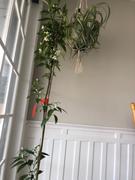 02/18/2021
Sergio E.

United States
02/12/2021
Anonymous

United States
I recommend this product
The tree was small but it came in great condition. We have had it a few weeks and it is already blooming.
02/03/2021
Anonymous

United States
I recommend this product
Great clementine!
The tree arrived perfectly. The packaging to protect the tree was excellent. A few weeks later the tree is happy and developing new growth.
02/02/2021
Jennifer F.

United States