1532749774900
10737
* Images shown are of mature plants
My FGT Yard Planner
You'll need to log in or create an account in order to save this item
---
Enjoy a Lifetime of Limes
Why Key Lime Trees?
Now you can have the fresh, sweet scent of the Florida Keys right in your own garden with our Key Lime Tree. Packed with delicious, deep green fruit, this high-quality tree will yield baskets of incredible limes either in your garden, potted on your deck or patio or even in your favorite room inside your home.
All it takes is a sunny spot in just about any location and you'll enjoy the unmatched flavor that only the Key Lime can deliver. Set it in your favorite room and you'll have authentic Key Limes within arm's reach and a short walk to the kitchen where you can bake unforgettable, homemade Key Lime Pies.

Especially since its small size makes it portable and versatile enough to plant and grow fruit just about anywhere. Plus, it's naturally resistant to pests and diseases, so you can grow your Key Limes organically.
Why Fast-Growing-Trees.com is Better
Not only can you grow organic Key Limes effortlessly, and get fruit quickly, but you also get the promise of success. Because we've planted, grown and nurtured our Key Lime Trees for best results, long before they ship to your door, you get a well-rooted, healthy plant. You get a hardy, strong tree that's ready to acclimate to your homescape. And you won't get that same experience at other nurseries or your local big box store.
So, don't wait - these benefits and more are all just a click away. Get your own Key Lime Tree today!
Pollination Info
Key Lime Tree Pollination
Key Lime Trees are self-fertile. You will get fruit with only one plant. However, adding an additional Key Lime Tree will drastically increase the size of your crop.
Planting & Care
1. Planting: Choose a spot where your tree is going to get plenty of sunlight...6 to 8 hours per day is best. They can tolerate some shade in hotter zones but thrive in full sun. Potted plants do enjoy a daily misting for humidity but placing a tray with rocks filled with water under the plant will feed humidity to the tree as the water evaporates.
Choose a pot slightly larger than what it was shipped in that has plenty of holes in the bottom to allow for drainage. Be sure to plant in well-draining potting soil recommended for acid-loving citrus plants.
Place your tree in an area of your home, preferably a south-facing window, where it is going to get plenty of sunlight. You may also need to create humidity for your tree by placing the pot on a saucer of pebbles or misting the leaves daily with water.
2. Watering: Be sure to give your tree a deep watering so that it can penetrate into the root system (usually once weekly). After watering, allow the top 2 to 3 inches of the soil to dry out completely before watering again.
For potted Key Limes, stick your index finger into the soil down to about 2 inches. If there is moisture present, hold off on watering until it feels drier at that depth. When you do water, stop once you see it escaping the drainage holes at the base of the pot.
3. Fertilizing: Feed your Key Lime Tree during the warmer spring and summer seasons with a citrus-specific fertilizer once every six weeks, such as the one included in our Citrus Care Kit. During the fall and winter season, ease back to fertilizing once every 2 to 3 months. Make sure to follow the application instructions written on the fertilizer bag.
4. Pruning: After the tree fruits, remove any dead wood and ventilate the center of the tree. Remove suckers as they form/grow from the base as they will steal away nutrients from the primary trunk of the tree. Pruning can be done at any time of the year for the potted Key Lime.
5. Pollination: This tree is self-fertile and will produce fruit on its own, but if you want to increase your crop size, hand pollinate. Simply take a small, dry, fine-tipped paintbrush and stick it into the center of each bloom. Swirl it around and collect the pollen on the brush. Go to the next bloom and repeat the process until every bloom has been treated. Do this once daily and don't wash the paintbrush until the end of the process.
Shipping Details
Estimated Shipping Time: Most orders ship immediately. As noted on the website, some items are seasonal, and may only ship in spring or fall. Once your order is shipped, you'll receive an email with a tracking number.
| Amount of Order | Shipping Charge |
| --- | --- |
| Less than $129 | $19.95 |
| $129 + | FREE SHIPPING! |
| | |
| --- | --- |
| Mature Height: | 8 ft. pruned |
| Mature Width: | 6-8 ft. |
| Sunlight: | Full-Partial |
| Growth Rate: | Moderate |
| Harvest Time: | August and December |
| Year to Bear: | Can Fruit the 1st year! |
| Botanical Name: | Citrus aurantifolia |
| Does Not Ship To: | AL,AZ,CA,FL,GA,LA,OR,TX |
| Grows Well In Zones: | 4-11 patio / 8-11 outdoors |
| Your Growing Zone: | # |
Growing Zones: 4-11 patio / 8-11 outdoors
(hardy down to 20℉)
Customer

Reviews

& Photos

Customer Reviews

100

reviewers would recommend this product

Write a Review

Ask a Question

Filter Reviews:
tree
condition
leaves
shape
growth
fruit
Key Lime Tree
purchase
plant
size
01/10/2023
Dan L.

United States
I recommend this product
key Lime tree
I bought 2 Key Lime Trees in November 2022 and they arrive looking very healthy. Unforgently we had 4 days of mid 20 degree weather in December ( unusual for my area). The cold did **** off a lot of the young growth and all the leaves. I will have to wait until spring to see if it sprout new growth. All my other citrus trees did well in this cold spell.
11/22/2022
Tonia B.

United States
I recommend this product
Beautiful healthy tree
We live in a cold climate so we bring our fruit trees indoors in the winter and keep them in a sunny spot. This lime tree is tall and well established and has already begun filling out.
09/07/2022
Anonymous

United States
I recommend this product
Heathly tree
Tree arrived green and healthy
09/05/2022
Anonymous

United States
I recommend this product
Tree in great shape after a long trip!
I was hesitant to order a plant from so far away (I live in Idaho) and started to get a little nervous when my trees (lime and lemon) shipped and three days turned to four days… they arrived five days after shipping and I was sure they would be dead as doornails after being in some shipping box in the dark/heat for so long. I don't know what sorcery this company uses but 10/10 stars, these guys arrived intact! They were both slightly droopy, but the root balls were still damp and neither had dropped any leaves in transit. One week after receiving and potting these guys they are happy as clams and both are showing signs of new growth. I'm really looking forward to limes and lemons next year! Thank you!!!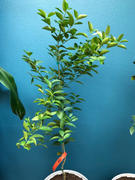 08/30/2022
Alberta

United States
I recommend this product
Key Lime Bush
I received my Key Lime try with flowers and possibly fruit buds. It was healthy and packed well.