---
Product Details
| | |
| --- | --- |
| Mature Height: | 8 ft. pruned |
| Mature Width: | 5 ft. |
| Sunlight: | Full-Partial |
| Growth Rate: | Moderate |
| Harvest Time: | August-October |
| Year to Bear: | Can Fruit the 1st Year! |
| Botanical Name: | Citrus mitis |
| Does Not Ship To: | AZ, CA, FL, GA, LA, TX |
| Grows Well In Zones: | 4-11 patio / 8-11 outdoors |
| You are in Growing Zone: | # |
Growing Zones: 4-11 patio / 8-11 outdoors
(hardy down to 20℉)
Product Description
One of the Cold Hardiest Citrus Trees
Why Calamondin Orange Trees?
There's nothing like the Calamondin Orange Tree: With fruit that's a cross between a tangerine and a kumquat, this "mini-orange," as it's dubbed, is wonderfully delicious.
Even better? It can be grown in a container or as a hedge. In colder climates, grow the Calamondin Orange Tree in a container and move it indoors during winter months, or cover your outdoor bushes for chilly weather.

Plus, the Calamondin delights with a heavenly scent and several flushes (harvests) of blossoms and fruit throughout the year. The yellow-orange fruit of the Calamondin Orange Tree is about the size of a lime or a tangerine and has a thinner skin than most oranges, making it delectably delicate.

Why Fast-Growing-Trees.com is Better
Best of all, year-round blooms give way to fruiting between June and November – and bounties after only one to two years. And younger bushes hold even more fruit.
But because we've planted, grown and nurtured your Calamondin from day one, you also get a guarantee: Easy, effortless performance and harvests that are second to none. We've done the hard work at our nursery so you get great results from your Calamondin.
With healthful, home-grown flavor and heightened looks, the Calamondin Orange Tree is second to none. Order yours today!
Pollination Info
Calamondin (Tangerine) Orange Tree Pollination
Calamondin (Tangerine) Orange Trees are self-fertile. You will get fruit with only one plant. However, adding an additional Calamondin (Tangerine) Orange Tree will drastically increase the size of your crop.
Planting & Care
1. Planting: Choose a location where your tree is going to get plenty of sunlight, around 6 to 8 hours. And ensure the area has well-drained soil.
To plant in a container, choose a pot slightly larger than the shipped container, with plenty of holes in the bottom to allow for drainage. Be sure to plant in well-draining potting soil, preferably recommended for acid-loving citrus plants.
Fill your pot halfway with soil. Remove the tree from its original pot and gently place it in the potting soil. Fill in around the tree with the remainder of the potting soil but leave about an inch from the soil surface to the rim of the pot for easy watering.
Immediately after planting, give your tree a deep watering until water flows from the holes in the bottom of the pot. Finally, place your tree in an area of your home, preferably a south-facing window, where it is going to get plenty of sunlight.
2. Watering: After watering once or twice weekly, allow the top 2 to 3 inches of the soil to dry out completely before watering again.
For best results, stick your index finger into the soil down to about 2 inches. If there is moisture present, hold off on watering until it feels drier at that depth. When you do water your tree, stop once you see it escaping the drainage holes at the base of the pot.
3. Fertilizing: Feed your Calamondin during the warmer spring and summer seasons with a citrus specific fertilizer, such as the one included with our Citrus Care Kit, once every six weeks. During the fall and winter, fertilize once every 2 to 3 months. Make sure to follow the application instructions written on the fertilizer bag.
4. Pruning: Pruning can be done at any time of the year. Make 45-degree angle cuts to remove dead or crossing limbs and also to thin out the tree to allow more light to flow between the branches. After the tree fruits, remove any dead wood and ventilate the center of the tree, and remove suckers as they form/grow from the base.
5. Pollination: Our tree is self-fertile but you can pollinate your indoor trees by hand using a small, dry, fine-tipped paintbrush. Take your brush and stick it into the center of the bloom, swirling around to collect the pollen on the brush. Go to the next bloom and repeat the process until every bloom has been treated, and repeat the process once daily. Don't wash the paintbrush until after the blooms have been pollinated. The bloom will fall off naturally and the fruit will begin to form in its place.
Shipping Details
Shipping Alert:
You can still order, but due to cold weather, we have delayed shipping to the areas shaded on the map below. We want your new plant to thrive right out of the box, so we will wait on shipping your order until the weather is ideal. This includes anyone in Growing Zones 3 & 4. If you are unsure of your growing zone, visit our Growing Zone Finder.

Some plants are not available for immediate shipment, and delayed delivery is noted.

We will resume normal shipping in the Spring. Please see the table below for your approximate ship date.
| | | |
| --- | --- | --- |
| | Growing Zone | Shipping Resumes |
| | Zones 3 & 4 | Week of May 3rd |
| | Zones 5 - 11 | Ships Now! |
Estimated Shipping Time: Most orders ship immediately. As noted on the website, some items are seasonal, and may only ship in spring or fall. Once your order is shipped, you'll receive an email with a tracking number.
| Amount of Order | Shipping Charge |
| --- | --- |
| Less than $15 | $11.95 |
| $15.00-$23.99 | $13.95 |
| $24.00-$39.99 | $16.95 |
| $40.00-$79.99 | $19.95 |
| $80.00-$98.99 | $24.95 |
| $99.00-$118.99 | $29.95 |
| $119.00-$148.99 | $39.95 |
| $149 + | FREE SHIPPING! |
Customer

Reviews

& Photos

Customer Reviews

Write a Review

Ask a Question

Filter Reviews:
holes
bags
pots
service
trees
soil
problem
10/28/2020
Anonymous
United States
I recommend this product
Five star
Good looking tree, was excited to receive. Service was fast, arrived excellent condition. Growing good now.
10/07/2020
shelsa
United States
I recommend this product
Flowers after 1 months!
The tree arrived fast and was taller than expected (I bought the 1-2 ft). I repotted 1 week after arrival in a larger pot. At first, the tree show no growing at all: no dying, no thriving. I just thought that, at least it wasn't dying. Ad then one day (1 month after arrival), explosion of buds and new foliage. The scent is exquisite. I am in extase. I totally recommend.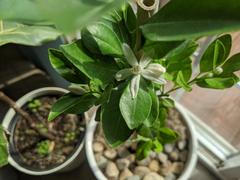 09/25/2020
Anonymous
United States
07/08/2020
Linda H.
United States
I recommend this product
Calamondin Tangerine
Arrived in good shape and was in the ground within 48 hours. Slightly shorter than expected but it is already growing and has the beginnings of fruit on it.
07/02/2020
Anonymous
United States
I recommend this product
Calamondin Tree
This is my first tree purchase ever. The website was clear and online ordering easy. I got regular updates regarding delivery which was very helpful. I ordered a larger tree on the information that it would bear fruit in a short amount of time. It arrived super-securely packaged and it now ein a pot enjoying our sunny patio. My only wondering is that I had thought at 2-3 years, it would be a fuller tree with more branches. It's a tall single-stalk tree that will take a while to bush out. That said, 3 weeks later there are buds and tiny fruit starting to form despite sparse leaves on a few baby branches. The thinness/skinn-ness may just be my learning curve around buying trees. Overall very pleased by delivery and health of the tree.