1532807938100
LIM-KEY1-BUSH
* Images shown are of mature plants
My FGT Yard Planner
You'll need to log in or create an account in order to save this item
Have Questions? Call Now
---
A Lifetime of Limes
Why Key Lime Bushes?
The fresh, sweet scent of the Florida Keys, right in your own garden and now in a fresh silhouette – the Key Lime Bush is a luxuriant, delectable must-have.
And with the Key Lime Bush, it's easy to go green. For starters, you'll have fruit in one to two years, or even sooner with our larger sizes. Care is low-maintenance, too, which means fruitful gains and vibrant hues, all without much hassle. It's easier to move indoors during the winter than other varieties and holds more fruit at a younger age.
So, not only does the Key Lime look amazing and produce tasty little treats, but its lovely flowers also deliver a wonderful scent that will freshen your home during winter months. It's a bountiful beauty that wows, month after month. And because it's resistant to pests and diseases, you can grow your Key Limes organically.
Why Fast-Growing-Trees.com is Better

It's a pick for all seasons and all locations, especially since the Key Lime Bush is self-pollinating and will reliably bear tons of fruit season after season. Especially since we've planted, grown and shipped our Key Lime Bush with utmost care - now, you reap the rewards of our hard work at the nursery with fruit and easy growth, much faster than with plants from other nurseries or big box stores.
Year-round growth with lavish looks and flavor, easy as 1-2-3. Is there anything better? Order your Key Lime Bush today!
Pollination Info
Key Lime Bush Pollination
Key Lime Bushs are self-fertile. You will get fruit with only one plant. However, adding an additional Key Lime Bush will drastically increase the size of your crop.
Planting & Care
1. Planting: If your winter temperatures consistently fall below 40 degrees, plant your bush in a container to place outside in the summer months and inside during winter.
Choose a pot slightly larger than your Key Lime Bush's shipped container, with plenty of holes in the bottom to allow for drainage. Be sure to plant in well-draining potting soil recommended for acid-loving citrus plants.
Fill your pot halfway with soil, remove the bush from its original pot and gently place it in the potting soil. Fill in around the bush with the remainder of the soil, leaving about an inch from the soil surface to the rim of the pot for easy watering.
Lightly tamp down the soil, and give the Key Lime Bush a deep watering until water flows from the holes in the bottom of the pot.
Finally, place your bush in a well-lit area of your home, preferably a south-facing window.
2. Watering: Deep watering is best so that it can penetrate your plant's root system. After watering, allow the top 2 to 3 inches of the soil to dry out completely before watering again. Mulching can help retain the soil moisture and also combat competing grasses/weeds as well.
If you're not sure when to water, stick your index finger into the soil, down to about 2 inches. If it's moist, hold off on watering. When you do water the plant, stop once you see water escaping the drainage holes at the base of the pot.
3. Fertilizing: Feed your Key Lime Bush during the warmer spring and summer seasons with a citrus-specific fertilizer, like the one included in our Citrus Care Kit, preferably once every six weeks.
During the fall and winter season, ease back to fertilizing once every 2 to 3 months. Once the bush has matured a bit, you can skip the cold season fertilization.
4. Pollination: Though this tree is self-fertile, for indoor growth, you can pollinate by hand since most people do not keep a healthy bee population within their home. Simply take a small, dry, fine-tipped paintbrush and stick it into the center of the bloom. Swirl it around and collect the pollen on the brush. Go to the next bloom and repeat the process until every bloom has been treated. Do this once daily and don't wash the paintbrush until after the blooms have been pollinated. The bloom will fall off naturally and the fruit will begin to form in its place.
Shipping Details
Estimated Shipping Time: Most orders ship immediately. As noted on the website, some items are seasonal, and may only ship in spring or fall. Once your order is shipped, you'll receive an email with a tracking number.
| Amount of Order | Shipping Charge |
| --- | --- |
| Less than $149 | $19.95 |
| $149 + | FREE SHIPPING! |
| | |
| --- | --- |
| Mature Height: | 8 ft. |
| Mature Width: | 6-8 ft. |
| Sunlight: | Full-Partial |
| Growth Rate: | Moderate |
| Drought Tolerance: | Good |
| Harvest Time: | August and December |
| Year to Bear: | Can Fruit the 1st year! |
| Botanical Name: | Citrus aurantifolia |
| Does Not Ship To: | AZ, AL, CA, FL, GA, LA, TX, OR |
| Grows Well In Zones: | 4-11 patio / 8-11 outdoors |
| Your Growing Zone: | # |
Growing Zones: 4-11 patio / 8-11 outdoors
(hardy down to 10℉)
Customer

Reviews

& Photos

Customer Reviews

Write a Review

Ask a Question

Filter Reviews:
bush
condition
plant
lime
tree
shape
flowers
delivery
leaves
instructions
04/09/2022
Brenda R.

United States
04/09/2022
Anonymous

United States
I recommend this product
Really happy, great customer service
I bought a key lime bush and a lemon tree. Purchased back in the fall and they shipped in March, as expected. Both arrived damaged - the bush quite broken, the lemon tree just one branch snapped. I chatted online with customer support, sent a couple of pics and they sent me new ones! I didn't think they would for the lemon tree because it was a minor break, so I'm really happy to have gotten that one replaced as well. My only critique, I first tried to email customer service using the address listed on the paper in shipment, but got an error. Some kind of issue with their inbox? So I tried online chat, it was very quick and easy. Will purchase more plants in the future as I grow my garden and indoor greenery.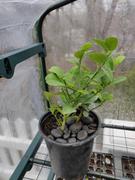 04/07/2022
Ben M.

United States
11/04/2021
Anonymous

United States
I recommend this product
Key line
Love it, already has one lime on it.
10/29/2021
Veronica H.

United States
Great
Delivered quickly, big bush. Excited to see how it grows.