1532799713332
11727
* Images shown are of mature plants
My FGT Yard Planner
You'll need to log in or create an account in order to save this item
Have Questions? Call Now
---
A Superior Columnar Evergreen
Why Brodie Eastern Red Cedar Trees?
No other tree compares to the Brodie Eastern Red Cedar, which offers the highly sought-after qualities of the cedar in a dense, columnar evergreen form.
Because of its sleek, more compact growth habit, the Brodie fits perfectly in any space. And it's one of the hardiest and most tolerant trees on the market:
It grows anywhere across the country, in any soil or environmental condition - cold or hot, dry or wet.
No diseases and pests, which means no harsh chemicals or sprays.
Little to no upkeep because of its tolerance, hardiness and resistant to diseases and pests.
You get the Brodie's light and feathery dark green foliage, densely packed in its upward-growing branches, with ease. In a small yard, one or two can stand out as specimens, and in larger yards, a row of several can act as a perfect hedge or screen. But wherever you plant your Brodies, you'll have a fuller landscape and raise your home's value.
Why Fast-Growing-Trees.com is Better
But the best part of your Brodie Eastern Red is the fact that it arrives at your door, ready to thrive and outlast tough conditions with ease. That's because we've planted, grown and shipped your Brodie with care. Now, you reap the rewards with a stronger, better-developed root system.
The Brodie is hard to find at local nurseries or garden centers...especially Brodies grown and nurtured for months ahead of time.
When you order from Fast Growing Trees, you can rely on strong growth for seasons to come. Order yours today!
Planting & Care
1. Planting: Plant your Brodie Eastern Red Cedar in full to partial sun (4 to 8 hours of sunlight) and well-drained soil. Dig a hole twice as wide but just as deep as the root ball. There is no need to amend the soil.
After planting, add a layer of mulch to help the ground retain moisture. Water deeply after planting to settle the roots.
2. Watering: Watering is only necessary during dry periods, especially while it is establishing.
3. Fertilizing: You can add an organic fertilizer in the spring if you want faster growth, but it is not necessary.
4. Pruning: You can prune during the summer for shape and size, but it is not necessary for the health of the tree.
Shipping Details
Estimated Shipping Time: Most orders ship immediately. As noted on the website, some items are seasonal, and may only ship in spring or fall. Once your order is shipped, you'll receive an email with a tracking number.
| Amount of Order | Shipping Charge |
| --- | --- |
| Less than $125 | $19.95 |
| $125 + | FREE SHIPPING! |
| | |
| --- | --- |
| Mature Height: | 25-45 ft. |
| Mature Width: | 6-10 ft. |
| Sunlight: | Full-Partial |
| Growth Rate: | Fast |
| Botanical Name: | Juniperus virginiana 'Brodie' |
| Does Not Ship To: | AZ |
| Grows Well In Zones: | 3-9 outdoors |
| Your Growing Zone: | # |
Growing Zones: 3-9 outdoors
(hardy down to -30℉)
Customer

Reviews

& Photos

Customer Reviews

Write a Review

Ask a Question

Filter Reviews:
trees
shape
plants
shipping
order
experience
ground
location
Brodies
foliage
I recommend this product
Treesu
I am as pleased with the Brodie Eastern Red Cedar. I had bought 3 earlier and decided more would be better. I also bought 2 Cloud 9 Dogwoods and a Blackgum cultivar Wildfire. All arrived safely and are very healthy plants.
05/14/2022
TF

United States
I recommend this product
Another Great Tree From FGT!
Ordered 2 from FGT to replace some Crape Myrtles who died from unusually severe winters. This is a fantastic border tree that is a varietal of the Eastern Red Cedar Tree (Juniperus Virginiana) variation "Brodie". FGT shipping was fast and well packaged as usual with the trees arriving healthy and not at all dried out. I was able to get them in the ground with no issues and no need to trim and broken or dead branches. Brodie is a compact varietal of the Eastern Red Cedar that is also a female specimen. This makes it a perfect bird tree for your yard as the dense growth allows plenty of shelter for birds and the female varietals of Eastern Red Cedar grow berries (which are the actual cones of the tree, not true berries) that birds love. The berries typically appear in late fall and last during the winter providing a winter food source for birds and small mammals. We have several Eastern Red Cedar and 2 other Brodies in our yard currently each with a bird nest in them. This tree is also a great alternative to Arborvitae as it has much better drought tolerance, wind resistance, frost resistance, as well as the juvenile foliage will not be browsed by deer as it is quite sharp. The tree is also native to over half the US which provides excellent pest resistance. The tree is trouble free as long as you plant it in a sunny and airy location. The only issues that can arise is if it is planted in a soggy area that never dries out (root rot can take out the tree) or areas where there is no air flow (the foliage constantly being damp can result in some black mold growth and die off). If you have a fence line that gets plenty of wind and sun this tree is virtually maintenance free after established. Also makes a good tree for mixed garden beds due to its compact form where it will not spread out in a large area like the pure Eastern Red Cedar. Overall great tree from a great online nursery!
03/11/2022
Anonymous

United States
I recommend this product
Quality Purchase
Swift and secure shipping. Tree received was as expected, about 6 ft. tall. Has been in the ground for 2-3 weeks and is doing well. I liked the option for a one year warranty which I did purchase. Thank you.
09/10/2021
Anonymous

United States
I recommend this product
Brodie Eastern Red Cedar 3-4 ft
The trees arrived in a cardboard box (5 trees in a box). They were a little more sparse than I'd hoped, but overall they were in tact and ready to be planted.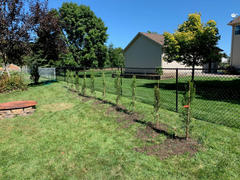 09/14/2021
Fast-Growing-Trees.com
What you're seeing is pretty typical for a young evergreen. They will focus more energy on growing up and then focus on branching later!
08/06/2021
Anonymous

United States
I recommend this product
Nice little trees!
Order went well, This is the second time I have used fast growing trees and this experience was better than the first.