* Images shown are of mature plants
---
Product Details
| | |
| --- | --- |
| Mature Height: | 10-15 ft. |
| Mature Width: | 10-15 ft. |
| Sunlight: | Full Sun |
| Growth Rate: | Moderate |
| Botanical Name: | Camellia sinensis var. sinensis f. macrophylla. |
| Does Not Ship To: | AZ, TN, TX |
| Grows Well In Zones: | 4-11 patio / 8-11 outdoors |
| You are in Growing Zone: | # |
Growing Zones: 4-11 patio / 8-11 outdoors
(hardy down to 20℉)
Product Description
Grow Your Own Tea Organically
Freshly made tea tastes far superior to any tea you'll find in a market. If you enjoy the soothing comfort of a warm cup of tea, why not grow your own to relish every day? The Cold Hardy Tea Plant is one of the hardiest of all the Camellia sinensis, with smaller, narrower leaves especially preferred for making green and black teas. Your tree has been groomed and will ship ready for you to start making your own tea right away.
These make attractive hedges. If you are growing for several people, a hedge is a great way to grow your plants. They do well in containers too, so if you live in colder areas, just bring the plants indoors for a few months. In fall and winter, you'll have the added bonus of small white flowers that will perfume the area with their delicious fragrance!
Even better is the fact that the Cold Hardy resists tough conditions with ease. A few plants will supply you with a lifetime of delicious tea, fresh and as pure as possible! It will grow to a very large shrub if left on its own. To use it for tea production, which uses only the new growth at stem tips, you will want to keep it pruned to about 3 or 4 feet to make it easy to harvest and to keep it producing fresh new stems.
And it's long-living. Enjoy a lifetime supply of delicious, fresh tea leaves and save thousands of dollars! One tea plant can produce for over 100 years. Just snip off the leaves and dry. Use them fresh or store them. One thing is certain - you'll have this plant for a very long time.
Order now - grow your own hardy Cold Hardy Tea plants and start enjoying truly superior tea!
Planting & Care
Choosing a location: Your tea plant will be happiest in a full to partial sun location. If possible, try to put it in a spot that it will be protected from strong winds. Space multiple plants at least three feet apart from one another. Tea plants enjoy a moist, well draining, acidic soil (ph range of 6-6.5 or lower).
Planting directions (in ground):
1) An acidic soil is best for the tea plant and using soil meant for rhododendrons will help maintain a happy tea plant.
2) Make your hole twice the size of the root ball and just as deep.
3) The rhododendron soil is ideal for the back filling of the hole which will introduce some acidity for the tea plant.
4) Spread a 2-3 inch layer of mulch around the base of the bush to help retain moisture while simultaneously combating competing weeds from growing.
Planting directions (potted):
1) Select a pot with good drainage that is about twice the size of the root ball. Drainage is important as tea plants hate to have "wet feet."
2) Use a well draining, acidic soil to fill the bottom third of the pot, and center your new tea plant. Carefully fill the soil in around the root system and be sure to leave the root crown (where the root ball meets the trunk) just above the soil surface.
3) Bright, indirect light is the best location for your newly potted tea plant with a steady temperature of about 70 degrees Fahrenheit.
*Tip: To encourage blooming on the bush, change the surrounding temperature to a window of 45-55 degrees Fahrenheit after the buds begin to appear in winter season.
4) As the bush grows it will need periodic repotting. Typically once every 2-3 years (or as needed) the roots will outgrow the pot, so move up to a slightly larger container and be sure to trim the roots so they fit proportionately.
Watering: Your tea plant will require at least one weekly watering (mulch helps retain moisture so be sure to spread a good 2-3 inch layer around the base). Keep an eye on the area during the hot season as you might need to move up to a dual watering weekly. Try to avoid doing a "rain down" style of watering as this can promote fungal issues.
For potted tea plants, wait until the top 2-4 inches of the soil become dry before any additional watering. Only water enough to where you see it escaping the drainage holes and stop. Do not allow the pot to sit in water.
Fertilizing: For the first year, during active growing in spring and summer, apply a 1/2 lb. of a slow release, complete fertilizer every two months. For each following year, add an additional 1/2 lb. to each application. Broadcast the fertilizer around the base of the tree at least six inches from the base of the tree to avoid root burn and then water thoroughly.
From spring to the fall season, use a liquid, acidic fertilizer every three weeks on your potted tea plant. For the best results, dilute the formula to half the strength of the recommended amount.
Pruning: Once your tea plant gets to be around 5 feet tall, prune back the bush in the early spring season. Always make your cuts at a 45 degree angle with sterilized clippers. Rubbing alcohol and boiling water are easy ways to sterilize your tool(s). Cut back the top growth to about 3-4 feet tall. Always remove any damaged, dead or crowded branches to maintain the shape and size of the plant.
Potted tea plants should be pruned back yearly after the blooming period. Just like the in-ground tea plant, be sure to remove dead, damaged, or crowded branches. Cut the stem back towards the base of the bush. You can cut individual branches to just past a leaf node or bud.
Harvesting: The youngest leaves on your tea plant tend to make the best tea. The youngest are typically the last few leaves and the bud. Set the leaves to dry out of the sun for about 2 hours and then pan heat or steam to stop the leaf's oxidation. Try to keep the heat fairly high during this process (500 degrees fahrenheit) for about 15 minutes while continuously shaking and/or stirring to prevent scorch or burning. Leaves can now be dried in the oven or in a dehydrator, stored in an airtight container and left in a cool dry area for storage.
Shipping Details
Estimated Shipping Time: Most orders ship immediately. As noted on the website, some items are seasonal, and may only ship in spring or fall. Once your order is shipped, you'll receive an email with a tracking number.
| Amount of Order | Shipping Charge |
| --- | --- |
| Less than $15 | $11.95 |
| $15.00-$23.99 | $13.95 |
| $24.00-$39.99 | $16.95 |
| $40.00-$79.99 | $19.95 |
| $80.00-$98.99 | $24.95 |
| $99.00-$118.99 | $29.95 |
| $119 + | FREE SHIPPING! |
Customer

Reviews

& Photos

Customer Reviews

Write a Review

Ask a Question

Filter Reviews:
plant
leaves
condition
trees
shipping
friends
order
care
Fast Growing Trees
service
10/15/2021
Tina T.

United States
09/15/2021
Tuyetmai T.

United States
I recommend this product
Happy purchase :)
It's a very nice and healthy plant. Just plant to ground after 4 days in the pot. Can't wait to have fresh green tea :)
07/05/2021
Ingrid K.

United States
I recommend this product
Healthy plant
The shipping was delayed by FedEx. I think they left them in a hot warehouse. They started another shipment quickly. Plan to ride with one broken branch out of about eight. The rest of the plant is green and seems to be doing quite well after immediate repotting. We shall see how it fares in a Philadelphia summer and winter.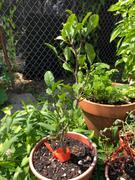 06/09/2021
Anonymous

United States
Hardy Plant
Very healthy and easy care. Very sturdy plant.
06/08/2021
Anonymous

United States
I recommend this product
Good healthy Tree, but...
The tree was in good health. My only issue is with the way it was shipped. I found it loose in the box, lucky the box was just a bit larger than the tree. I believe it should of been better package, so it wouldn't get banged around inside the box during shipping.
06/15/2021
Fast-Growing-Trees.com
Thank you for the feedback! We are so sorry to hear how your plant arrived!