Product Details
Growing Zones: 4-11 patio / 8-11 outdoors
(hardy down to 20℉)
4-11 patio
/
8-11 outdoors
Mature Height:

10-15 ft.

Mature Width:

8-10 ft.

Sunlight:

Full-Partial

Growth Rate:

Fast

Harvest Time:

Varies

Botanical Name:

Musa 'Ice Cream'

Does Not Ship To:

AZ
Product Description
Sweet Bananas Taste Like Ice Cream
Why Ice Cream Banana Trees?
A fast-growing, cold-tolerant variety, our Ice Cream Banana Tree is known for its hardy qualities and delicious taste...especially since it produces fruit that actually tastes like ice cream. And you get a tropical look plus amazing strength, since this tree boasts substantial leaves, a strong trunk and well-developed root system that holds up well against the elements.
Plus, it's an effortlessly-growing specimen with gigantic leaves and a stout, sturdy trunk. The lime green leaves are complemented by blue-tinted bananas that give the tree its nickname: Blue Java Banana Tree.
Why Fast-Growing-Trees.com is Better
When you taste the soft, creamy fruit from the Ice Cream Banana Tree, you'll agree that it was aptly named. The taste and consistency is unlike any other banana variety in the world. Often compared to vanilla custard, the flavor and texture is smooth, sweet and creamy. But the best part is, with our Ice Cream Banana, you get fruit faster and more easily because we've planted and nurtured it for months ahead of shipping.
And you won't find this one-of-a-kind variety in big box stores. Plant yours today and start growing Ice Cream in your own backyard!
Pollination Info
Ice Cream Banana Tree Pollination
Ice Cream Banana Trees are self-fertile. You will get fruit with only one plant. However, adding an additional Ice Cream Banana Tree will drastically increase the size of your crop.
Customer

Reviews

& Photos
Customer Reviews
Filter Reviews:
tree
leaves
condition
plant
trees
plants
shape
leaf
bananas
10/26/2019
Anonymous
United States
10/23/2019
Anonymous
United States
I recommend this product
Great tree, packing and shipping!
A+ I was happy with both transactions. Trees were both shipped promptly and in great condition! I got a Russian pomegranate and an ice cream banana tree, both couldn't be found locally or this size for the price if I did. Highly recommend and I'll be ordering some more unusual fruit trees soon. I want the dragonfruit, sugar apple and a paw paw tree and several different oranges. Thanks!!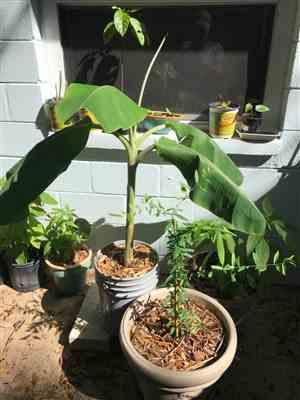 10/21/2019
Elena M.
United States
I recommend this product
Arrived healthy, doing great
Arrived with a lot of leaves, went into a slight shock and lost a couple of leaves after planting but is recovering well and actively growing. Can't wait to see some blue bananas!
10/15/2019
Joyce L.
United States
Too soon to tell
I've only had the plant for a couple of weeks. I was disappointed to learn that I could have gotten the same size plant for a whole lot cheaper, after I had ordered it. I haven't put it in the ground just yet, but was disappointed, too, to find that it could take 2-4 years before the plant produces fruit. Not what I was expecting. Just hoping it survives!
09/21/2019
Sarah B.
United States
Planting & Care
Note: Banana leaves are huge and can sometimes get crinkled in shipping. Simply remove any damaged or worn leaves to stimulate the growth of new leaves. Use them to wrap meat for your next barbecue. During the growing season you will see fresh new leaves appear every few days.
1. Planting: Ice Cream Bananas can tolerate partial shade, but need at least six hours of sunlight a day. Banana Trees don't like extreme heat, so afternoon shade will be more beneficial for your tree than morning shade. Avoid areas that receive high winds. If you keep it indoors, place your banana tree by a large sunny window.
Once you've scouted your planting location, dig a hole that's twice as wide as the pot and just as deep. Place your tree in the hole, and make sure that it's level with the surrounding ground and that it's standing straight up. Gently back fill the hole, tamping down to prevent air pockets and give your tree a long, slow drink of water. Finally, mulch the planting site to conserve water moisture and keep grass and weeds away from the tree.
2. Watering: Keep your soil moist, but not oversaturated. Water your tree every 2 to 3 days during the summer, and every few weeks in the winter, depending on your climate. Warmer areas that are more prone to drought will require water more frequently. If your tree is in a shady area, it will most likely require less water.
But if you're not sure when to water your tree, simply check the soil about 2 inches down - if the soil is dry here, it's time to water.
3. Fertilizing: Give your tree a well-balanced organic fertilizer once a month during the growing season. Fertilizer will have a recommended dose for the size of your tree on the back of the package. We recommend giving your tree half of that dose for best results.
4. Pruning: Remove any damaged or broken leaves that hang downwards. After your tree produces fruit, trim it back to about 30 inches tall, and let the stem dry out for a week or two. Once the stem has dried, remove it. This will allow new banana tree stalks to grow. 
Shipping Details
Most items ship the next business day unless otherwise noted
Estimated Shipping Time: Most orders ship immediately, however some orders may ship in 1-2 business days (we do not ship on the weekends) from date of purchase. As noted on the website, some items are seasonal, and may only ship in spring or fall. Once your order is shipped, you'll receive an email with a tracking number.
| Amount of Order | Shipping Charge |
| --- | --- |
| Less than $15 | $11.95 |
| $15.00-$23.99 | $13.95 |
| $24.00-$39.99 | $16.95 |
| $40.00-$79.99 | $19.95 |
| $80.00-$98.99 | $24.95 |
| $99.00-$124.99 | $29.95 |
| $125+ | FREE SHIPPING! |
Shipping Alert:
You can still order, but due to cold weather, we have delayed shipping to the areas shaded on the map below. We want your new plant to thrive right out of the box, so we will wait on shipping your order until the weather is ideal. This includes anyone in Growing Zones 3 or 4. If you are unsure of your growing zone, visit our Growing Zone Finder.

Some plants are not available for immediate shipment, and delayed delivery is noted.

We will resume normal shipping in the Spring. Please see the table below for your approximate ship date.
| | | |
| --- | --- | --- |
| | Growing Zone | Shipping Resumes |
| | Zones 3 & 4 | Week of May 4th |
| | Zones 5 - 11 | Ships Now! |