Product Details
Growing Zones: 4-11 patio / 9-11 outdoors
(hardy down to 30℉)
4-11 patio
/
9-11 outdoors
Mature Height:

6-8 ft.

Mature Width:

8-10 ft.

Sunlight:

Full-Partial

Growth Rate:

Fast

Harvest Time:

January

Botanical Name:

Musa acuminata 'Grande Naine'

Does Not Ship To:

AZ
Product Description
The Grand Naine is Top Banana
Why Grand Nain 'Naine' Banana Trees?
The Grand Nain is known for merging tropical-inspired good looks with easy care and fast fruiting. In fact, this long-leaved beauty yields large heads of flavorful bananas faster than any other tree, and produces well as a potted specimen...which means exotic fruit in even the coldest locations.
And since it's resistant to most diseases, the Grand Naine stands up to problems, including strong winds. Simply remove any damaged or worn leaves to stimulate the growth of new leaves, or even use them to wrap meat for your next barbecue. Seriously - there's nothing you can't do when it comes to the Grand Naine. During the growing season, you'll see fresh new leaves appear every few days.
Why Fast-Growing-Trees.com is Better
As a variety similar to the famed Chiquita, the Grand Naine is a member of the Cavendish family. But the countless bananas you'll enjoy will taste much sweeter than those from the local market, especially when you pick them ripe from your very own tree. These creamy white bananas are substantial and delicious. And what's more, the Grand Naine is the fastest-producing banana variety available.
Plus, because we've planted and grown our Grand Naines well for months, long before shipping, you get a proven performer. Supermarket trips are now unnecessary because you get an amazing producer right in your backyard. You won't get the same results from other nurseries or big box stores - we've meticulously monitored our Grand Naines for success.
With incredible, visual tropical beauty and the most satisfying banana flavor imaginable, Grand Naines are ideal to create the backyard retreat of your dreams. Order a few of your own today!
Pollination Info
Grand Nain 'Naine' Banana Tree Pollination
Grand Nain 'Naine' Banana Trees are self-fertile. You will get fruit with only one plant. However, adding an additional Grand Nain 'Naine' Banana Tree will drastically increase the size of your crop.
Customer

Reviews

& Photos

Customer Reviews

Write a Review

Ask a Question

Filter Reviews:
tree
leaves
condition
plant
trees
size
shipping
plants
packaging
service
03/12/2020
Anonymous
United States
I recommend this product
Great find
Good roots great start up banana tree
03/10/2020
Gary E.
United States
Good Looking Plants
They look good and appear healthy. Came on time and well packaged.
03/03/2020
Stuart W.
United States
Yep, growing bananas indoors
Does best 80-85 degrees indoors with bloom light on. I have a 1200W LED light, and the light will burn the leaves at less than two feet. Use mirrors or reflective mylar and place plant in corner, rotating 1/4 turn a week. I'm using perlite:vermiculite and a wick system (rope, one end in container and one below in saucer, feed and water from below). It takes up A LOT of nutrients. I switched to Miracle-Gro from General Hydroponic. It preffered the GH, but one batch of bananas isn't worth it (unless you don't care about the money). The higher the humidity the better. If room is less than 50%, mist daily. If you were a plant from Central America, what kind of weather would you want?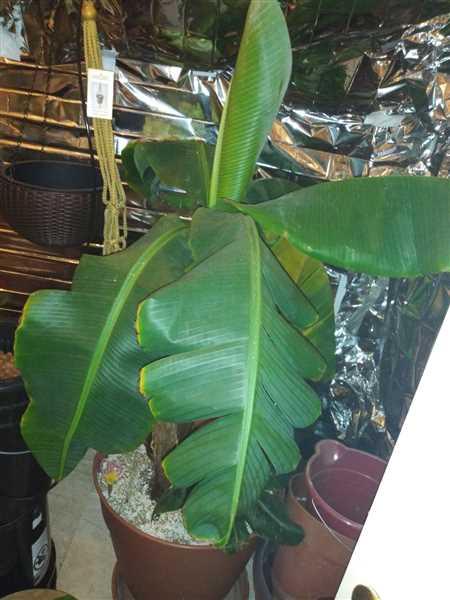 02/24/2020
Angela U.
United States
It was a gift as
It was a gift as noted on the bill
02/12/2020
Christopher S.
United States
Banana Tree
This was a replacement for the bannna tree I purchased earlier. Very quick to reply to my damage tree and send me a new one without question. I will definitely buy more trees from them in the future.
Planting & Care
1. Planting: When deciding where to plant your tree, keep in mind that they prefer full sunlight. They can tolerate partial shade, but need at least 6 hours of sunlight a day. Banana trees don't like extreme heat, so afternoon shade will be more beneficial for your tree than morning shade. Avoid areas that receive high winds, and ensure soil is well-drained.
Once you've scouted your planting location, dig a hole that's twice as wide as the pot and just as deep. Place your tree in the hole, and make sure that it's level with the surrounding ground and that it's standing straight up. Gently back fill the hole, tamping down to prevent air pockets and give your tree a long, slow drink of water.
Tip: Mulch the planting site to conserve water moisture and keep grass and weeds away from the tree.
2. Watering: Keep your soil moist, but not oversaturated. Water your tree every 2 to 3 days during the summer, and every few weeks in the winter, depending on your climate. Warmer areas that are more prone to drought will require water more frequently. If your tree is in a shady area, it will most likely require less water.
But if you're not sure when to water, simply check your tree's surrounding soil about 2 inches down. If the soil here is dry, it's time to water.
3. Fertilizing: Banana Trees are often as hungry as they are thirsty. Give your tree a well-balanced organic fertilizer once a month during the growing season. Fertilizer will have a recommended dose for the size of your tree on the back of the package. We recommend giving your tree half of that dose for best results.
4. Pruning: Remove any damaged or broken leaves that hang downwards. After your tree produces fruit, trim it back to about 30 inches tall, and let the stem dry out for a week or two. Once the stem has dried, remove it. This will allow new banana tree stalks to grow. Once a stem fruits, it won't produce again.
Shipping Details
Most items ship the next business day unless otherwise noted
Estimated Shipping Time: Most orders ship immediately, however some orders may ship in 1-2 business days (we do not ship on the weekends) from date of purchase. As noted on the website, some items are seasonal, and may only ship in spring or fall. Once your order is shipped, you'll receive an email with a tracking number.
| Amount of Order | Shipping Charge |
| --- | --- |
| Less than $15 | $11.95 |
| $15.00-$23.99 | $13.95 |
| $24.00-$39.99 | $16.95 |
| $40.00-$79.99 | $19.95 |
| $80.00-$98.99 | $24.95 |
| $99.00-$118.99 | $24.95 |
| $119 + | FREE SHIPPING! |
Shipping Alert:
You can still order, but due to cold weather, we have delayed shipping to the areas shaded on the map below. We want your new plant to thrive right out of the box, so we will wait on shipping your order until the weather is ideal. This includes anyone in Growing Zones 3 - 5. If you are unsure of your growing zone, visit our Growing Zone Finder.

Some plants are not available for immediate shipment, and delayed delivery is noted.

We will resume normal shipping in the Spring. Please see the table below for your approximate ship date.
| | | |
| --- | --- | --- |
| | Growing Zone | Shipping Resumes |
| | Zones 3 & 4 | Week of May 4th |
| | Zone 5 | Week of April 13th |
| | Zones 6 - 11 | Ships Now! |