* Images shown are of mature plants
---
Product Details
| | |
| --- | --- |
| Mature Height: | 8 ft. pruned |
| Mature Width: | 3-4 ft. |
| Sunlight: | Full-Partial |
| Growth Rate: | Moderate |
| Harvest Time: | Fall |
| Year to Bear: | Can Fruit the 1st year! |
| Botanical Name: | Citrus sinensis 'Valencia' |
| Does Not Ship To: | AZ, CA, FL, GA, LA, TX |
| Grows Well In Zones: | 4-11 patio / 8-11 outdoors |
| You are in Growing Zone: | # |
Growing Zones: 4-11 patio / 8-11 outdoors
(hardy down to 20℉)
Product Description
The Juiciest, Sweetest Oranges You Can Grow
Why Valencia Orange Trees?
If you're looking for an orange full of fresh, flavorful juice, then look no further than a Valencia Orange. Grown specifically for their juicy content, these oranges will satisfy your craving for a succulent, juicy fruit.
Just one orange gives you all the Vitamin C you need for the day. Give your family the treat of fresh-squeezed orange juice and relish in the health benefits. And most trees produce two harvests. From March until June, these oranges typically go through two cycles of production. You're likely to find two harvests hanging from your tree in early summer, which means you'll have plenty of refreshing fruit.
Plus, you'll get more than 20 pounds of oranges in as little as 3 years. And you don't need to live in California or Florida to grow this juicy citrus fruit. Plant your tree in a container and bring it inside when the cold weather hits.
Why Fast-Growing-Trees.com is Better
But the top benefit? Our Valencia Orange Tree's strong start. Because we've grafted and grown this fresh favorite, you get amazing results in your homescape. Our trees offer healthful roots and well-developed branching for easy consistency and reliability, year over year. So, unlike with trees from other nurseries or big box stores, you get the promise of high-quality performance and proven growth.
Don't let this robust, juicy treat pass you by. Imagine waking up on Sunday morning and walking over to your Valencia Orange Tree for fresh oranges. Order your Valencia today to get this sweet treat in your home!
Pollination Info
Valencia Orange Tree Pollination
Valencia Orange Trees are self-fertile. You will get fruit with only one plant. However, adding an additional Valencia Orange Tree will drastically increase the size of your crop.
Planting & Care
1. Planting: Choose a spot in your yard that receives at least 6 hours of sun every day, and make sure the soil is well-drained
When you're ready to plant, dig a hole in the ground that is twice as wide as the root ball. Place your tree in the hole, with 1 inch of the root ball sticking out from the top of the soil. Water thoroughly after planting. Add a thick layer of mulch around the base of the tree, but keep the mulch 6 inches away from the tree trunk.
If you're container planting, select a container that's about twice the width of your plant's shipped container, use well-draining soil and ensure your container has drainage holes. Then, place your tree, add your soil and bring the tree inside when the temperature drops below 25 degrees.
2. Watering: You only need to water your tree when the soil is dry. For trees planted in the ground, check the soil at a depth of 5 inches. For container plants, check the soil at a depth of 2 inches. Depending on the humidity in your area, you will likely only need to water your tree once a week.
3. Fertilizing: You will need to add a citrus fertilizer, like the one included in our Citrus Care Kit, to your tree during its harvest. When you begin to see fruit, apply your first round of citrus fertilizer according to package directions for the size of your tree. Add additional doses of fertilizer every month or two during the entire harvest season. You will also need to add a dose of fertilizer twice during the dormant season.
4. Pruning: Remove dead and diseased branches. You can prune your tree to maintain its shape and height, but be sure to do so before the harvest season.
Shipping Details
Shipping Alert:
You can still order, but due to cold weather, we have delayed shipping to the areas shaded on the map below. We want your new plant to thrive right out of the box, so we will wait on shipping your order until the weather is ideal. This includes anyone in Growing Zones 3, 4, 5, & 6. If you are unsure of your growing zone, visit our Growing Zone Finder.

Some plants are not available for immediate shipment, and delayed delivery is noted.

We will resume normal shipping in the Spring. Please see the table below for your approximate ship date.
| | | |
| --- | --- | --- |
| | Growing Zone | Shipping Resumes |
| | Zones 3 & 4 | Week of May 2nd |
| | Zone 5 | Week of April 11th |
| | Zone 6 | Week of March 28th |
| | Zones 7 - 11 | Ships Now! |
Estimated Shipping Time: Most orders ship immediately. As noted on the website, some items are seasonal, and may only ship in spring or fall. Once your order is shipped, you'll receive an email with a tracking number.
| Amount of Order | Shipping Charge |
| --- | --- |
| Less than $15 | $11.95 |
| $15.00-$23.99 | $13.95 |
| $24.00-$39.99 | $16.95 |
| $40.00-$78.99 | $19.95 |
| $79.00-$98.99 | $24.95 |
| $99.00-$128.99 | $29.95 |
| $129.00-$148.99 | $39.95 |
| $149 + | FREE SHIPPING! |
Customer

Reviews

& Photos

Customer Reviews

Write a Review

Ask a Question

Filter Reviews:
tree
experience
shape
delivery
plant
leaves
orange
Valencia Orange
home
roots
06/28/2021
Anonymous

United States
06/01/2021
Andrew T.

United States
I recommend this product
Good so far
I bought 2 Valencia Orange Trees, 3 to 4 ft tall. I planted them in well-drained 15 gal pots with Miracle Gro citrus/cactus potting soil. I placed them on the patio in full sun on each side of a staircase. So far they are doing well, but still getting established. New leaves are just starting to grow. They endured a colder than normal week in May with temps near freezing with no leaf damage. One had a very small orange, but it fell off (hopefully that will promote flowering). My only complaint is that one tree is about 2 years older than the other - it would have been great to have two of the same age: same height and trunk thickness; for symmetry on the patio. (Note: with your unlabeled 5-star scale one can't tell for certain what is high and what is low; and exactly what is the metric being scaled)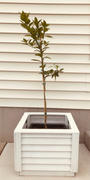 05/31/2021
Anonymous

United States
09/02/2020
Gerardo G.

United States
12/18/2021
Anonymous

United States
I recommend this product
Valencia orange tree
A very good experience. Fast delivery and a great product