1532793749556
BRZ-CHE1
* Images shown are of mature plants
My FGT Yard Planner
You'll need to log in or create an account in order to save this item
Have Questions? Call Now
---
Uniquely-Shaped, Robust Cherries
Why Star Cherry Trees?
The tropical-inspired Star Cherry boasts some of the most unique-looking and robust cherries available. For starters, these cherries grow up to 2 inches in width and feature deep, ribbed indentions in a star shape. So, the Star Cherry is not only a second-to-none producer, but it's also ideal for visual interest too.
And the Star Cherry's flavor is amazing. Tender and amazingly juicy, this fruit's taste is comparable to an apricot or passion fruit. And there's plenty to create in the kitchen with this cherry's exotic, tart taste – it pairs famously with vanilla ice cream, as a topping for cheesecakes, in smoothies and beyond.
Plus, the Star Cherry Tree is versatile. It grows well in a container or in the ground, so it thrives from gardens to patios or even along streets. And the Star Cherry produces white flowers and rich, sizable cherries for months, adapting to any soil type or condition…including drought and freezing temperatures.
Why Fast-Growing-Trees.com is Better
But the best part about our Star Cherry Tree is that it's a proven performer, grafted from root stock rather than grown from seed. That means you get consistent size, shape and fruiting, year over year. You get the same great-tasting Star Cherries season after season because we've put in the hard work at our nursery, long before your Star Cherry arrives to your door.
Imagine fresh, one-of-a-kind cherries in just a few growing seasons. Order your own Star Cherry Tree now!
Pollination Info
Star Cherry Tree (Pitangatuba) Pollination
Star Cherry Tree (Pitangatuba)s are self-fertile. You will get fruit with only one plant. However, adding an additional Star Cherry Tree (Pitangatuba) will drastically increase the size of your crop.
Planting & Care
1. Planting: For your Star, select a location that receives at least 6 to 8 hours of sunlight per day for best results. Also select an area with well-drained soil. When you're ready to plant, dig a hole that's three times the width of the root ball and just as deep. Place your tree, back fill the soil, tamp down and water to settle the roots. Spread a layer of mulch around the surrounding soil to preserve moisture, and plant at least 4 feet away from other trees to allow ample space.

If you're outside of warmer zones, plant your Star in a container to bring indoors during the winter. Ideally, the pot should measure at least 18 to 24 inches in diameter and have sides that stand at least 20 inches in height. The pot should have drainage holes at the base so water can free flow away from the tree's roots.
2. Watering: Lightly water the Surinam cherry tree so the soil feels moist to the touch. Do not water the tree again until the top two inches of soil has dried completely out. Generally, the tree thrives with a once-a-week watering schedule. In tropical areas with frequent rain showers, the tree only needs infrequent supplemental water.
3. Pruning: The Star should be pruned immediately after flowering if shaping is desired. Avoid removing more than a third of the tree's limbs each season. Diseased or damaged limbs need to be immediately removed.
4. Fertilizing: Use a water-soluble fertilizer during the growing season to encourage fruit production. Follow the instructions on the fertilizer's label for application ratios.
Shipping Details
Estimated Shipping Time: Most orders ship immediately. As noted on the website, some items are seasonal, and may only ship in spring or fall. Once your order is shipped, you'll receive an email with a tracking number.
| Amount of Order | Shipping Charge |
| --- | --- |
| Less than $149 | $19.95 |
| $149 + | FREE SHIPPING! |
| | |
| --- | --- |
| Mature Height: | 3-6 ft. |
| Mature Width: | 3-6 ft. |
| Sunlight: | Full Sun |
| Growth Rate: | Fast |
| Harvest Time: | April-May |
| Botanical Name: | Eugenia uniflora |
| Does Not Ship To: | AZ |
| Grows Well In Zones: | 4-11 patio / 8-11 outdoors |
| Your Growing Zone: | # |
Growing Zones: 4-11 patio / 8-11 outdoors
(hardy down to 10℉)
Customer

Reviews

& Photos

Customer Reviews

Write a Review

Ask a Question

Filter Reviews:
tree
fruit
plant
condition
leaves
growth
fertilizer
branches
pots
feet
01/14/2022
Sid G.

United States
Zone 8 , SCarolina It looks great - now Jan 14 2022 - in greenhouse. Temps have been in low 30s in gh but still it is a pretty green. I will wait on tasting fruit before recommending. Delivery persons have no concept of following arrows on boxes.
12/29/2021
Anonymous

United States
I recommend this product
A little trooper of a small tree….
So far so good. I have not killed it yet!
12/08/2021
bill b.

United States
I recommend this product
star cherry
yes the plant arrived in great shape i have transplanted it can't wait until spring to see how much growth it will get
10/25/2021
Koko

United States
I recommend this product
Full and Vibrant!
This Star Cherry Tree was much fuller and larger than expected since it only grows to 3-6 Feet and mine already looks like its ready to bear fruit. But we will have to wait for the right season. In the meantime, we plant it in a large pot on our patio so in case it does get too cold we can bring it inside. It's way to pretty to let anything happen to it. Also, we may be a second one to help excellerate the pollination; even though it said it was a self-pollinator. It is just a robust healthy plant.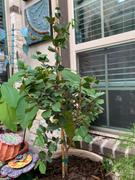 06/13/2021
Anonymous

United States
Inspiring
Happy to see a budding flower after a week of receipt and replanting