Plant Care
View Full Planting & Care Instructions
Sunlight Plant your Ponytail Palm in an area that receives full sun (6-8 hours of direct sunlight per day).
Watering Water your Palm 2-3 times per week for the first month, then once a week for the remainder of the first year after planting. Keep the soil moist but well-drained, watering more in times of drought and less when there is rainfall.
Fertilizing If necessary, use a palm-specific fertilizer for your Palm. Slow-release fertilizer is best to allow the smaller root system to uptake what it needs. Apply close to the base and start in spring/follow specific fertilizer instructions.
---
Product Details
| | |
| --- | --- |
| Mature Height: | 6-8 ft Indoors |
| Mature Width: | 3-5 ft Indoors |
| Sunlight: | Full-Partial |
| Growth Rate: | Slow |
| Botanical Name: | Beaucarnea recurvata |
| Does Not Ship To: | AZ |
| Grows Well In Zones: | 4-11 patio / 10-11 outdoors |
| You are in Growing Zone: | # |
Growing Zones: 4-11 patio / 10-11 outdoors
(hardy down to 40℉)
Product Description
A Unique Indoor Palm That's Hassle-Free
Why Ponytail Palms?
Ponytail Palms are becoming a popular, must-have house plant. Why? For starters, their unique tropical look makes them second to none. The Ponytail is also known as the 'Elephant Foot Palm' because it has the shape and texture of an elephant's foot, as well as attractive gray bark that complements its lush green leaves.
And during summer, hundreds of tiny white blooms grace the stalk above the crown for an eye-catching floral display.
As a container palm, the Ponytail Palm can fit anywhere. Since it only grows to around 6-8 feet tall indoors, it's perfect for placing on tables or countertops and in corners, lending an exotic feel to an array of spaces. During the warmer months, Ponytail Palms can be placed outdoors to greet guests with one-of-a-kind beauty.
Because of their manageable size, they can fit perfectly in your landscape, making them the prime palm for any job. And Ponytail Palms store water in their trunks, drawing on it as needed, leaving you with little to no maintenance.
Why Fast-Growing-Trees.com is Better
But the best part of all is that we've planted, grown and shipped your Ponytail Palm with care, right from our nursery. There's no need to visit a big box store to get your favorite plant, or lug around a heavy container in your backseat - now, all you need is just a click away, especially since our Ponytail Palm has been nurtured and is now ready to thrive in your homescape.
Effortless, exotic and luxe: the Ponytail Palm has it all. Order your own tropical, timelessly coveted house plant today!
Planting & Care
1. Planting: Ponytail Palms will thrive in a variety of conditions - in cooler climates they will like a full sun location, and in warmer areas they will prefer some afternoon shade. Ponytail Palms can tolerate almost any soil type but prefer well-draining areas. In ideal growing conditions, you can expect your palm to reach around 30ft if planted in the ground. In containers your palm will grow to fit the space allowed. 
After choosing your location, dig a hole that is three times as big around as the container the palm came in (the root ball) and just as deep. Place the plant in the hole so that the top of the root ball is even with the surrounding soil. Then, back fill, tamp down and water to settle the roots. Mulch the planting area when done to conserve moisture and protect the roots from temperature fluctuation.
For indoors growth, choose a container that is two times larger than the one the plant initially arrived in. Fill the container part way and place the palm in the container so that the soil is just below the top of the container and fill the remainder of the way. Water until it begins to flow through the bottom drainage holes. Let the soil dry out almost completely - they can can go up to two weeks without being watered.
2. Watering: Ponytail Palms are very drought tolerant, whether they are in a container or in the ground. Water them when the soil is almost completely dry.
3. Pruning: Simply remove yellow or damaged fronds.
4. Fertilizing: Young trees do not need to be fertilized until after they grow a new spear (about 2 months). After that, they will perform best when fertilized with a slow-release fertilizer, such a 10-5-10 formula, in the spring and summer.
Shipping Details
Shipping Alert:
You can still order, but due to cold weather, we have delayed shipping to the areas shaded on the map below. We want your new plant to thrive right out of the box, so we will wait on shipping your order until the weather is ideal. This includes anyone in Growing Zones 3, 4, 5, & 6. If you are unsure of your growing zone, visit our Growing Zone Finder.

Some plants are not available for immediate shipment, and delayed delivery is noted.

We will resume normal shipping in the Spring. Please see the table below for your approximate ship date.
| | | |
| --- | --- | --- |
| | Growing Zone | Shipping Resumes |
| | Zones 3 & 4 | Week of May 2nd |
| | Zone 5 | Week of April 11th |
| | Zone 6 | Week of March 28th |
| | Zones 6 - 11 | Ships Now! |
Estimated Shipping Time: Most orders ship immediately. As noted on the website, some items are seasonal, and may only ship in spring or fall. Once your order is shipped, you'll receive an email with a tracking number.
| Amount of Order | Shipping Charge |
| --- | --- |
| Less than $15 | $11.95 |
| $15.00-$23.99 | $13.95 |
| $24.00-$39.99 | $16.95 |
| $40.00-$78.99 | $19.95 |
| $79.00-$98.99 | $24.95 |
| $99.00-$128.99 | $29.95 |
| $129 + | FREE SHIPPING! |
Customer

Reviews

& Photos

Customer Reviews

Write a Review

Ask a Question

Filter Reviews:
plant
Ponytail Palm
trunk
home
quality
Palms
item
service
Fast Growing Trees
shape
12/22/2021
Harvey M.

United States
I recommend this product
Best plants
All except one of my purchases have a been in good shape upon arrival. The one was my Condo Avocado which is still struggling. I still have hope. However, the Ponytail Palms were in great shape and look fantastic.
12/22/2021
Fast-Growing-Trees.com
We are so sorry that your avocado tree isn't doing well! Please send us a photo and we'll take a look!
Beautiful!
This Ponytail Palm arrived very well packaged. It survived shipping to Montana and was even left in the box an extra day because our delivery person tends to skip me sometimes. ☹️ Still, the plant was fine and is really beautiful. So glad I purchased from Fast Growing Trees. I'll be back. :)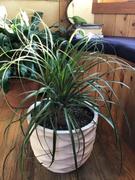 Misleading images. Call customer service before you order.
The image of the ponytail palm is misleading. The tree I received is significantly smaller (no trunk at all). I have enclosed a photo of the tree I received. I called customer service and the gentleman (Elvis) pointed me to the disclaimer under the tree that states "*images shown are of mature plants." I then asked for the customer agent to define "mature plants." Is a mature ponytail palm 4 feet 5 feet 10 feet.....? How old is a mature tree? Fast-Growing Trees fix your marketing.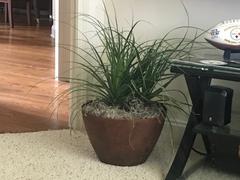 12/30/2021
Secleen W.

United States
I recommend this product
Ponytail Palm
I love my Ponytail Palm. It is so pretty. I even bought one for my DIL for Christmas. I give quality & service 5 stars also!