1532738404404
10087
* Images shown are of mature plants
My FGT Yard Planner
You'll need to log in or create an account in order to save this item
Have Questions? Call Now
---
Fast-Growing and Dense Privacy Screen
Why Willow Hybrids?
A living and lush privacy fence of your very own is just a click away. The Austree Willow Hybrid grows up to 6 feet each year, filling out to create a solid green wall. And it's an excellent, trouble-free green screen because it thrives across the country, no matter the climate or conditions.
Even better? It's disease resistant and tolerates both hot and cold temperature extremes. From Florida to Canada, Austree Willow Hybrids thrive in almost any soil and any weather. Because of that versatile and highly adaptable nature, our special breed of Willow Hybrid is popular with landscape developers across the country.
Why Fast-Growing-Trees.com is Better
In little time, you'll get a well-formed, lush green hedge. And since our Austree Willow Hybrid is super low-maintenance, you can simply plant it and forget it! And you get this dense, full privacy for a fraction of the cost of traditional fencing because we've planted, grown and shipped your tree with care, root system and health intact. Though it may look small when it arrives to your door, the Willow Hybrid transforms quickly.
In fact, Willow Hybrids typically form a thick green wall by the end of the first full growing season. Order a few of your own Austree Willow Hybrids today!
Planting & Care
Unlike the Weeping Willow, the Austree Willow Hybrid grows straight up, making it a perfect tree when you need privacy—fast. Follow these tips to keep your trees happy and healthy.
1. Planting: For an instant privacy screen, plant these trees 5 feet apart. To give the trees a bit more room (which requires less work in terms of pruning), plant them 20 to 30 feet apart. You can plant them in a straight line, or in two staggered rows. Either way, they'll grow best in full sun to partial shade (4 to 8 hours of sunlight per day). You can plant Austree Willow Hybrids at any time of the year when the ground isn't frozen - they establish quickly.
When you're ready to plant, dig a hole as deep as the root ball but twice as wide. Then, place the tree in the hole to check the depth - if the level of the soil surrounding the hole is higher than the root ball, pick the tree up, put some more soil in the hole, and replace the tree. Then, back fill the soil and water to settle.
Tip: To help the trees establish, consider using a Tree Gator or water reservoir to give them a steady drip of water.
2. Watering: Water Willow Hybrids daily after you first plant them. After two weeks, you can water every other day. After one month, you can water twice a week. After three months, water the Willow Hybrids once a week. They won't need extra water after they've been in the ground for six months unless it is very hot and dry (temperatures above 80 degrees with no measurable precipitation for three weeks or more).
Willows do grow well in damp conditions. They do not usually need extra water unless your area has not had rain for three to four weeks during the summer. If that is the case, water the trees twice a week. Count to 20 on each tree, or provide five large watering cans full of water for each tree.
3. Pruning: Willow Hybrids require pruning primarily to control their size and shape and to remove dead branches. Cut dead branches all the way back to the trunk, stopping at least ½ inch before the trunk. The pruning cut will heal itself.
If you're growing the Willow Hybrid as a hedge, trim once a year in the winter, which will encourage the tree to branch out and become denser throughout the summer.
4. Mulching: Hybrid Willows grow best in slightly moist conditions, so mulch around these trees once a year with shredded hardwood bark mulch. Do not mound the mulch around the trunk of the tree, however. Spread a layer of mulch that is three inches deep extending three feet from the tree trunk for best results.
5. Fertilizing: You don't need to fertilize Willow Hybrids. They grow just fine on their own!
Shipping Details
Estimated Shipping Time: Most orders ship immediately. As noted on the website, some items are seasonal, and may only ship in spring or fall. Once your order is shipped, you'll receive an email with a tracking number.
| Amount of Order | Shipping Charge |
| --- | --- |
| Less than $125 | $19.95 |
| $125 + | FREE SHIPPING! |
| | |
| --- | --- |
| Mature Height: | 35-45 ft. in Rows; 50-75 ft. Alone |
| Mature Width: | 5-10 ft. |
| Sunlight: | Full-Partial |
| Growth Rate: | Fast |
| Botanical Name: | Salix x matsudana x alba |
| Does Not Ship To: | AZ |
| Grows Well In Zones: | 4-9 outdoors |
| Your Growing Zone: | # |
Growing Zones: 4-9 outdoors
(hardy down to -20℉)
Customer

Reviews

& Photos

Customer Reviews

99

reviewers would recommend this product

Write a Review

Ask a Question

Filter Reviews:
trees
growth
condition
leaves
plants
shape
privacy
company
height
water
06/06/2022
Juli D.

United States
I recommend this product
LOVE this tree. Get one!!
Fabulous shipping, well packed and cared for, great instructions. We also bought the root builder and bladder. This tree is now two years old and amazing. We used the bladder for establishing it and staked it out as we have high winds. Later we put a stone ring around it to make sure the mower didn't get neat and kept it staked until year two. It withstood minus freeezing wind chills and has always come back in spring with a vigor. We actually take monthly photos (in warmmonths) next to it and it has become a monthly family tradition. First photo is day we put it in the ground, and the second exactly two years later. Central Illinois. We are always happy with the Fast growing Trees Company!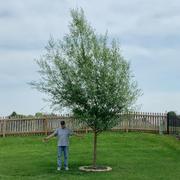 05/28/2022
Laura N.

United States
05/26/2022
Anonymous

United States
I recommend this product
trees
Bought before and they love water. If you have a swampy spot these trees love water. They grow fast , don't know how long they last.
05/18/2022
Anonymous

United States
I recommend this product
Great customer service!
My initial order arrived in a very sad state. It was a large purchase and 90% of the trees did not arrive in good condition. I contacted customer service and they replaced the trees quickly for me because I had landscapers coming to install new construction landscaping. The new shipment arrived in great condition and much healthier trees! I will definitely order from them again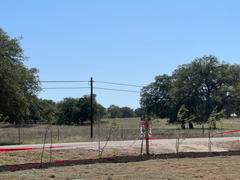 05/15/2022
Connie R.

United States