---
Product Details
| | |
| --- | --- |
| Mature Height: | 3-5 ft. at 10 years |
| Mature Width: | 3-5 ft. at 10 years |
| Sunlight: | Full-Partial |
| Growth Rate: | Slow |
| Botanical Name: | Cycas revoluta |
| Does Not Ship To: | AZ |
| Grows Well In Zones: | 4-11 patio / 8-11 outdoors |
| You are in Growing Zone: | # |
Growing Zones: 4-11 patio / 8-11 outdoors
(hardy down to 20℉)
Product Description
Year-Round, Low-Maintenance Palm
Vibrant, feather-like foliage atop a textured brown trunk defines the Sago Palm Tree. This luxe cultivar's fronds are thick and shiny green with the typical cascading effect of other palms. Plus, it's actually considered a 'living fossil' since the species has changed very little over the last two million years. And it appears so flawless, that it is often mistaken as an artificial plant.
Even better? It's a great plant for beginners. Left unattended the specimen will continue to grow no matter what, so Sagos are essentially a mistake-proof palm. Water requirements are similar to that of a cactus, and the soil is allowed to dry between waterings.
It thrives in bright light but will adjust to moderate light levels. Hardy down to 20 degrees, it's also a great choice for an array of climates. Low-maintenance and luxe? Check.
Best of all, it can thrive indoors or out. The Sago Palm has a marvelous presence that provides instant tropical appeal. With its low-maintenance habit and stunning appearance, the Sago is a perfect addition, whether you pot it and bring it indoors during the winter or keep it in your landscape in warmer year-round zones.
Either way, the Sago Palm provides an elegant and breezy island look that can be easily grown in any space. This tough but elegant plant brings a tropical feel with no fuss. See what the hype's all about - order a few Sagos of your own!
Planting & Care
The Sago Palm (also known as Cycas revoluta) is an amazing tree known for its lush green, feathery fronds and virtually maintenance free care. These hardy plants make wonderful patio or indoor plants and can be grown in USDA growing zones 4-11 but are only recommended for outdoor planting in zones 8-11. They thrive best in full sunlight but can tolerate partial sunlight as long as they receive a minimum of 4 hours daily. The Sago is a fairly slow grower maturing to a height/width of 8-15 feet.
Location: Sago palms need to be in a location with well draining soil. The same applies if you are containerizing your plant. They can tolerate bright to moderate sunlight but they cannot tolerate wet soil conditions. Wherever you plant this tree the soil has to be allowed to dry out in between watering the plant.
Planting Instructions: For warm weather locations, palm trees can be planted pretty much any time of the year. For colder regions, it's best to wait until the weather warms up a bit before planting. If there is going to be waiting period before you plant, keep the palm's roots moist but don't soak them.
1) Dig a hole that is 2-3 times the width and just as deep as the root ball.
2) Handle your palm tree carefully when placing it in the hole. Be especially careful of the tree's roots and the bud (or heart) because this is where your Palm new growth will come from.
3) Place the tree in the hole making sure the top of the roots are level with the surrounding soil. Tamp down as you fill in the hole to prevent air pockets from forming.
4) Water the planting site and then mulch to retain soil moisture as well as keep competing growths at bay.
Watering: Watering for the first several months after planting is critical to the overall health and successful growth of your palm. Be sure to use water that is salt-free to avoid leaf yellowing/spotting. Keep a watchful eye on the soil, make sure there is enough moisture present to prevent it from drying out completely. That being said, you also need to make sure that you don't over water, which could lead to root disease and limit the establishment of new roots in the surrounding soil. The typical rule of thumb with palms is to water once a week or more often as necessary, with less watering required during the dormant period in the winter.
Fertilization: Nutrients are vital for Palm trees to thrive. As a result, it is best to put your Sago Palm trees on a fertilization schedule throughout the growing season, three times yearly during the growing season. Feed your plants once in April, June and then again in September. Keep in mind Sago palms thrive best when their soil pH is between 5.5 and 6.5. In order to achieve this you can apply palm fertilizers that contain the specific nutrients most suited for Palm trees.The slow release of these nutrients will provide consistent, targeted feeding to help your tree grow strong and healthy. If you prefer, you can use a balanced fertilizer formula such as 8-8-8 or a 12-6-12 for quicker growth. To avoid yellowing and maintain a healthy shade of green coloring, feed your tree a few spoons full of Epsom salt or a fertilizer that contains nutrients like manganese which will prevent the yellowing and shriveling of the fronds.
Shipping Details
Estimated Shipping Time: Most orders ship immediately. As noted on the website, some items are seasonal, and may only ship in spring or fall. Once your order is shipped, you'll receive an email with a tracking number.
| Amount of Order | Shipping Charge |
| --- | --- |
| Less than $15 | $11.95 |
| $15.00-$23.99 | $13.95 |
| $24.00-$39.99 | $16.95 |
| $40.00-$79.99 | $19.95 |
| $80.00-$98.99 | $24.95 |
| $99.00-$128.99 | $29.95 |
| $129.00-$148.99 | $39.95 |
| $149.00-$178.99 | $49.95 |
| $179 + | FREE SHIPPING! |
Customer

Reviews

& Photos

Customer Reviews

Write a Review

Ask a Question

Filter Reviews:
tree
shape
purchase
health
experience
Palms
sago palm
door
compliments
front yard
10/13/2021
Michael B.

United States
08/10/2021
Anonymous

United States
I recommend this product
sago
Tree was a little smaller than I thought.
07/15/2021
Julie A.

United States
I recommend this product
2 Sago Palms
I'm very happy with FastGrowinTrees.com! I found the website to have many varieties of trees to choose from as well as a wealth of information. I ordered two sago palm trees and, as many other reviewers had reported, they arrived quickly and in good health! The palms are on either side of my front door and make me happy to see them.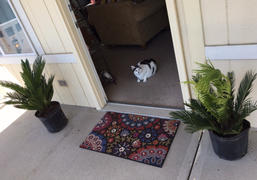 03/08/2021
craig l.

United States
12/06/2020
Anonymous

United States
I recommend this product
Sago Palm Tree
Wonderful plant