---
Product Details
| | |
| --- | --- |
| Mature Height: | 25-30 ft. |
| Mature Width: | 20-25 ft. |
| Sunlight: | Full Sun |
| Growth Rate: | Moderate |
| Harvest Time: | various |
| Botanical Name: | Annona muricata |
| Does Not Ship To: | AZ |
| Grows Well In Zones: | 4-11 patio / 10-11 outdoors |
| You are in Growing Zone: | # |
Growing Zones: 4-11 patio / 10-11 outdoors
(hardy down to 40℉)
Product Description
The sweet and tangy flavors from this unique fruit are irresistible
Soursop Trees produce remarkable fruit with a unique look and flavor. Those who have never seen a soursop before are often amazed by its elongated shape with bright green skin that has a soft prickly appearance.
However, aside from being famous for distinct fruit, Soursops are also known for their amazing health benefits. The fruit and leaves contain a number of vitamins and nutrients like potassium, calcium, iron, vitamin C and Vitamin A for healthy skin and energy.
Once you cut past the vibrant skin you will find the soursop's soft white and creamy flesh. Its zesty tropical aroma will fill the room and you'll have to give in to your urges to bite into to soursop's tantalizing flesh that is filled with exotic flavors like mango, pineapple, and banana.
Soursop flesh is like a blended fruit smoothie with sweet and sour juices. You can't find this tropical blend of flavors anywhere else. Soursops are great for snacking as well as pairing with desserts like ice cream or pies.
Aside from producing tons of delectable fruit soursop trees also provide an exotic look with their lush green foliage and bright yellow flowers. The flowers pop against the soursop tree's long and slender leaves and draw the eye to their striking beauty.
Soursop trees will turn any space into a tropical getaway indoors or out. This low maintenance tree is perfect for containers. If you live in an area that gets too cold for this tree simply place it in a pot and bring it indoors once the weather starts to get cold.
Soursop trees are hard to find, so they are often in limited supply. Be sure to order yours before they're all gone.
Pollination Info
Soursop 'Guanabana' Tree Pollination
Soursop 'Guanabana' Trees are self-fertile. You will get fruit with only one plant. However, adding an additional Soursop 'Guanabana' Tree will drastically increase the size of your crop.
Planting & Care
The Soursop Guanabana tree is a low maintenance evergreen tree with an exotic look to its lush green foliage and bright yellow flowers. This variety is known as "Annona Muricata" is also known for its amazing health benefits and cancer-fighting properties (antioxidants). Soursop Guanabana trees are moderate growers, maturing to a height of 25-30 feet tall and 8-10 feet wide. This tree performs its best in USDA growing zones 9-11 and on the patio (potted) in zones 4-11.
Location: When planting the Soursop tree, find a location that receives full sun and moist, well-draining soil. The tree will tolerate a wide range of soil types but prefers one that's slightly acidic.
Planting Instructions (in the ground):
1) Dig your hole 3 times the width and slightly shallower than the root ball.
2) Loosen the soil, in and around the hole so the roots can easily breakthrough.
3) Use your fingers to separate the roots of your Soursop and gently position downward in the hole. The top of the root flare (where the roots end and the trunk begins) should be about an inch above the surrounding soil.
4) Hold the tree straight as you begin to backfill the site, tamping down the soil as you go.
5) Backfill the hole, apply water to settle the soil and remove any air pockets that may have formed.
Planting Instructions (potted): The Soursop is also good for container growth if you happen to be in a zone too cold to add it to your landscape.
1) When selecting a container for your Soursop, be sure it has plenty of holes in the bottom as drainage is essential. The pot size should be at least 2 times larger than the pot it initially came in.
2) Fill the container halfway with soil, gently remove the tree from its original pot and position into the new one.
3) Fill in around the tree with the potting soil but be sure not to cover the grafted area of the tree. Leave about an inch from the soil surface to the rim of the pot for easy watering.
4) Lightly pack down the soil as you fill and then give your tree a deep watering until it flows from the holes in the bottom of the pot.
5) Choose a location on the patio, back yard, front/side of the house providing it will receive full sun.
6) If bringing indoors for the winter, keep by a sunny window and water as needed. Also, avoid exposure to both drafts and heat from a window or vent.
Watering (in the ground): Be sure to give your tree a deep watering so that it can penetrate into the root system. After watering, allow the top 2-3 inches of the soil to dry out completely before watering again as Soursops do not like wet feet. Yellowing and droopy leaves are a common sign of overwatering while brown, dry leaves are a sign of under-watering. Mulching can help retain the soil moisture and also combat competing grasses/weeds.
Watering (potted): Stick your index finger into the soil down to about 2 inches. If there is moisture present, hold off on watering until it feels drier at that depth. When ready to water, stop once you see it escaping drainage holes at the base of the pot.
Pollination: Our trees are self-fertile but can pollinate your indoor trees by hand. Simply take a small, fine-tipped paintbrush and stick it into the center of the bloom. Swirl it around and collect the pollen on the brush. Go to the next bloom and repeat the process until every bloom has been treated. The bloom will fall off naturally and the fruit will begin to form.
Fertilization: Feed your Soursop tree every 3 months with a 10-10-10 formula at a half pound per year for the first year. Increase to 1 pound the following year and 3 pounds for every year thereafter.
Pruning: Soursop trees don't require much pruning once the initial shaping is attained. Only prune off dead branches or limbs once the harvesting is over.
Shipping Details
Shipping Alert:
You can still order, but due to cold weather, we have delayed shipping to the areas shaded on the map below. We want your new plant to thrive right out of the box, so we will wait on shipping your order until the weather is ideal. This includes anyone in Growing Zones 3, 4, 5, & 6. If you are unsure of your growing zone, visit our Growing Zone Finder.

Some plants are not available for immediate shipment, and delayed delivery is noted.

We will resume normal shipping in the Spring. Please see the table below for your approximate ship date.
| | | |
| --- | --- | --- |
| | Growing Zone | Shipping Resumes |
| | Zones 3 & 4 | Week of May 2nd |
| | Zone 5 | Week of April 11th |
| | Zone 6 | Week of March 28th |
| | Zones 6 - 11 | Ships Now! |
Estimated Shipping Time: Most orders ship immediately. As noted on the website, some items are seasonal, and may only ship in spring or fall. Once your order is shipped, you'll receive an email with a tracking number.
| Amount of Order | Shipping Charge |
| --- | --- |
| Less than $15 | $11.95 |
| $15.00-$23.99 | $13.95 |
| $24.00-$39.99 | $16.95 |
| $40.00-$78.99 | $19.95 |
| $79.00-$98.99 | $24.95 |
| $99.00-$128.99 | $29.95 |
| $129 + | FREE SHIPPING! |
Customer

Reviews

& Photos

Customer Reviews

Write a Review

Ask a Question

Filter Reviews:
tree
leaves
fruit
shipping
plants
soursop
family
shape
companies
order
04/05/2020
James m.

United States
09/03/2019
Ray S.

United States
I recommend this product
"The Leaves of the Tree Are For The Healing of the Nations"
I sit in amazement as I watch this tree grow. I could not help myself, one day I pulled 3 leaves off the tree and made some tea. Not only was it delicious, but I got the best nite's sleep I have had in a long time. I know that there are many more healthy benefits from the tree to come, as I have read many documented articles in regards to its medical benefits. Not only that the tree is beautiful, and an evergreen so it won't shed it's leaves in the winter.I am so impressed with this tree I will soon purchase a 2nd one. We need to get the word out about the healing capabilities of this amazing tree. Thank you FGT.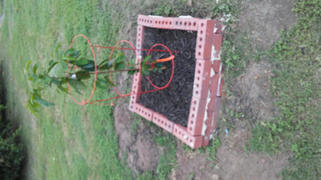 12/08/2021
Anonymous

United States
I recommend this product
Soursop!
It Was in great shape when it arrived even after beeing in the box after beeing delivered from the other side of the United States arrived green and nice and healthy!! Had it for a couple weeks now .looking forward to seeing this beauty grow
10/25/2021
LaurieAnn L.

United States
I recommend this product
great so far
the tree arrived in great condition. I am hoping this fruit, which looks like and is related to Cherimoya, will be as delicious. Cherimoya is not suited to my area, and this one is, so my fingers are crossed!