---
Product Details
| | |
| --- | --- |
| Mature Height: | 15 ft. |
| Mature Width: | 15 ft. |
| Sunlight: | Full-Partial |
| Growth Rate: | Moderate |
| Botanical Name: | Myrica cerifera |
| Does Not Ship To: | AZ |
| Grows Well In Zones: | 7-11 outdoors |
| You are in Growing Zone: | # |
Growing Zones: 7-11 outdoors
(hardy down to 10℉)
Product Description
Versatile Shrub or Ornamental Tree
Why Wax Myrtle Trees?
If a partition or screen is your objective, then the Wax Myrtle performs flawlessly. Its dense foliage and quick-growing nature lends itself to being an excellent choice for shrubs. Plant them in a row to define your property line, or to accent your front patio.
And the Way Myrtle's foliage and berries are pleasingly fragrant, making it a great addition to your outdoor living space. The fruit matures in the fall and remains throughout winter, attracting a multitude of birds. Plus, Myrtle is 'green' in more ways than one, as it returns nitrogen to the soil and organically repels insects.
Why Fast-Growing-Trees.com is Better
For starters, the easy-to-grow Wax Myrtle is deer resistant, heat and drought tolerant. Known for its adaptable nature, the Wax Myrtle will put up with moist or dry soil and even grows well in infertile soils. These plants are so trouble-free they practically take care of themselves.
But the best part is its strong history. You get rich foliage, tiny yellow-green flowers that are daintily aromatic in the spring and carefree benefits because we've nurtured our Wax Myrtles for a head start. When your Wax Myrtle arrives to your door, it's ready to grow effortlessly.
Our Wax Myrtles are grown with expert, loving care and are healthy and ready for quick shipment. Get your own Wax Myrtle today!
Planting & Care
1. Planting: Wax Myrtles prefer well draining, slightly acidic soils, but will adapt to just about any soil type. If you're located near a beach, this makes for a great tree as it is tolerant to sea spray. Select a location where where it will receive full to partial sunlight (4 to 8 hours of sunlight per day) and where the roots will not be disturbed.
When you're ready to plant, dig a hole twice as wide and just as deep as the root system. Tamp the soil down as you back fill the hole to cut back on any air pockets from forming. After planting, be sure to give your Wax Myrtle tree a deep watering for about 5 minutes. Mulching around the tree will help insulate the roots and keep your plant warm in the colder winter months as well.
2. Watering: Wax Myrtles do best when watered around the drip line every 10 to 14 days. As a rule of thumb, if the soil is moist 2 to 3 inches down, avoid watering your tree until it's dry.
3. Fertilizing: Wax Myrtles generally do not require very much fertilizing. If you do fertilize, avoid anything with an excessive amount of nitrogen.
4. Pruning: When growing your Wax Myrtle as a hedge, minimal pruning is required to maintain a desired shape. Be sure to do any pruning in early spring before new growth starts. When the shrub is young, it can be trained into a tree form by choosing the largest and strongest stem (or stems if you'd prefer a multi-trunk tree) and pruning all other stems to ground level.
Shipping Details
Shipping Alert:
You can still order, but due to cold weather, we have delayed shipping to the areas shaded on the map below. We want your new plant to thrive right out of the box, so we will wait on shipping your order until the weather is ideal. This includes anyone in Growing Zones 3, 4, 5 & 6. If you are unsure of your growing zone, visit our Growing Zone Finder.

Some plants are not available for immediate shipment, and delayed delivery is noted.

We will resume normal shipping in the Spring. Please see the table below for your approximate ship date.
| | | |
| --- | --- | --- |
| | Growing Zone | Shipping Resumes |
| | Zones 3 & 4 | Week of May 3rd |
| | Zone 5 | Week of April 10th |
| | Zone 6 | Week of March 29th |
| | Zones 7 - 11 | Ships Now! |
Estimated Shipping Time: Most orders ship immediately. As noted on the website, some items are seasonal, and may only ship in spring or fall. Once your order is shipped, you'll receive an email with a tracking number.
| Amount of Order | Shipping Charge |
| --- | --- |
| Less than $15 | $11.95 |
| $15.00-$23.99 | $13.95 |
| $24.00-$39.99 | $16.95 |
| $40.00-$79.99 | $19.95 |
| $80.00-$98.99 | $24.95 |
| $99.00-$128.99 | $29.95 |
| $129.00-$148.99 | $39.95 |
| $149.00-$178.99 | $49.95 |
| $179 + | FREE SHIPPING! |
Customer

Reviews

& Photos

Customer Reviews

Write a Review

Ask a Question

Filter Reviews:
trees
condition
plants
shipping
Wax Myrtle
branch
season
customer service
review
FastGrowingTrees.com
01/10/2021
Maryam

United States
I recommend this product
Happy with the Purchase
I bought six of these planted 8 feet apart to create a hedge. This spring, it will be three years, and they are beginning to grow into each other to create the desired effect. The amount of sun will impact the growth rate tremendously it seems since my 50 foot row has different sunlight levels from one end to the other, and the plants in the most sun are approximately three times bigger than the ones at the other end with less sunlight. All are growing and surviving well enough and the little guys will eventually reach the size of the other ones, but it is fascinating to see the different growth rates and the impact of sun on their growth (I'm assuming it is the amount of sun since all other factors seems to be equal). Overall, very pleased. And, they smell very nice, and although I have seen berries on them, the berries are very small.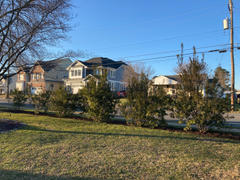 01/06/2021
Jesse S.

United States
12/07/2020
Arris H.

United States
I recommend this product
A. Hodge
A couple of my trees arrived damaged, but Elvis addressed my concerns promptly and solved the problem immediately. He did an amazing job, excellent customer service and very personable, an asset to your company. Love the trees too!
12/03/2020
Joseph S.

United States
I recommend this product
So far so good
The plants arrived in mostly good shape (couple of broken branches). I cut off the broken branches and planted them in a sunny location. Now, only time will tell. Thanks, Joe
11/25/2020
Barbara M.

United States
I recommend this product
Wax myrtle tree
Arrived in a timely manner in good health and in great shape. Was pleased.