* Images shown are of mature plants
---
Product Details
| | |
| --- | --- |
| Mature Height: | 5-7 ft. |
| Mature Width: | 2-3 ft. |
| Sunlight: | Full-Partial |
| Growth Rate: | Moderate |
| Botanical Name: | Gardenia jasminoides |
| Does Not Ship To: | AZ |
| Grows Well In Zones: | 8-11 outdoors |
| You are in Growing Zone: | # |
Growing Zones: 8-11 outdoors
(hardy down to 20℉)
Product Description
Double the Blooms for Double the Fragrance
Why Double Blooming Gardenia Trees?
Evoking some of the best memories of summers past, the Gardenia Tree is known for its rich, intoxicating fragrance. But the Double Blooming Gardenia has even more to offer, with fuller, 3-inch double blossoms that blanket the entire tree.

Place them in pots around the patio as topiaries, or plant in your garden to create your own personal paradise. Apart from the wonderful perfume that welcomes guests to any space, the pretty white petals and shiny, deep green leaves maintain their brightness for months at a time.
The Double Blooming Gardenia's flowers welcome spring and re-bloom throughout the summer, creating an encore of elegance that lasts up to three months. And since it's a steady grower that adapts to different soil types and shady areas, there's little upkeep involved in getting the rich blooms and fragrance for yourself.


Why Fast-Growing-Trees.com is Better
Other Gardenia varieties won't have the strong, full blooms of your Double Blooming Gardenia. That's because we've planted, grown and shipped your Gardenia with care…now, you get a hassle-free tree that's ready to thrive and burst with fragrance and color quickly.
When you order from Fast Growing Trees, you can enjoy the sizable double blooms and one-of-a-kind perfume of your Gardenia as soon as the first season, especially when you order our larger sizes.
Get the iconic fragrance and full, thick blossoms of the Double Blooming Gardenia, delivered right to your door. Order yours today!
Planting & Care
1. Planting: These trees can handle full sun all the way down to partial shade, depending on your location, and love well-drained soil. If you're in a colder northern climate, plant in full to partial sunlight (4 to 8 hours of sunlight daily). Southern growers can place the Double Blooming Gardenia in areas with partial sunlight to partial shade (4 to 6 hours of direct sunlight).
Dig a hole as deep as the root ball and twice the width. Place your tree in the hole, backfill the soil, and water your tree. Finally, mulch to conserve moisture.
To plant in a container, select a pot that's twice as large as the shipped container and ensure it has drainage holes. Use organic soil and place your tree in the pot.
Then, place it in a location with bright sun and ample humidity. A south-facing window in your home should provide ample sun exposure.
2. Watering: Water your tree weekly unless you have rainfall. If you're not sure when to water, simply check the surrounding soil for dryness, about 2 or 3 inches down.
For potted plants, check the soil and water until you see it coming from the drainage holes.
You can keep the humidity up around the plant by misting it daily or placing it on a tray with pebbles and water. As the water evaporates, it will feed humidity to the atmosphere around the gardenia.
3. Fertilizing: Your Double Blooming Gardenias can be fertilized every 3 to 4 weeks, from April through November. You can use a formula like 30-10-10, or a fertilizer high in nitrogen.
FGT Tip: If you notice yellow leaves, you can mix in a tablespoon of Epsom Salt with a gallon of water and apply this solution around your plant.
4. Pruning: Gardenias are best pruned in the summer after the plant has bloomed. Remove any broken or dead branches, and prune back any branches with spent flowers.
Shipping Details
Estimated Shipping Time: Most orders ship immediately. As noted on the website, some items are seasonal, and may only ship in spring or fall. Once your order is shipped, you'll receive an email with a tracking number.
| Amount of Order | Shipping Charge |
| --- | --- |
| Less than $15 | $11.95 |
| $15.00-$23.99 | $13.95 |
| $24.00-$39.99 | $16.95 |
| $40.00-$79.99 | $19.95 |
| $80.00-$98.99 | $24.95 |
| $99.00-$128.99 | $29.95 |
| $129.00-$148.99 | $39.95 |
| $149.00-$178.99 | $49.95 |
| $179 + | FREE SHIPPING! |
Customer

Reviews

& Photos

Customer Reviews

Write a Review

Ask a Question

Filter Reviews:
tree
plant
buds
leaves
condition
blooms
gardenia tree
flowers
packaging
Fast Growing Trees
09/22/2021
Anonymous

United States
I recommend this product
Double Bloom Gardenia
Arrived in one piece. It looks fresh and healthy. The tree had very few leaves on it. I hope it grows and fills in so it resembles a tree.
09/17/2021
Brandt D.

United States
I recommend this product
She's doing Fantastic, Made of Plastic!
Small Wonder, if you are old enough to remember the TV series. Planted it the first day. I'm disappointed that you won't let me upload a picture like all AMAZON reviews do. I had one just like it for 25 years and the new owners of my home let it freeze and when I found this one, I knew I found the best. It's grafted on a hearty gardenia stock for root and soil absorption and a wonderful blooming top which I expect to now to see next spring and outlive me at nearly age 60.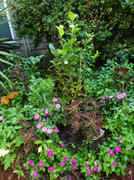 09/16/2021
Evelyn M.

United States
I recommend this product
It arrived in good condition last Wednesday one week ago. It is beautiful. I just repotted it. I am very excited. Still looks good. Considering ordering the frost free one also.
08/16/2021
Anonymous

United States
I recommend this product
Beautiful tree!
I ordered 3 dwarf shrub gardenias and the double blooming gardenia tree to place in a small bed that was bare. All 4 plants arrived right on time, got planted a few days ago and now look beautiful. There are a number of fat buds on the tree, perhaps we'll have some flowers.
08/04/2021
Kris G.

United States