Product Details
Growing Zones: 4-11 patio / 8-11 outdoors
(hardy down to 20℉)
4-11 patio
/
8-11 outdoors
Mature Height:

5-10 ft. unpruned

Mature Width:

3-4 ft.

Sunlight:

Full Sun

Spacing:

8-10 ft.

Growth Rate:

Moderate-Fast

Drought Tolerance:

Good

Harvest Time:

February-March

Year to Bear:

Can Fruit the 1st year!

Botanical Name:

Citrus x meyeri

Does Not Ship To:

AZ, AR, CA, CO, CT, DE, GA, ID, IL, IN, IA, KS, KY, LA, ME, MD, MA, MI, MN, MS, MO, MT, NE, NV, NH, NJ, NM, NY, NC, ND, OH, OK, OR, PA, RI, SC, SD, TN, TX, UT, VT, VA, WA, WV, WI, WY, AL, DC
Product Description
The All-In-One Citrus Tree for Every Home and Patio
Why Meyer Lemon Trees?
Meyer Lemons are different from the small, tart and acidic lemons at your grocery store because the fruit is literally a cross between traditional sour lemons and sweet oranges – yes, you get both sweet and savory flavors from each squeeze of this world-beating fruit!
As you know, the fruit available at your grocery store is not chosen for flavor but rather shelf life – that is why the lemons available to you are small with very thick skin. Meyer Lemons are not available in grocery stores because the fruit skin is so wonderfully thin that it would bruise while riding in a crate – however, the thin skin is perfect for home chefs that want tantalizingly fresh fruit right off the branch! The thin skin allows the citrus juices to develop fully, making it the perfect raw fruit for juices, desserts, and flavoring.
Can I grow it? YES, YOU CAN! The Meyer Lemon Tree has remarkable cold and heat tolerance so anyone in the country can grow it – if your winters get cold, simply bring your Meyer Lemon Tree indoors for the winter. Our trees max out at around 8 feet so you don't have to worry about them out-growing your space. And when you bring it indoors, you can enjoy the jasmine-citrus fragrance throughout those long winter months. If your sun exposure or growing conditions are less than ideal, then we recommend you start with one of our larger trees. They're already at a heavy fruiting size, with well-developed branching structures. Some of these trees have been grown for up to 4-5 years and have fruited for several seasons.
Place your order NOW and have your own Meyer Lemon Tree delivered right to your door.
Looking for that unique gift? Look no further! It's the gift that truly keeps on giving – a memorable keepsake to commemorate holidays, housewarmings, birthdays, bereavements – this tree will produce fruit for decades and every time someone picks a lemon they will think of you!
Why Fast-Growing-Trees.com is Better
Are all Meyer Lemon Trees equal? No! A Meyer Lemon Tree from Fast Growing Trees is different:
• Our Meyer Lemon Trees are grafted to established citrus tree rootstock which means they grow twice as fast, produce fruit almost immediately, and are guaranteed to produce "true" Meyer Lemons (unlike trees grown from seed).

• Our Meyer Lemon Trees are greenhouse-grown. We control how much light, heat, and water the trees receive to ensure you get the best tree imaginable- many trees that we ship to customers already have fruit on them!

• Our Meyer Lemon Trees are grown in their existing pots. Unlike the violent process of digging a tree out of the ground, our trees are nurtured to full potential without disrupting the roots so you receive the happiest and healthiest tree available.

• Fast Growing Trees only sells the "Improved" Meyer Lemon variety – the only cultivar that has proven disease-resistant capabilities.
• When you order our larger-sized Meyer Lemon Tree, you can look forward to faster fruiting...even in the first year of growth! Our larger sizes are perfect for those who don't want to wait to harvest delicious lemons.
You've heard the chatter, now it's time to try for yourself – this is the tree that so many home chefs have been successful with – start enjoying that sweet fruit immediately and order yours today!
Pollination Info
Meyer Lemon Tree Pollination
Meyer Lemon Trees are self-fertile. You will get fruit with only one plant. However, adding an additional Meyer Lemon Tree will drastically increase the size of your crop.
Customer

Reviews

& Photos

Customer Reviews

Write a Review

Ask a Question

Filter Reviews:
tree
leaves
Lemon tree
trees
fertilizer
water
instructions
growth
citrus
blooms
12/17/2019
Anonymous
United States
I recommend this product
Very pleased
The citrus came in very healthy and had some blooms
12/11/2019
Anonymous
United States
I recommend this product
Positive experience
Arrived in good conditions packaging very effetive
10/30/2019
Anonymous
United States
I recommend this product
Anxiously waiting for Lemons
Well I bought 1 tree and planted it a few weeks ago, I used the fertilizer and planting mix at that time, I used a fertilizer spike 3 days ago, the tree is green , no noticeable growth yet, so I ordered a second tree that arrived 2 days ago full of blooms and smelling great. I sprinkle it with water each nite and will plant it around 7 to 10 feet from the first one. Fingers crossed, I have never had a "Green Thumb" so I just follow the instructions and any help I can get from you.The first tree has had a few leaves turn brown so I cut them off. They seemed to curl up a bit. I didn't think that was good so I cut them off. I Love Meyer Lemons, and need all the help I can get to make these two trees thrive.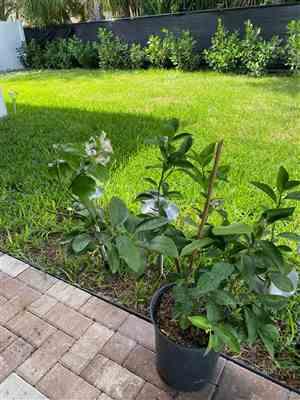 11/11/2019
Fast-Growing-Trees.com
We're more than happy to help with any questions you may have about the care of your trees!
08/30/2019
Kenny T.
United States
Good tree!
Very impressed with how the lemon tree was packed. Their weren't even any yellowing leaves. I've had it for about a week and it is coming along fine!
07/11/2019
Judith C.
United States
Meyer Lemon tree
tree arrived securely wrapped, still had some moisture :), and is surviving nicely. Just needs a new pot this week end. My experience with the company has been great. I have purchased a number of trees from them now.
Planting & Care
1. Planting: It is best to plant the Improved Meyer Lemon Tree in a warm, sunny area where the soil drains well. Six hours (or more) of direct sun is best for the tree. Planting next to a house or under an eave will provide some frost protection. Remember to water the Improved Meyer Lemon Tree deeply once every seven to ten days in midsummer (newly planted trees may need more frequent watering until established), and water less often if it rains or if the weather is cool.
If you're planting in a container, select one that is 1 to 2 pot sizes larger than what it initially arrived. Fill the bottom of your pot with a 2-inch layer of crushed stone to improve drainage. Then, fill with soil, 2 inches of compost, water well, and place near a south-facing window.
2. Watering: Allow the soil to dry down to 2 inches between waterings.
While the roots prefer to stay on the dry side, citrus leaves love humidity. Indoor Citrus will do best if misted daily, especially when you are running your heat during cooler months. You can also use a humidifier or fill your pot's saucer with rocks and add water; place your plant on the rocks ensuring the bottom of the pot is above the waterline.
3. Pollination: For indoor plants, simply take a small, dry, fine-tipped paintbrush and stick it into the center of the bloom. Swirl it around and collect the pollen on the brush. Go to the next bloom and repeat the process until every bloom has been treated. Do this once daily and don't wash the paintbrush until after the blooms have been pollinated. The bloom will fall off naturally and the fruit will begin to form.
4. Fertilizing: Fertilize regularly with a high-nitrogen blend each month between April and September.
FGT Tip: Yellowing leaves may indicate the need for more fertilizer.
5. Pruning: Prune as needed to maintain your Lemon Tree's shape. Clip off any branches that are too long. Remove branches growing toward the trunk of the tree instead of away from it. This will maintain airflow between the branches.

Shipping Details
Most items ship the next business day unless otherwise noted
Estimated Shipping Time: Most orders ship immediately, however some orders may ship in 1-2 business days (we do not ship on the weekends) from date of purchase. As noted on the website, some items are seasonal, and may only ship in spring or fall. Once your order is shipped, you'll receive an email with a tracking number.
| Amount of Order | Shipping Charge |
| --- | --- |
| Less than $15 | $11.95 |
| $15.00-$23.99 | $13.95 |
| $24.00-$39.99 | $16.95 |
| $40.00-$79.99 | $19.95 |
| $80.00-$98.99 | $24.95 |
| $99.00-$118.99 | $29.95 |
| $119.00- $148.99 | $34.95 |
| $149+ | FREE SHIPPING! |
Shipping Alert:
You can still order, but due to cold weather, we have delayed shipping to the areas shaded on the map below. We want your new plant to thrive right out of the box, so we will wait on shipping your order until the weather is ideal. This includes anyone in Growing Zones 3 & 4. If you are unsure of your growing zone, visit our Growing Zone Finder.

Some plants are not available for immediate shipment, and delayed delivery is noted.

We will resume normal shipping in the Spring. Please see the table below for your approximate ship date.
| | | |
| --- | --- | --- |
| | Growing Zone | Shipping Resumes |
| | Zones 3 & 4 | Week of May 4th |
| | Zones 5 - 11 | Ships Now! |