---
Product Details
| | |
| --- | --- |
| Mature Height: | 8 ft. pruned |
| Mature Width: | 6-8 ft. |
| Sunlight: | Full-Partial |
| Growth Rate: | Moderate |
| Harvest Time: | November - March |
| Year to Bear: | Can Fruit the 1st year! |
| Botanical Name: | Citrus limon 'Eureka' |
| Does Not Ship To: | AZ, CA, FL, GA, LA, TX |
| Grows Well In Zones: | 4-11 patio / 8-11 outdoors |
| You are in Growing Zone: | # |
Growing Zones: 4-11 patio / 8-11 outdoors
(hardy down to 20℉)
Product Description
Robust, Juicy Pink Lemons in Just One Year
Why Pink Variegated Eureka Lemon Trees?

One of the most popular fruit trees for home-grown citrus, the Pink Variegated Lemon Tree provides lemons in just one year. Plus, because it's dwarf-sized, it's easy to grow almost anywhere effortlessly.

Even better is the fact that it's drought-tolerant and easily adaptable to many soils and conditions. You don't need to spray chemicals because it isn't prone to pests or diseases, so you'll get a hassle-free harvest of abundant lemons, right from home.

If you live where winters won't allow your Variegated Eureka Lemon to survive outdoors, simply put your potted tree in front of a sunny window during cold seasons. Getting your own exotic pink lemons at home, from growing to harvesting, couldn't be simpler.
Why Fast-Growing-Trees.com is Better

With our Eureka Trees, you get your own fruit in just one year since we've grafted, greenhouse-grown and nurtured each tree. Our hard work means you get a proven performer in your homescape.
We've grown your Variegated Lemon Tree months ahead of time…and now, you get consistent growth, fast fruiting and reliable, consistent flavor, season after season. Pull out that juicer from the back of the cabinet, and make some real pink lemonade with your own Variegated Lemon Tree!
Pollination Info
Pink Variegated Eureka Lemon Tree Pollination
Pink Variegated Eureka Lemon Trees are self-fertile. You will get fruit with only one plant. However, adding an additional Pink Variegated Eureka Lemon Tree will drastically increase the size of your crop.
Planting & Care
1. Planting: Choose a location where your tree is going to get plenty of sunlight, 6-8 hours per day is best. Variegated Eurekas can tolerate some shade but thrive in full sun.
Whether you plant in a container or in the ground, ensure you also have well-drained soil for your Variegated Eureka Lemon Tree.
When you're ready to plant, dig a hole twice as wide and just as deep as the root system. Place the tree in the hole and backfill it, tamping the soil down as you backfill the hole to cut back on any pockets from forming.
After planting, be sure to give your Variegated Eureka Tree a deep watering for about 5 minutes. Mulching around the tree will help insulate the roots and keep your plant warm in the colder winter months as well.
If you're container planting, select a container that's about twice the width of your plant's shipped container.
2. Watering: After watering about once or twice weekly, allow the top 2 to 3 inches of the soil to dry out completely before watering again.
For potted Variegated Eurekas, stick your index finger into the soil down to about 2 inches. If there is moisture present, hold off on watering until it feels drier at that depth, and when you do water, stop once you see it escaping the drainage holes at the base.
3. Fertilizing: Feed your Variegated Tree during the warmer spring and summer seasons with a citrus specific fertilizer, like the one included in our Citrus Care Kit, once every six weeks. During the fall and winter season, ease back to fertilizing once every 2 to 3 months. Once the tree has matured a bit and has got a few years on it, you can skip the cold season fertilization.
4. Pruning: Make 45-degree angle cuts to remove dead or crossing limbs and also to thin out the tree. After the tree fruits, remove any dead wood and ventilate the center of the tree. Remove suckers as they form/grow from the base. Pruning can be done at any time of the year for the potted Variegated Eureka and any time for the in-ground tree, except for the winter.
5. Pollination: The Pink Variegated Lemon is self-fertile, but you can pollinate your indoor trees by hand, taking a small, dry, fine-tipped paintbrush and stick it into the center of the bloom. Swirl it around and collect the pollen on the brush, go to the next bloom and repeat the process until every bloom has been treated. Do this once daily and don't wash the paintbrush until after the blooms have been pollinated.
Shipping Details
Shipping Alert:
You can still order, but due to cold weather, we have delayed shipping to the areas shaded on the map below. We want your new plant to thrive right out of the box, so we will wait on shipping your order until the weather is ideal. This includes anyone in Growing Zones 3, 4, 5 & 6. If you are unsure of your growing zone, visit our Growing Zone Finder.

Some plants are not available for immediate shipment, and delayed delivery is noted.

We will resume normal shipping in the Spring. Please see the table below for your approximate ship date.
| | | |
| --- | --- | --- |
| | Growing Zone | Shipping Resumes |
| | Zones 3 & 4 | Week of May 3rd |
| | Zone 5 | Week of April 10th |
| | Zone 6 | Week of March 29th |
| | Zones 7 - 11 | Ships Now! |
Estimated Shipping Time: Most orders ship immediately. As noted on the website, some items are seasonal, and may only ship in spring or fall. Once your order is shipped, you'll receive an email with a tracking number.
| Amount of Order | Shipping Charge |
| --- | --- |
| Less than $15 | $11.95 |
| $15.00-$23.99 | $13.95 |
| $24.00-$39.99 | $16.95 |
| $40.00-$79.99 | $19.95 |
| $80.00-$98.99 | $24.95 |
| $99.00-$128.99 | $29.95 |
| $129.00-$148.99 | $39.95 |
| $149.00-$178.99 | $49.95 |
| $179 + | FREE SHIPPING! |
Customer

Reviews

& Photos

Customer Reviews

Write a Review

Ask a Question

Filter Reviews:
tree
fruit
growth
water
plant
Lemon tree
leaves
favorite
bulb
state
02/26/2021
Deanna J.

United States
Lovely variegated lemon tree :)
Adorable little lemon tree arrived healthy and quickly put out a good bit of new growth. It's been about 6 weeks since it arrived, and the tree is doing well. I would definitely recommend it. Wish there were more citrus trees with variegated leaves like this - it's beautiful, and I can't wait to see how great it will look as it grows into more of a tree and bears fruit!
01/08/2021
Anonymous

United States
Love it
It came today without any broken branches leaves looks great have lots of buds on it. Will wait and see how it goes. This is a replacement from the one I purchased. Tammie customer service is awesome.
11/12/2020
Anonymous

United States
So far, quite pleased
I purchased two trees and I've only had them for a week or so. I was very surprised at how small they were (even though the description was accurate). They seem pretty durable. I planted them in 14" pots which are quite large for this size plant but I'm anticipating them growing into the pots over time. They seem quite hardy and are doing well in the rich soil and pots they've been planted in. I'm excited to see how they do. I live in Michigan and have them in front of a slider door that gets a ton of sun throughout the day and I'm hoping to put them on the balcony in the warmer months.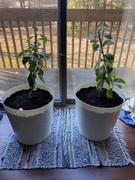 11/05/2020
Anonymous

United States
09/09/2020
Nicole

United States
My favorite plant!
I own over 100 plants and this one is by far my favorite! I ordered 2 and they arrived in perfect shape! I put in a second order about a week later and ended up getting another one! I'm extremely happy with my entire purchase! I've been watching this site for years so it was like a dream come true ordering from here! I'll definitely be ordering more from FGT!