Product Details
Growing Zones: 4-11 patio / 8-11 outdoors
(hardy down to 20℉)
4-11 patio
/
8-11 outdoors
Mature Height:

8 ft. pruned

Mature Width:

6-8 ft.

Sunlight:

Full-Partial

Growth Rate:

Moderate

Harvest Time:

October - November

Year to Bear:

Can Fruit the 1st year!

Botanical Name:

Citrus limon and Citrus aurantifolia

Does Not Ship To:

AZ, CA, FL, GA, LA, TX
Product Description
Lemons and Limes All Year Long
Why Lemon-Lime Citrus Trees?
This twisting tree is a powerhouse team of citrus fruit. The Lemon-Lime Tree is the perfect combination of the extremely popular Meyer Lemon and the fragrant Key Lime. The two plants grow harmoniously side-by-side together in the same pot, so you'll always have a healthy harvest of both lemons and limes...and a unique tree that can't be found anywhere else.
And it doesn't matter where you live. This tree can grow in even the coldest climates, down to zone 4. Imagine eating a fresh lime or topping a salad with fresh lemon zest when it's snowing outside. The taste of summer can help you beat even the toughest winters!
Why Fast-Growing-Trees.com is Better
Aside from its no-fuss benefits and beauty, you get a powerhouse producer. We've planted, grown and shipped our Lemon-Lime Citrus Tree with care, so you get better results in your homescape. We've taken months to nurture this tree - now, you reap the rewards.
Plus, you won't get this tree at your local garden center or big-box store. The Lemon-Lime Tree is exclusive to our nursery, boasts healthy roots, and thrives in the same pot (no guesswork required!).
Have the freshness of summer delivered to you right now. The Lemon-Lime Tree provides endless fruit, fragrance, and health, all from the comfort of your own home. Don't miss out on the benefits of this amazing fruit tree - get your Lemon-Lime Tree today!
Pollination Info
Lemon-Lime Citrus Tree Pollination
Lemon-Lime Citrus Trees are self-fertile. You will get fruit with only one plant. However, adding an additional Lemon-Lime Citrus Tree will drastically increase the size of your crop.
Customer

Reviews

& Photos

Customer Reviews

Write a Review

Ask a Question

Filter Reviews:
tree
leaves
purchase
ones
fruit
lemon
blooms
lime
plants
company
04/06/2020
Tom M.
United States
I recommend this product
So good
The tree came fast. Great company communication. Was much better than expected. Full foliage. Naturally a couple of dry leaves. The tree already had blooms which we lost (Expected) but in 4 days more were back and new shoots are already 2-3 inches tall and we have only had it a week!. I am extremely delighted with this purchase. So much in fact, I am going to order a black walnut tree right now. I can;t wait to see the fruit. I highly recommend.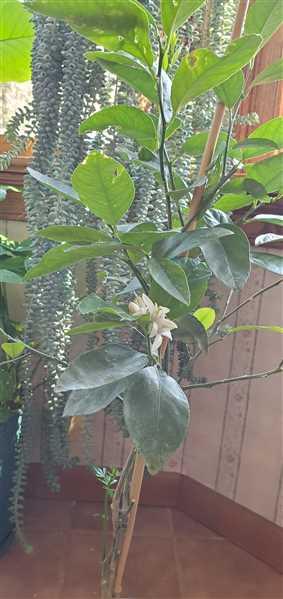 04/03/2020
Tom M.
United States
I recommend this product
Nicer than I expected
Good COmmunication Fast Delivery Product better than expected I received my Lemon/Lime tree in a few days. From reading other reviews I expected to see a well trimmed and dead looking tree. My tree came with bright leaves ( A few Dried ones) and even some blooms. We lost the blooms and some leaves but I expected that. All in all a very good purchase.
03/11/2020
Anonymous
United States
I recommend this product
Lemon and lime twist tree.
We love the tree and the condition it came in. Your company is high quality and service. Weather is finally getting warmer so tree is going in the ground tomorrow.
03/07/2020
Anonymous
United States
I recommend this product
Lemon lime tree
First time ordering from you folks. Very happy with my experience and the tree. Will definitely look at your website in the future for other plants. Thanks Jay
03/04/2020
Xiaowan L.
United States
I recommend this product
Already Blooming!
What a fun project! Our tree is on the patio, happy and blooming. Highly recommend :)
Planting & Care
1. Planting: Plant your Lemon Lime Tree in a pot that is 12 to 14 inches in diameter. Use a basic, organic potting mix without any fertilizer added, place your tree, and water to settle the roots. Adding mulch or cedar shavings to the top of the soil helps retain the plant's moisture.
2. Watering: Lemon-Lime Trees need plenty of water. To know when to water your tree, simply check the soil about 3 inches down. If the soil is dry here, it's time to water your Lemon-Lime Tree.
3. Fertilizing: A citrus or avocado fertilizer will give the best results, such as the one included in our Citrus Care Kit. Your leaves will tell you if you need to add certain fertilizers later. If your leaves are too yellow, the plant needs more nitrogen. If the leaves are yellow with green veins, then the Lemon-Lime Tree needs iron.
4. Pruning: There's no need to prune your Lemon-Lime Tree. If you want to keep its shape, then you can prune as desired.
5. Pollination: Our trees are self-fertile, but you can pollinate by hand for your indoor trees. Simply take a bloomed flower and pluck it. Gently rub the center of the flower over the center of the other flowers. This will essentially do what bees will do for you outside in the summer!
Shipping Details
Most items ship the next business day unless otherwise noted
Estimated Shipping Time: Most orders ship immediately, however we are currently experiencing delays and could take up to 4-7 days from date of purchase. As noted on the website, some items are seasonal, and may only ship in spring or fall. Once your order is shipped, you'll receive an email with a tracking number.
| Amount of Order | Shipping Charge |
| --- | --- |
| Less than $15 | $11.95 |
| $15.00-$23.99 | $13.95 |
| $24.00-$39.99 | $16.95 |
| $40.00-$79.99 | $19.95 |
| $80.00-$98.99 | $24.95 |
| $99.00-$118.99 | $29.95 |
| $119.00- $148.99 | $34.95 |
| $149.00-$178.99 | $39.95 |
| $179+ | FREE SHIPPING! |
Shipping Alert:
You can still order, but due to cold weather, we have delayed shipping to the areas shaded on the map below. We want your new plant to thrive right out of the box, so we will wait on shipping your order until the weather is ideal. This includes anyone in Growing Zones 3 & 4. If you are unsure of your growing zone, visit our Growing Zone Finder.

Some plants are not available for immediate shipment, and delayed delivery is noted.

We will resume normal shipping in the Spring. Please see the table below for your approximate ship date.
| | | |
| --- | --- | --- |
| | Growing Zone | Shipping Resumes |
| | Zones 3 & 4 | Week of May 4th |
| | Zones 5 - 11 | Ships Now! |