Product Details
Growing Zones: 6-9 outdoors
(hardy down to 0℉)
This plant may not thrive in your area
6-9 outdoors
Mature Height:

4-6 ft.

Mature Width:

5-10 ft.

Sunlight:

Full Sun

Growth Rate:

Moderate

Harvest Time:

Midseason

Year to Bear:

Can Fruit the 1st Year!

Botanical Name:

Prunus persica 'Bonanza'

Does Not Ship To:

AZ, AR, CA, ID, LA, WA
Product Description
Compact Size and Large Fruit in One Year
Why Bonanza Peach Trees?
You'll get visual interest and fresh, juicy fruit…and fast, in one compact package. The Bonanza Peach Tree is known for its abundance of full-sized, fast-growing peaches, sweet and filled with refreshing flavor.
It's a versatile tree with tons of benefits. Large enough to grow bushels of delicious peaches but still well-suited to nearly any location in your landscape, it's the picture of adaptability. Whether it's planted in a container on your porch or patio or placed in your favorite location among other fruit trees in your yard, the Bonanza Peach is a staple that thrives without much maintenance.
Why Fast-Growing-Trees.com is Better
We've nurtured it and monitored this tree at our nursery, long before it arrives to your door, it's ready to acclimate to your area right away – and produce fruit in its very first year. And since we've put in the extra work, caring for this incredible specimen is as easy as any of the standard peach trees.
Imagine freshly-picked, flavorful peaches right from your backyard…just without the hassle. With our expertly-grown Bonanza Peach Tree, it's possible. Order your very own today!
Pollination Info
Bonanza Patio Peach Tree Pollination
Bonanza Patio Peach Trees are self-fertile. You will get fruit with only one plant. However, adding an additional Bonanza Patio Peach Tree will drastically increase the size of your crop.
Customer

Reviews

& Photos

Customer Reviews

Write a Review

Ask a Question

Filter Reviews:
tree
condition
plant
trees
buds
thing
area
peach tree
customer service
peaches
02/12/2020
Anonymous
United States
Bonanza Patio Peach Tree
Very happy with the shipment, got it by time frame...container good ...will buy again...
02/12/2020
Anonymous
United States
Healthy Tree
Tree arrived very damaged, but I called and had another tree that was beautiful and healthy within 2 days! Thanks Fast Growing Trees for your Great customer service!
01/25/2020
Leona C.
United States
Well rooted stock, great customer service
There was a little confusion about the peach tree received because there were 2 different plant tags. Customer service responded by sending another tree. Both trees were healthy, well branched, with numerous buds and good root system that were not root bound. Happy with purchase and definitely be back.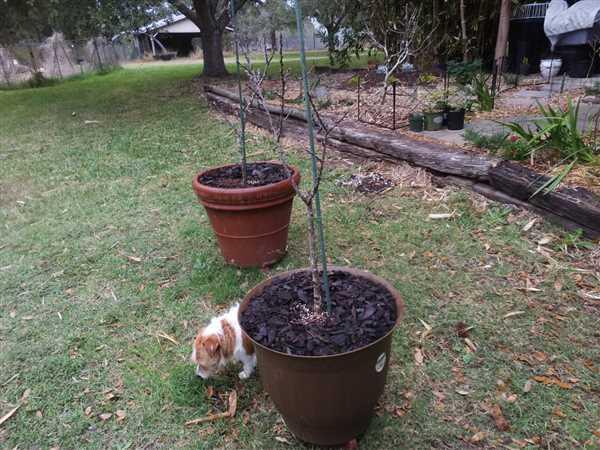 12/09/2019
BRENDAN M.
United States
A PEACH OF A PEACH TREE
CAN'T WATH TO PLANT IT OUTSIDE. IT HAS LOTS OF BUDS ON IT AND IS CURRENLY IN MY SUN ROOM NICE AND COZY. HURRY UP SPRING. THANKS FOR A GREAT LOOKING PEACH TREE. BRENDAN. MILLBROOK NEW YORK. WITH A FOOT OF SNOW AND ICE CURRENTY.
Nice tree, great customer service.
I ordered the Bonanza patio peach tree and received it in a reasonable time period. The tree was packed well. While it was available for less money elsewhere, you get what you pay for. Fast Growing Trees provided me with great customer service, responding back personally to some questions I had asked about caring for the tree. Their knowledgeable approach is far better than anything you can get at a big box retailer. They stand by the products and the warranty is a good extra bit of insurance for a few bucks more. I will definitely be using this site again for my tree/plant needs.
Planting & Care
Living up to its name, the Bonanza Patio Peach Tree is perfect for small gardens, on a deck, or in a container.
1. Planting: Plant your Bonanza Patio Peach Tree in well-drained soil in a location that receive full sun (at least 6 to 8 hours of sunlight a day). Protect your tree from heavy winds by planting on the sunniest side of a building or your home.
When you're ready to plant, dig the hole twice the size as the root ball and just a little shallower. Use your fingers to separate the roots of your Bonanza, place the tree, back fill the soil and apply water to settle. If you're container-growing, be sure to select a pot with plenty of holes in the bottom, along with a pot size that's twice the size of the plant's shipped container.
2. Watering (in ground): Keep the soil around your Bonanza moist, but not over saturated. Watering once a week by leaving a hose at the base of the tree for a couple of hours is sufficient. Once the soil around the tree has dried, water the tree again. During times of extreme heat, your tree may need additional water.
For container-grown Bonanzas, stick your finger into the potting soil down to a depth of 2 inches and feel around for any moisture. If the soil is drying out, go ahead and water it slowly until you see water escaping the drainage holes and then stop.
3. Fertilizing: Fertilize your tree with a well-balanced fertilizer such as a 12-12-12 formula. Apply in spring before the tree pushes out new growth. Repeat this in the summer and fall seasons as well.
4. Pruning: Bonanza Trees should only be pruned while the plant is dormant without leaves. That is usually in winter or early spring before the leaf buds open up.
Shipping Details
Most items ship the next business day unless otherwise noted
Estimated Shipping Time: Most orders ship immediately, however some orders may ship in 1-2 business days (we do not ship on the weekends) from date of purchase. As noted on the website, some items are seasonal, and may only ship in spring or fall. Once your order is shipped, you'll receive an email with a tracking number.
| Amount of Order | Shipping Charge |
| --- | --- |
| Less than $15 | $11.95 |
| $15.00-$23.99 | $13.95 |
| $24.00-$39.99 | $16.95 |
| $40.00-$79.99 | $19.95 |
| $80.00-$98.99 | $24.95 |
| $99.00-$124.99 | $29.95 |
| $125+ | FREE SHIPPING! |
Shipping Alert:
You can still order, but due to cold weather, we have delayed shipping to the areas shaded on the map below. We want your new plant to thrive right out of the box, so we will wait on shipping your order until the weather is ideal. This includes anyone in Growing Zones 3 - 6. If you are unsure of your growing zone, visit our Growing Zone Finder.

Some plants are not available for immediate shipment, and delayed delivery is noted.

We will resume normal shipping in the Spring. Please see the table below for your approximate ship date.
| | | |
| --- | --- | --- |
| | Growing Zone | Shipping Resumes |
| | Zones 3 & 4 | Week of May 4th |
| | Zone 5 | Week of April 13th |
| | Zone 6 | Week of March 30th |
| | Zones 7 - 11 | Ships Now! |