Product Details
Growing Zones: 5-10 outdoors
(hardy down to -10℉)
5-10 outdoors
Mature Height:

30-50 ft.

Mature Width:

20-25 ft.

Sunlight:

Full Sun

Growth Rate:

Moderate

Botanical Name:

Magnolia virginiana

Does Not Ship To:

AZ
Product Description
Snowy White Blooms and Dense Shade
Why Sweetbay Magnolia Trees?
The Sweetbay Magnolia Tree delivers creamy-white blooms on a beautiful, dense shade tree. And this magnolia's stunning flowers burst in late spring and early summer, giving you a blizzard of blooms.
Often grown as ornamental or showpiece trees, the Sweetbay's beauty belies the strength within. This is one of the most pest resistant Magnolia Tree you can find. It can tolerate very moist soils and can even survive standing water. So, the glossy green leaves with a silver-tinted underside, signature for the Sweetbay, grow without much effort on your part.
Why Fast-Growing-Trees.com is Better
But the best part? Because we've planted, grown and shipped your Sweetbay Magnolia with absolute care, you get durable, long-lived growth. We've done the hard work ahead of time at our nursery so that you get a ready-to-grow Sweetbay, delivered right to your door with a healthier root system and more developed branching than you'd find at big box or other nurseries.
With the Sweetbay Magnolia, you get it all...full shade, vibrant flowers and disease resistance. Get your own Sweetbay Magnolia Tree today!
Customer

Reviews

& Photos

Customer Reviews

Write a Review

Ask a Question

Filter Reviews:
tree
leaves
condition
plant
trees
water
growth
buds
shipping
Fast Growing Trees
03/16/2020
Sharon
United States
I recommend this product
Three trees
I ordered this Magnolia, a Crape Myrtle, and a flowering plum tree, all within days of each other. The trees arrived quickly & in good condition. I planted them immediately. The flowering plum started getting leaves in 2 days! The magnolia, much smaller, took a few more days before buds appeared. The Crape Myrtle was just 2 sticks attached to a root. I didn't see any buds, but I watered it every day, and after about a week, it started growing leaves. I'm VERY pleased & will be ordering more from Fast Growing Trees!
01/17/2020
Anonymous
United States
I recommend this product
Good
The tree came through the shipment fine. Looking forward to its leafing out.
11/08/2019
Leathel I. Emery
United States
Worry Free.
Due to the Organic Plant Mix, MiracleGro Tree & Shrub Spikes are making my job easier. I know they are busy doing their theirs. Tree is doing great.
10/30/2019
Anonymous
United States
sweetbay magnolias
Single stem trees, was expecting multi stem. Otherwise, nice healthy trees
10/22/2019
Timothy C.
United States
Greatly pleased with our Sweetbay Magnolia
Had ordered 2 Sweetbay Magnolias from another provider and one died within days. They only offered a discount but had no trees available for more than 6 months. Decided to purchase from Fast Growing Trees, received my tree within 3 days. Amazingly fresh and healthy. Looking forward to enjoying it for years to come.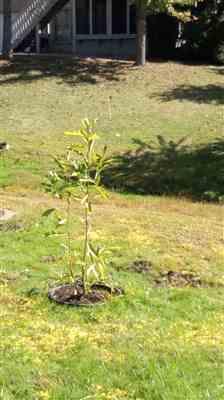 Planting & Care
1. Planting: Choose a location away from cement sidewalks or driveways. If possible, pick a spot on the Northside of your yard with a safe distance from the house. This will enable the maximum exposure to the sun, resulting in more blossoms.
Choose a site that is rich in organic matter and drains well. If desired, you can add compost into the planting hole and mix with soil. The hole should be dug slightly larger than the root system of the plant, 2 to 3 times the width and just as deep as the root ball. Position the tree in the ground and mix the soil with the compost. Hold the tree straight as you begin to back fill the hole, tamping down as you go to prevent air pockets from forming and then water to settle the soil. Apply some mulch after planting to moderate soil temperatures and moisture conditions.
2. Watering: Water the Sweetbay frequently during the root system's early development, then periodically as necessary (in the first couple of growing seasons, water twice weekly or check the surrounding soil for dryness). Water just beyond the branch line to reach the full extent of the roots.
3. Fertilizing: You can feed your tree if new growth is noticeably slow. Use a controlled-release fertilizer formula, and be sure to follow the application instructions on the bottle for optimum effectiveness.
4. Pruning: Prune your Magnolia at the first sign of any dead leaves, branches or flowers. When pruning, remove the branch down to its base. Prune your tree to maintain the required shape as well as to keep the rapid growth of branches under control. Prune the lower branches as necessary as the tree grows.
Shipping Details
Most items ship the next business day unless otherwise noted
Estimated Shipping Time: Most orders ship immediately, however some orders may ship in 1-2 business days (we do not ship on the weekends) from date of purchase. As noted on the website, some items are seasonal, and may only ship in spring or fall. Once your order is shipped, you'll receive an email with a tracking number.
| Amount of Order | Shipping Charge |
| --- | --- |
| Less than $15 | $11.95 |
| $15.00-$23.99 | $13.95 |
| $24.00-$39.99 | $16.95 |
| $40.00-$79.99 | $19.95 |
| $80.00-$98.99 | $24.95 |
| $99.00-$124.99 | $24.95 |
| $125 + | FREE SHIPPING! |
Shipping Alert:
You can still order, but due to cold weather, we have delayed shipping to the areas shaded on the map below. We want your new plant to thrive right out of the box, so we will wait on shipping your order until the weather is ideal. This includes anyone in Growing Zones 3 - 5. If you are unsure of your growing zone, visit our Growing Zone Finder.

Some plants are not available for immediate shipment, and delayed delivery is noted.

We will resume normal shipping in the Spring. Please see the table below for your approximate ship date.
| | | |
| --- | --- | --- |
| | Growing Zone | Shipping Resumes |
| | Zones 3 & 4 | Week of May 4th |
| | Zone 5 | Week of April 13th |
| | Zones 6 - 11 | Ships Now! |