---
Product Details
| | |
| --- | --- |
| Mature Height: | 20-30 ft. |
| Mature Width: | 20-30 ft. |
| Sunlight: | Full-Partial |
| Growth Rate: | Moderate |
| Botanical Name: | Wisteria |
| Does Not Ship To: | AZ, WI |
| Grows Well In Zones: | 4-9 outdoors |
| You are in Growing Zone: | # |
Growing Zones: 4-9 outdoors
(hardy down to -20℉)
Product Description
Giant Lavender Flowers & Easy, Fast Growth
Why Purple Wisteria Vines?
Huge, full purple flowers up to 12 inches long produce a unique scent found only in these romantic bloomers...the Purple Wisteria Vine is unlike any other.

Plus, its new leaves are so shiny they look lacquered as the sun plays over them. Basically, the Wisteria Vine is a delight to grow. And the Purple Wisteria is easy to grow since it adapts well to a wide range of soils. To get the most out of this colorful show, be sure to place your Purple Wisteria where everyone can see it...no matter where it grows, it will delight.

Plant them in rows for a spring flower show. The fragrance of Wisteria blooms will have you looking forward to spring in a way you never have before. From pergolas near your home to entryway arbors and beyond, the Wisteria makes a timeless, elegant statement.
Why Fast-Growing-Trees.com is Better
Your Purple Wisteria from Fast Growing Trees Nursery will arrive with a good, solid root system, made to quickly adapt to your yard.
Unlike big-box retailers or local nurseries, your Purple Wisteria is shipped right to your door with healthy, intact roots.
Now, you get color and huge blooms faster than ever before. Order them now and witness the show for yourself. Get your own Purple Wisteria Vine for your garden!
Planting & Care
1. Planting: The ideal spot for planting Wisteria should be a sunny area with fertile, moist, well-draining soil. Wisteria thrives in almost any soil type as long as it is well-draining and receives at least 6 hours of direct sunlight.
Dig a hole that is three times as wide as the root ball and just as deep (if planting more than one, space the plants 10-15 feet apart). Gently hold the plant while making sure it's vertical in the hole and backfill the hole with your other hand, working the soil around the roots to avoid air pockets.
Wisteria may require staking while it becomes established. If you do this, drive your stake 6 to 12 inches down. Secure the tree with planter's tape every 8 inches.
2. Watering: During your first year, the Wisteria will benefit from regular watering while the roots become established. An inch of rainfall per week is recommended. A slow trickling from the hose works best so the soil can absorb water, but the natural rainfall in your area should be sufficient for your Wisteria.
3. Fertilizing: Your Wisteria will require little fertilizing. If you have poor or sandy soil, consider using a small amount of fertilizer like formula 5-10-10 or 5-10-5. Feed your wisteria about 3/4 cup per square yard each year during the spring.
4. Pruning: Wisteria needs to be pruned twice a year, typically once in late winter and again in mid-summer. Winter pruning is to prepare the flowering spurs for the upcoming season. Summer pruning keeps the long, whip-like shoots under control encouraging them to become flowering spurs.
Shipping Details
Shipping Alert:
You can still order, but due to cold weather, we have delayed shipping to the areas shaded on the map below. We want your new plant to thrive right out of the box, so we will wait on shipping your order until the weather is ideal. This includes anyone in Growing Zones 3, 4, 5 & 6. If you are unsure of your growing zone, visit our Growing Zone Finder.

Some plants are not available for immediate shipment, and delayed delivery is noted.

We will resume normal shipping in the Spring. Please see the table below for your approximate ship date.
| | | |
| --- | --- | --- |
| | Growing Zone | Shipping Resumes |
| | Zones 3 & 4 | Week of May 3rd |
| | Zone 5 | Week of April 10th |
| | Zone 6 | Week of March 29th |
| | Zones 7 - 11 | Ships Now! |
Estimated Shipping Time: Most orders ship immediately. As noted on the website, some items are seasonal, and may only ship in spring or fall. Once your order is shipped, you'll receive an email with a tracking number.
| Amount of Order | Shipping Charge |
| --- | --- |
| Less than $15 | $11.95 |
| $15.00-$23.99 | $13.95 |
| $24.00-$39.99 | $16.95 |
| $40.00-$79.99 | $19.95 |
| $80.00-$98.99 | $24.95 |
| $99.00-$118.99 | $29.95 |
| $119.00-$148.99 | $39.95 |
| $149 + | FREE SHIPPING! |
Customer

Reviews

& Photos

Customer Reviews

Write a Review

Ask a Question

Filter Reviews:
shape
plants
blooms
wisteria
larger
foot
trellis
items
Florida
sticks
09/30/2020
Anonymous
United States
I recommend this product
Lovely plant
Love the graceful leaves of this beautiful plant. Cannot wait until the majestic purple flowers bloom.
I recommend this product
Amazing growth
I planted this wisteria I had received in the end of June (June 26) of this year. When I received it, it was about 3.5 feet tall very healthy. It has literally grown over 12 feet now and I am constantly wrapping it every week (not complaining!!). This grows very well in the humid Texas climate! So happy with this!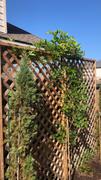 08/13/2020
Lorena P.
United States
08/07/2020
Brad W.
United States
I recommend this product
Another great purchase
Plants arrived in good shape. New growth showing after @ 10 days in the ground.
06/18/2020
susan l.
United States
I recommend this product
new wisteria vine
Looked very healthy when we received it. Planted it last week. cannot wait for it to bloom. Ease to plant with drop and grow bag.