---
Product Details
| | |
| --- | --- |
| Mature Height: | 15-25 ft. |
| Mature Width: | 6-8 ft. |
| Sunlight: | Full Sun |
| Growth Rate: | Moderate |
| Botanical Name: | Juniperus scopulorum 'Wichita' |
| Does Not Ship To: | AZ, CA |
| Grows Well In Zones: | 3-7 outdoors |
| You are in Growing Zone: | # |
Growing Zones: 3-7 outdoors
(hardy down to -30℉)
Product Description
Beautiful Blue-Gray Color Year-Round
Why Juniper 'Wichita Blue' Trees?
Thick and full, the moderately-sized Wichita Blue Juniper creates an impenetrable screen or windbreak but is short enough to not interfere with power lines. A row of these Junipers will add vertical interest along fences, streets and beyond, performing as screens or windbreaks.
And it's not limited to your outdoor landscape: you can snip a few branches for Christmas greenery to add beautiful blue-green color and fresh Juniper scent to your decorations.
Evergreen, long-lived and deer resistant, the Juniper stands out year-round. Silvery blue foliage shines, with none of the common winter bronzing. Plus, because the Wichita Blue typically lives 70 years or more, it's a lifetime landscape staple. Though deer aren't attracted to it, numerous birds will forage on the silvery blue berries in late summer and winter, providing a graceful show of wildlife.

Why Fast-Growing-Trees.com is Better
We've planted, grown and shipped our Wichita Blue with an intact root system for maximum health. By the time it arrives to your door, it's already ready to grow. And our Juniper Trees are perfect without pruning but is customizable to your desired look.

So, you'll receive a healthy shrub with a well-developed root system, ready to plant and grow vigorously for you. Order your own 'Wichita Blue' Tree today!
Planting & Care
1. Planting: The Wichita Blue should be planted in a sunny spot. Full sun is preferred and moist or well-drained soil. If planting a hedge, mark out a visual guide by placing stakes 5 to 6 feet apart and looping string around them. Plant the trees where the stakes are and they'll grow together to make a dense privacy screen.

Dig each hole so that it is just shallower than the root ball and at least three times the width. Organic mulches, such as wood chips or pine needles, also help to better soil structure as they decompose. Position the tree into the hole and hold it straight. Begin back filling the hole, tamping down the soil as you fill to prevent any air pockets from forming.
Finally, water the planting site to completely settle the soil and then mulch around the base. Mulching helps retain your soil's moisture and assists with keeping competitive growth away such as weeds and grasses.
2. Watering: The Juniper Wichita Blue is suited to most soil conditions and will happily live anywhere that is not too wet. This shrub is drought tolerant once established and should be monitored for signs of additional watering if necessary. Simply follow a regular watering schedule during the first growing season to establish a deep, extensive root system - generally, watering once weekly will suffice.
3. Fertilizing: Wichita Blues need to be fertilized every few years. It's best to fertilize early in the growing season with a well-balanced fertilizer.
4. Pruning: Pruning is only necessary to preserve a trim pyramidal shape, removing a dead branch, or if you want a more formal hedge. Height may also be managed through judicious pruning.
Shipping Details
Shipping Alert:
You can still order, but due to cold weather, we have delayed shipping to the areas shaded on the map below. We want your new plant to thrive right out of the box, so we will wait on shipping your order until the weather is ideal. This includes anyone in Growing Zones 3, 4, 5 & 6. If you are unsure of your growing zone, visit our Growing Zone Finder.

Some plants are not available for immediate shipment, and delayed delivery is noted.

We will resume normal shipping in the Spring. Please see the table below for your approximate ship date.
| | | |
| --- | --- | --- |
| | Growing Zone | Shipping Resumes |
| | Zones 3 & 4 | Week of May 3rd |
| | Zone 5 | Week of April 10th |
| | Zone 6 | Week of March 29th |
| | Zones 7 - 11 | Ships Now! |
Estimated Shipping Time: Most orders ship immediately. As noted on the website, some items are seasonal, and may only ship in spring or fall. Once your order is shipped, you'll receive an email with a tracking number.
| Amount of Order | Shipping Charge |
| --- | --- |
| Less than $15 | $11.95 |
| $15.00-$23.99 | $13.95 |
| $24.00-$39.99 | $16.95 |
| $40.00-$79.99 | $19.95 |
| $80.00-$98.99 | $24.95 |
| $99 + | FREE SHIPPING with code FREE99! |
Customer

Reviews

& Photos

Customer Reviews

Write a Review

Ask a Question

Filter Reviews:
trees
soil
purchase
delivery
privacy screen
quality
something
health
planting
hopes
11/04/2020
Anonymous
United States
I recommend this product
Juniper
Healthy tree, packaged well
09/23/2020
Anonymous
United States
I recommend this product
wichita blue
It's a cute little tree. Can't wait for it to grow
08/19/2020
Michelle F.
United States
I recommend this product
Gotta Love the Internet!
We live in the rural "Adirondack Mountains" of Upstate New York State and love the tranquility & solitude. However, before we found Fast Growing Trees online with shipping, we had to drive for miles to get landscape trees etc. The Juniper's we purchased were delivered promptly in carefully packaged boxes to protect the quality trees throughout the delivery process. They arrived beautiful! Thank you Fast Growing Trees. What a great find!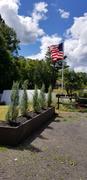 07/02/2020
TINA K.
United States
I recommend this product
Just the Pop of Color I needed!
The Tree arrived packaged very well, it was very healthy. I planted it a couple days after arrival. It looks like its taking to the area chosen perfectly.
06/23/2020
Cheryl K.
United States
I recommend this product
Bery nice Wichita Blue Juniper
I bought a Wichita blue juniper from fast growing trees and absolutely love it it's full and healthy and taller than I expected it to be I have sunset ordered to more