4809410379838
* Images shown are of mature plants
My FGT Yard Planner
You'll need to log in or create an account in order to save this item
Add to Yard Planner
---
The World's Most Versatile Lime
Why Persian 'Bearss' Lime Bushes?
Looking for a citrus tree you can grow in colder climates? The Persian 'Bearss' Lime Bush, which produces small, seedless fruit and a tart scent, is perfect for both indoor and outdoor growing, allowing gardeners everywhere to enjoy the aroma and fruit of these citrus trees.
Because of their size and flavor, Persian Limes are the most popular lime variety in the world.

The Persian Lime Bush produces fruit year after year.

Aside from intolerance to frost, the lime bush is adaptable and easy to grow.
This bush is a smaller cousin to the Persian 'Bearss' Lime Tree. The Persian Lime Bush reaches just 8 feet, making it an easy, compact addition to your landscape or home. It's perfect for patio containers or sunny corners of your house.
The Persian 'Bearss' Lime fruits are tart, with a classic lime flavor that can be used in cooking, baking, beverages and more. When it's not bearing fruit, the Persian Lime Bush produces lush green leaves, and white, jasmine-like flowers, adding a tropical touch to your home or garden.
Persian Lime Bushes can be planted outdoors in climates that are warm and sunny year-round. Though the Persian Lime is the most cold-tolerant of any lime variety, it can't withstand frost. If you don't have sunny and warm temperatures year-round, just move the bush indoor in the colder months.
The Persian Lime Bush can be planted outside in full sun in warmer climates, but with it's smaller size, it also thrives in containers on your patio or deck, or potted in a sunny spot indoors.
Why order a Persian 'Bearss' Lime Bush from FastGrowingTrees.com?
Want to add a tropical, fruit-bearing stunner to your yard or home? The Persian Lime Bush is the perfect choice.
Plus, when you order fromFastGrowingTrees.com, you get a plant that's been carefully planted, nurtured and grown at our nursery, to maximize your growing success. You'll get a Persian 'Bearss' Lime Bush with a stronger, healthier root system and more mature branching that's ready to fruit, faster.
Pollination Info
Persian 'Bearss' Lime Bush Pollination
Persian 'Bearss' Lime Bushs are self-fertile. You will get fruit with only one plant. However, adding an additional Persian 'Bearss' Lime Bush will drastically increase the size of your crop.
Planting & Care
1. Planting: Choose a location where your bush is going to get plenty of sunlight - 6 to 8 hours per day is best. Persian Lime Bushes can tolerate some shade, but thrive in full sun.
These bushes also do better in areas with high humidity - if you live in a drier climate, create humidity for your bush by misting the leaves daily with water. Potted plants enjoy a daily misting for humidity, but placing a tray with rocks filled with water under the plant will provide humidity to the bush as the water evaporates.
If your winter temperatures are consistently below 40 degrees, plant your bush in a container that can thrive outside in the summer months and be moved inside in the winter. A planter with built-in casters is a good choice so it can easily be moved.
Choose a pot slightly larger than the one your Persian Lime Bush was shipped in, that has plenty of holes in the bottom to allow for drainage. Be sure to plant in well-draining potting soil preferably recommended for acid-loving citrus plants.

Place your bush in a sunny area of your home, preferably a south-facing window. Supplement with a grow light if it will not receive full sun.
2. Watering: After planting, be sure to give your bush a deep watering so that it can penetrate into the root system. After watering, allow the top 2 to 3 inches of the soil to dry out completely before watering again.
When watering your potted Persian Lime, stop once you see water draining from the drainage holes at the base of the pot.
3. Fertilizing: Feed your Persian Lime Bush during the warmer spring and summer seasons with a citrus-specific fertilizer once every six weeks, such as the one included in our Citrus Care Kit. During the fall and winter season, ease back to fertilizing once every 2 to 3 months, and make sure to follow the application instructions written on the fertilizer bag.
4. Pollination: This bush is self-fertile and will produce fruit on its own, but if you want to increase your crop size, you can provide additional pollination by hand. Simply take a small, dry, fine-tipped paintbrush and stick it into the center of the bloom. Swirl it around and collect the pollen on the brush. Go to the next bloom and repeat the process until every bloom has been treated. Do this once daily and don't wash the paintbrush until after the blooms have been pollinated.
5. Pruning: Pruning can be done at any time of the year for the potted Persian Lime. Regular pruning ensures better fruit production and eliminates root crowding in the container.
Shipping Details
Estimated Shipping Time: Most orders ship immediately. As noted on the website, some items are seasonal, and may only ship in spring or fall. Once your order is shipped, you'll receive an email with a tracking number.
| Amount of Order | Shipping Charge |
| --- | --- |
| Less than $129 | $19.95 |
| $129 + | FREE SHIPPING! |
| | |
| --- | --- |
| Mature Height: | 8 ft. pruned |
| Mature Width: | 5-10 ft. |
| Sunlight: | Full-Partial |
| Growth Rate: | Moderate |
| Harvest Time: | July-September |
| Year to Bear: | Can Fruit the 1st year! |
| Botanical Name: | Citrus latifolia |
| Does Not Ship To: | AZ, AL, CA, FL, GA, LA, TX, OR |
| Grows Well In Zones: | 4-11 patio / 9-11 outdoors |
| Your Growing Zone: | # |
Growing Zones: 4-11 patio / 9-11 outdoors
(hardy down to 30℉)
Customer

Reviews

& Photos

Customer Reviews

Write a Review

Ask a Question

Filter Reviews:
plant
soil
condition
tree
key lime pie
consumer
slice
picture
root ball
bush
01/23/2022
Jon F.

United States
I recommend this product
Looking good
Lime tree (bush) was shipped quickly and received within a few days. The root ball was very loose and lost almost all of the soil contained within it but the overall health of the plant looked good. I would like to see fast-growing-trees show a picture similar to what is received including the overall size of the tree so the consumer could better understand what he/she will be receiving. Showing a picture of a slice of key lime pie is nice but really....come on.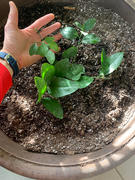 12/03/2021
mark c.

United States
I recommend this product
citrus bush
i purchased this bush in early 2021 and now am purchasing a second and writing a review after seeing it perform for the last 8 months or so. this is the only citrus fruit i purchased that has set fruit and flourished in the first year of purchase. it has only 2 lines on it that are almost ready for harvest but it has set a lot more recently so there are dozens of smaller limes growing. it has been grown in a 7 gallon air pot in my garage under lights waiting for me to finish my in the ground green house with a ground battery. it seems to thrive on any nutrients i feed it. first i used organics then switched to dynagro nutrients. now i have switched back to organic nutrients as i learn more about taking care of it. the lime bushes from fast growing trees seem to be the hardiest of all i own.
10/24/2021
Anonymous

United States
I recommend this product
Happy with lime bush
The plant arrived in great condition. Looks very healthy. Looking forward to watching it grow and anxious to start to see blossoms/limes.