* Images shown are of mature plants
My FGT Yard Planner
You'll need to log in or create an account in order to save this item
Add to Yard Planner
---
The Perfect Patio Plant for Any Area
Why Nagami Kumquat Trees?
With our Nagami Kumquat Tree, you'll have your own sweet, juicy kumquats from home. Especially since the Nagami couldn't be simpler to grow because it's drought-tolerant, and pest and disease resistant.

Even better? Instead of the pulp, the sweetest part of this citrus fruit is actually the peel. The Nagami offers a distinctive taste and texture that makes delicious marmalades, preserves, and dried fruits. In fact, it's the only citrus fruit that can be entirely eaten, skin and all.
Plus, it's carefree. It isn't often that you find a fruit tree that can grow in almost any soil, but Nagami Kumquats will reward you well in any condition. This dwarf citrus does great in a container as well, and it's so hardy and disease resistant, you won't need chemicals. You'll always be able to pluck and eat your fruit straight from the tree because it isn't prone to pests or diseases.

Why Fast-Growing-Trees.com is Better
Aside from its versatility, indoors or out, and ease in growth, our Nagami Kumquat Tree is best because of its strong start. We've planted, grown and shipped your Nagami with care, so you get a healthier, more developed root system and branching. That means faster fruit, no green thumb required.

Get tropical taste and growth, no matter where you live. Get your own Nagami Kumquat Tree today!
Pollination Info
Nagami Kumquat Tree Pollination
Nagami Kumquat Trees are self-fertile. You will get fruit with only one plant. However, adding an additional Nagami Kumquat Tree will drastically increase the size of your crop.
Planting & Care
1. Planting: Choose a location where your tree is going to get plenty of sunlight, around 6 to 8 hours per day is ideal. They can tolerate some shade but thrive in full sun. These trees also do better in areas with high humidity so you may also need to create humidity for your tree by misting the leaves daily with water. Potted plants do enjoy a daily misting for humidity but placing a tray with rocks filled with water under the plant will feed humidity to the tree as the water evaporates.
When you're ready to plant, ensure you have well-drained soil and dig a hole twice as wide and just as deep as the root system. Place the tree in the hole and backfill. After planting, be sure to give your Kumquat tree a deep watering for about 5 minutes. Mulching around the tree will help insulate the roots and keep your plant warm in the colder winter months as well.
If you're planting in a container, just select a container that's twice the width of your plant's shipped container.
2. Watering: Kumquats do not like wet feet. Be sure to give your tree a deep watering so that it can penetrate into the root system. After watering, allow the top 2 to 3 inches of the soil to dry out completely before watering again.
For potted Kumquats, stick your index finger into the soil down to about 2 inches. If there is moisture present, hold off on watering until it feels drier at that depth. When you're watering, stop once you see it escaping the drainage holes at the base of the pot.
3. Fertilizing: Feed your Kumquat Tree during the warmer spring and summer seasons with a citrus-specific fertilizer, like the one included in our Citrus Care Kit, once every six weeks. During the fall and winter season, ease back to fertilizing once every 2 to 3 months. Once the tree has matured a bit and has got a few years on it, you can skip the cold season fertilization. Follow the application instructions on the bag.
4. Pruning: Pruning can be done at any time of the year for in-ground planted Kumquats, except in the winter. Make 45-degree angle cuts to remove dead or crossing limbs and also to thin out the tree to allow more light to flow between the branches. After the tree fruits, remove any dead wood and ventilate the center of the tree. Remove suckers as they form/grow from the base. Pruning can be done at any time of the year for the potted Kumquat.

5. Pollination: Our trees are self-fertile, but for indoor trees, you can pollinate by hand, taking a small, dry, fine-tipped paintbrush and sticking it into the center of the bloom. Swirl it around and collect the pollen on the brush. Go to the next bloom and repeat the process until every bloom has been treated. Do this once daily and don't wash the paintbrush until after the blooms have been pollinated. The bloom will fall off naturally and the fruit will begin to form.
FAQs
How long does it take for a kumquat tree to bear fruit?
On average, a kumquat will take around 2-3 years to flower and produce fruit. However, this may vary depending on growing conditions. With grafted plants, you can expect fruit sooner than you would with a seed-grown plant.
How big can a kumquat tree get?
Kumquat trees get to be around 8-10 ft. tall on average, but can be smaller depending on how they're pruned and whether they're container planted.
What are the benefits of eating kumquats?
Kumquats are just as nutritious as they are delicious! Like other citrus, they're a good source of Vitamin C and a healthy snack to enjoy.
Shipping Details
Estimated Shipping Time: Most orders ship immediately. As noted on the website, some items are seasonal, and may only ship in spring or fall. Once your order is shipped, you'll receive an email with a tracking number.
| Amount of Order | Shipping Charge |
| --- | --- |
| Less than $129 | $19.95 |
| $129 + | FREE SHIPPING! |
| | |
| --- | --- |
| Mature Height: | 8 ft. pruned |
| Mature Width: | 6 ft. |
| Sunlight: | Full-Partial |
| Growth Rate: | Slow |
| Harvest Time: | June - October |
| Year to Bear: | Can Fruit the 1st year! |
| Botanical Name: | Fortunella margarita |
| Does Not Ship To: | AZ,FL,GA,TX |
| Grows Well In Zones: | 4-11 patio / 8-11 outdoors |
| Your Growing Zone: | # |
Growing Zones: 4-11 patio / 8-11 outdoors
(hardy down to 20℉)
Customer

Reviews

& Photos

Customer Reviews

100

reviewers would recommend this product

Write a Review

Ask a Question

Filter Reviews:
tree
delivery
stock
reason
service
family
Fast Growing Trees
transit
couple
shape
02/15/2023
Anonymous

United States
I recommend this product
Nagami Kumquat Tree
Product arrived fresh and in excellent condition. Would order from vendor again!
07/16/2022
Marian J.

United States
07/06/2022
Kristen

United States
I recommend this product
Can't Believe How Gorgeous This Little Tree Is!
I already have a very healthy Meyer Lemon and an extremely prolific Limequat that I bought from Fast Growing Trees about a year and a half ago, but I desperately wanted a Kumquat tree, too! They seemed to never be in stock, unfortunately. Right before the 4th of July long weekend (around the 26th) the 1 - 2' trees were in stock and I snatched one up! I got a shipping notice the next day and expected to receive the tree on the 29th, per the shipping notice. However, the tree did not end up shipping (for whatever reason) and didn't end up shipping until the 29th, which meant that it would be in transit from California through Arizona and Texas to eventually Indiana over the long holiday. SEVEN DAYS with 98-104 degree temps! I 100% expected to receive a box with a dead stick and brown, crispy leaves in it. Instead, I opened the box and saw this beautiful, perfectly green, little tree looking as though I had just brought it home from the local nursery! It has a small green fruit on it already and today it popped out a blossom. I'm giving it a couple of days on the enclosed porch to rest from the transport and then will be repotting and putting it with its citrus family. I couldn't be happier with my purchase(s) and will always recommend Fast Growing Trees!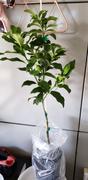 07/02/2022
Anonymous

United States
I recommend this product
Review of the Nagami kumquat
So far so go. It's still alive and well. The only surprise is I thought it's smaller then I expected.
06/28/2022
Rebekka M.

United States
I recommend this product
Happy customer
The tree was very healthy shape . I was hoping to have my tree blooming this year