---
Product Details
| | |
| --- | --- |
| Mature Height: | 6-8 ft. |
| Mature Width: | 6-8 ft. |
| Sunlight: | Full-Partial |
| Growth Rate: | Fast |
| Harvest Time: | Autumn |
| Botanical Name: | Spondias dulcis |
| Does Not Ship To: | AZ |
| Grows Well In Zones: | 4-11 patio / 9-11 outdoors |
| You are in Growing Zone: | # |
Growing Zones: 4-11 patio / 9-11 outdoors
(hardy down to 30℉)
Product Description
Bring Tropical Fruit to Your Garden
June Plums have a unique tropical flavor with a hint of mango and pineapple, best of all you can grow them yourself!

Save time and money by growing your own tropical fruit instead of driving to grocery stores that don't carry anything close to the flavors provided by June Plums.

Grow these plums organically, and snack on them with peace of mind knowing that your fruit wasn't grown with harsh chemicals like those found at super markets.

This delightful tree will provide you with white blooms and start fruiting immediately. Once the plums have gone from green to yellow they're ripe and ready to be picked.

June Plums are compact trees that are perfect for even the smallest gardens. Only growing to about 6 feet tall, they can be planted anywhere.

They're even perfect for containers! Place them in a pot and keep them on your porch, patio, or even indoors!

If your area gets a little too cold for this tree, simply bring it indoors once it starts to get cold and place it by a large sunny window.

This low maintenance tree is drought tolerant and disease resistance. You can plant it and forget it. You'll have fruit in no time.

Since the flavor provided by June Plums is so rare and delicious this is a popular highly sought after tree! They sell fast! Order yours before they're gone!
Pollination Info
June Plum Tree Pollination
June Plum Trees are self-fertile. You will get fruit with only one plant. However, adding an additional June Plum Tree will drastically increase the size of your crop.
Planting & Care
The June Plum (Spondias dulcis) has the amazing ability to flower and fruit at a young age. It can be easily maintained, will reach a mature height of 6 to 8 feet and accessible to USDA growing zones 4-11 (potted) / 9-11 (outdoors). The fruit on the June Plum will grow in pairs and can be eaten when the fruit is green allow the fruit to fully ripen to a golden-yellow. The full to partial sun loving plant is deciduous in winter but the fruit holds on the tree for up to 6-8 months after the leaves have dropped.
Planting Directions (potted): This tree adapts to full sun, southern exposure and can be grown indoors during the winter. Keep your indoor temperatures above 50, cooler temperatures can lead to root disease if grown in containers. Growing in a clay pot can maintain a healthy root system.
Planting Directions (in ground): June Plum is fast grower and will need adequate space to stretch out. Planting in rows 18 feet apart. Planting individual trees choose a planting location at least 10 feet from other trees and shrubs.

1) Prepare your hole by digging it three times as wide as the root ball and just as deeply.
2) Gently comb the root ball freeing up any compacted roots and place the tree in the hole, holding it straight.
3) Backfill the hole partially, pressing down gently as you go along and watering to settle the soil. This will also help eliminate any air pockets that may have formed.
4) Once the hole has been completely filled, add a layer of organic mulch around the tree to help conserve soil moisture while keeping competing weeds and grasses away.
Watering: To promote growth in the first season ensure you are generously watering once to twice a week. When watering, thoroughly saturate the soil.
Fertilizing: June Plums are moderate feeders, use ¼ teaspoon of fertilizer per gallon of water once a week. In the summer months, increase fertilization to ½ teaspoon of fertilizer per gallon of water once a week. Use a blooming fertilizer or a balanced fertilizer like a 15-15-15 formula.
Pruning: Pruning is not necessary until the tree begins to flower or fruit and after the tree has emerged from dormancy. Fruiting can begin at a young age on this tree. It's best to allow the central branches on the tree to grow 3 feet or more before letting them branch out. Once the tree has met the desired height, prune to maintain size and form.
Shipping Details
Estimated Shipping Time: Most orders ship immediately. As noted on the website, some items are seasonal, and may only ship in spring or fall. Once your order is shipped, you'll receive an email with a tracking number.
| Amount of Order | Shipping Charge |
| --- | --- |
| Less than $15 | $11.95 |
| $15.00-$23.99 | $13.95 |
| $24.00-$39.99 | $16.95 |
| $40.00-$79.99 | $19.95 |
| $80.00-$98.99 | $24.95 |
| $99.00-$124.99 | $29.95 |
| $125.00-$148.99 | $39.95 |
| $149.00-$178.99 | $49.95 |
| $179 + | FREE SHIPPING! |
Customer

Reviews

& Photos

Customer Reviews

Write a Review

Ask a Question

Filter Reviews:
tree
fruit
leaves
plum tree
delivery
name
growth
plant
purchase
vendor
04/16/2021
Anonymous

United States
I recommend this product
On line trees
I have requested trees from different growers across the US. I have tried several vendors. As far as speed and prompt delivery, fast growing trees is above and beyond every other vendor. The trees were packed nicely and arrived here "happy", as they are living beings. We planted them right away and they are thriving. I can not give feedback on the quality, as it may take several years for them to establish, however if I am looking for a specific tree, this will be the first place I would check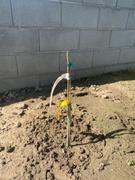 04/11/2021
Anonymous

United States
I recommend this product
June plum
At first I was disappointed because I love June plum thinking the tree will come with a little fruit instead it came looking like a stick with dying leaves. So mad so replanted the root then talked to it then I gave it a name also monitor it temperature never leave in the frost bite too much. One late I left it out because I know the weather was going to be good in the morning it flourished into a different plant this was also after I prune the little leave that was dying I'm going prune again today. Thank you for letting me know theresita was going through some stress. That's my trees name. Be bless
04/05/2021
Richard L.

United States
03/05/2021
Anonymous

United States
The tree came in a great condition and overall I was very satisfied with the purchase.
02/12/2021
Sharese W.

United States
TLC
The ordering and delivery process was very smooth. When my June plum tree arrived it was well packaged however the leaves were dry and the all fell off within days. I emailed customer Sean's they explained to me that this sometimes happens during shipping. As the days went on and Some TLC new leaves started to sprout. So overall I am happy with my purchase!