1532748136500
11090
* Images shown are of mature plants
My FGT Yard Planner
You'll need to log in or create an account in order to save this item
---
Classic Shade Grows Up to 8 Feet Per Year
Why Superior Hybrid Poplar Trees?
It's one of the fastest-growing and most attractive shade trees you can find. Superior Hybrid Poplar Trees quickly become established and can add thousands of dollars to a home's value. Plus, Hybrid Poplars have a pleasing oval shape that complements any property.
Simply plant these Poplars wherever you need fast shade or privacy. They've been known to grow up to 8 feet in a single year. So, you can strategically plant them to block the direct sunlight, dramatically lowering your air conditioning costs. In the winter, they drop their dense green foliage, letting sunlight through when it's needed most.
Why Fast-Growing-Trees.com is Better
When you receive your trees, they may not look like much...but plant them, stand back and watch the explosive growth take hold. Our Superior Hybrid Poplar Trees are better because we've not only planted, grown and shipped them with care, but ours have also been grafted. Our Superior Poplar is a cross between the Cottonwood and Lombardy Poplar and merges the best benefits of each type: Full, symmetrical growth without the annoying cotton balls from regular Cottonwoods.
Now, you reap the rewards of tried-and-true growth and a healthier, well-tended root system.
We've done the hard work at the nursery so that you get a better formed, long-lived tree. Order your Superior Hybrid Poplar Tree today!
Planting & Care
1. Planting: Hybrid Poplars grow well in various soils - simply make sure you're planting in an area with proper sunlight and well-drained soil.
Then, dig your hole two times the width and depth of the root system, position the tree into the hole and hold it straight. Begin back filling the hole with soil and be sure to completely cover your roots with soil, tamping down so that there are no air pockets underground. Water the planting site to settle the soil and then mulch to retain soil moisture. Mulching also helps to keep an competing growth from invading the planting area.
2. Watering: Hybrid Poplars should be planted in moist soil and be irrigated properly, especially in the first year of planting. Sites that maintain good moisture throughout the year are fine to minimize the need for further irrigation beyond year one. They can handle short-term flooding if the water keeps moving. For ample and continued growth, soil moisture should be monitored.
3. Fertilizing: In fertile soils, including some old pastures, the nitrogen released from organic matter within the soil can be sufficient to carry the trees for several years without the need for added fertilizer. However, a rate of 50 to 150 pounds of nitrogen per acre per year is the general rate applied if needed.
4. Pruning: Prune the trees during the dormant season, in winter. Look for diseased, dead, or damaged limbs as the tree matures. Make a small cut into them with the pruning shears, and if there is no green flesh inside, remove them. Cut at the point where they meet healthy limbs.
Shipping Details
Estimated Shipping Time: Most orders ship immediately. As noted on the website, some items are seasonal, and may only ship in spring or fall. Once your order is shipped, you'll receive an email with a tracking number.
| Amount of Order | Shipping Charge |
| --- | --- |
| Less than $129 | $19.95 |
| $129 + | FREE SHIPPING! |
| | |
| --- | --- |
| Mature Height: | 40-50 ft. |
| Mature Width: | 30 ft. |
| Sunlight: | Full Sun |
| Growth Rate: | Fast |
| Botanical Name: | Populus deltoids x Polulus nigra |
| Does Not Ship To: | AZ |
| Grows Well In Zones: | 3-8 outdoors |
| Your Growing Zone: | # |
Growing Zones: 3-8 outdoors
(hardy down to -30℉)
Customer

Reviews

& Photos

Customer Reviews

100

reviewers would recommend this product

Write a Review

Ask a Question

Filter Reviews:
tree
shape
leaves
growth
condition
poplar
shipping
experience
size
company
02/20/2023
Virginia J.

United States
I recommend this product
Poplar
Good…waiting for spring to see it thrive!!!
02/13/2023
Bryan

United States
I recommend this product
A very good shade tree for those who need to take care of specific needs
The description is very truthful when it says this is a FAST growing tree. The first time I planted a hybrid poplar the tree was 3ft tall. A year later it reached a height of 15ft. I now have twelve of these trees on a side lot on the property. That being said, if your long-term plan is to quickly have a large tree so you can add a tree swing to its branches; think again. A fast-growing tree is not as strong as a slow growing hardwood like Oak. Its branches are weak and doesn't have a long lifespan like other trees. After about 40 years the tree will probably need to come down. That being said, this tree is very good at providing shade, erosion control, and pulling water out of damp ground. This type of tree has a lot of leaves, an extensive root system to support its height, and needs a lot of water to keep it healthy.
01/27/2023
Babs

United States
I recommend this product
So far so good
Great customer service and delivery. Used the chat feature to clarify a few things before committing to an online order. Very helpful. Trees arrived swiftly packed in a sturdy cardboard container— of course, they originated only a few hours away. Now here's the dodgy part… they're dormant so I am unable to tell you anything about the condition of the plant itself. 6' long, 1" diameter whips growing in a pretty small pot. I bought the warranty because the jury is out until spring. Though it is premature to say, I will check yes to recommend this plant but with a rec for a warranty as a qualification for dormant trees. They're in the ground as of today. We'll see what happens. Thus, all I've got is… so far so good. I bought three of these trees to begin to block the horrid view of America's ugliest house. I am stuck with it after neighbor napalmed the trees in the naturalized area between us. They're supposed to develop at a rapid pace. All I can hope is, grow, baby, grow! (Pic is a 5-6' potted hybrid poplar tree in front of an arborvitae.)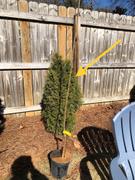 11/25/2022
Sarah R.

United States
I recommend this product
5 ft superior hybrid poplar tree
The tree came in a timely manner & was in good condition. We're hoping for plenty of growth & shade next year!
11/21/2022
Patricia R.

United States
I recommend this product
Top notch customer service
Excellent. I ordered 4 trees, I received 2 trees but the other 2 got lost in transit. Customer service contacted me about the issue and sent my replacement trees immediately