---
Product Details
| | |
| --- | --- |
| Mature Height: | 70 ft. |
| Mature Width: | 30-40 ft. |
| Sunlight: | Full Sun |
| Growth Rate: | Fast |
| Botanical Name: | Liriodendron tulipifera |
| Does Not Ship To: | AZ |
| Grows Well In Zones: | 4-9 outdoors |
| You are in Growing Zone: | # |
Growing Zones: 4-9 outdoors
(hardy down to -20℉)
Product Description
Visual Interest in Spring and Fall
Why Tulip Poplar Trees?
Imagine leaving for work one morning during spring: before you leave, you notice 3 to 4 small blooms on your tree. When you come home that evening, that same tree is covered in a blanket of richly-hued florals. With the Tulip Poplar, a dazzling production and fast growth are not only possible but expected.
You'll have the brightest tree in the neighborhood. And though it takes the blooms some time to develop (10 to 15 years), they're unmatched. Even better? During the summer, you'll have a fast-growing, well-formed green shade tree. When fall arrives, the Tulip's leaves turn to bright yellow for a dazzling show. So, our Tulip Poplar merges the best of both worlds.
Why Fast-Growing-Trees.com is Better
Even better, our Tulip Poplar is highly resistant to insects and diseases, making it a healthful pick that provides a lifetime of enjoyment. And since it's easy to grow, it thrives in nearly any area. It's highly adaptable to a variety of soils, even wet soil.
But the best part is that we've planted, grown, and nurtured oyur Tulip Poplar for months ahead of time, which means a healthy root system and developed branching for you. Now, your Tulip Poplar is an attractive front yard tree that will increase your home's value.
From climate to climate and no matter the temperature extremes, the Tulip Poplar wows because we've put in the extra work.
Plant your Tulip Poplar Tree and start looking forward to the change of seasons - instant beauty is just a click away!
Planting & Care
1. Planting: Choose a location with well-drained soil and partial sun to full sun (about 4 to 8 hours of sunlight per day - but avoid areas with harsh afternoon sun). When you're ready to plant, dig a large hole to make plenty of room for the roots. The hole should be twice the width of your tree's root system and just as deep.
Plant your tree so that the roots of the tree are covered and the stem is above ground level. Finally, water to settle and mulch around the tree to preserve moisture.
2. Watering: Young Tulip Poplars should be watered during extended dry spells, particularly in the summer months. Generally, you should water about once or twice weekly during hot, dry weather and once or twice bi-weekly in cooler months.
FGT Tip: Drooping branches are a sign of both over- or under-watering.
3. Fertilizing: Use only slow-release, 10-10-10 or 20-20-20 fertilizer tablets for the first growing season. Fertilize twice a month when the tree is coming out of dormancy, then once a month during the summer. Stop fertilizing before the tree goes back into dormancy.
4. Pruning: Remove any branches that are growing outside of the designated planting area. To cut a branch, make a cut right next to the branch collar. The branch collar is the swelling that attaches the branch to the trunk. Remove any competing leaders as well.
Shipping Details
Estimated Shipping Time: Most orders ship immediately. As noted on the website, some items are seasonal, and may only ship in spring or fall. Once your order is shipped, you'll receive an email with a tracking number.
| Amount of Order | Shipping Charge |
| --- | --- |
| Less than $15 | $11.95 |
| $15.00-$23.99 | $13.95 |
| $24.00-$39.99 | $16.95 |
| $40.00-$79.99 | $19.95 |
| $80.00-$98.99 | $24.95 |
| $99.00-$128.99 | $29.95 |
| $129 + | FREE SHIPPING! |
Customer

Reviews

& Photos

Customer Reviews

Write a Review

Ask a Question

Filter Reviews:
tree
leaves
condition
shape
Tulip Poplar
delivery
instructions
shipping
planting
ground
11/16/2021
Shirley S.

United States
I recommend this product
Tulip Popular
The tree arrived with lots of beautiful leaves. Very happy with my purchase. Would recommend buying this tree. Beautiful. Looking forward to spring and summer.
11/08/2021
Holly P.

United States
I recommend this product
Fast delivery/Great Customer Service
I received the tulip poplar tree in 2 days which was awesome. It's going through some tree shock which I guess is normal and I planted it later in the fall. Had to stake the tree since it's very flimsy. We've had a lot of wind so hopefully that's making it stronger. Will see how it holds up in winter but I'm anxious to watch it grow. It should be a pretty tree.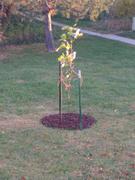 10/27/2021
Anonymous

United States
I recommend this product
love it
Taking root already, i will never again tromp through another nursery trying to find a tree!
10/22/2021
Anonymous

United States
I recommend this product
Healthy and Tall!
Website was easy to navigate and tree arrived in great condition.
10/11/2021
Allison H.

United States
I recommend this product
Excited about this tree
Received my tree a day late from original notification and some of the leaves were dying off/crusty. I planted right away and the tree is sprouting new leaves. Thankful it handled the travel fairly well as it was the 5'-6' tree. I added some root stimulator to help with getting established. I'm looking forward to this tree getting big and providing some shade along with its beauty. As it's still newly planted and needs to grow, I can't offer any experience for the mature tree. I'll keep babying it and fingers crossed, it continues to grow.