* Images shown are of mature plants
---
Product Details
| | |
| --- | --- |
| Mature Height: | 12-15 ft. |
| Mature Width: | 10-15 ft. |
| Sunlight: | Full Sun |
| Growth Rate: | Fast |
| Harvest Time: | June to August |
| Year to Bear: | Can Fruit the 1st Year! |
| Botanical Name: | prunus persica var. neupersica 'Flavortop' |
| Does Not Ship To: | AZ, AR, CA, ID, LA, OR |
| Grows Well In Zones: | 5-9 outdoors |
| You are in Growing Zone: | # |
Growing Zones: 5-9 outdoors
(hardy down to -10℉)
Product Description
Most Highly-Rated Nectarine Available
Why Flavortop Nectarine Trees?
Save money and get fresher fruit with your own Flavortop Nectarine Tree. Living up to its name, Flavortop Nectarines are truly delicious! And though they're expensive if you get them from your local market or grocery store, growing your own will save you a considerable amount of money each year...especially since this tree will be with you for generations.
The flavor is out of this world. Be prepared for a drastic difference in flavor than what you're used to. Commercially-grown nectarines are usually harvested too early in an effort to prevent bruising during shipping to your local grocer. That process stunts the natural course to juiciness that can be reached at its peak. Grow these on your own and experience the best nectarine you've ever had!
Why Fast-Growing-Trees.com is Better
The reason our Flavortop Trees are so popular? We've nurtured them to perform for you the very first year. Now, you should expect to pick tree-ripened, firm, fiery red and aromatic nectarines.
We've done the work ahead of time, grafting your Flavortop so that it combines the best benefits into one package. And when you order your Flavortop Nectarine Tree from Fast Growing Trees, you get faster fruit, healthier roots and better branching from day one.
Unlike other retailers, we never ship bare-root. That means your Flavortop arrives in nutrient-rich soil, grown for months ahead of time.
But hurry - our customers love the Flavortop, so it sells out quickly. Order yours today, while supplies last!
Pollination Info
Flavortop Nectarine Tree Pollination
Flavortop Nectarine Trees are self-fertile. You will get fruit with only one plant. However, adding an additional Flavortop Nectarine Tree will drastically increase the size of your crop.
Planting & Care
1. Planting: Plant your Flavortop in well-drained soil in a location where it will receive full sun (6 to 8 hours of sunlight a day). Heavy winds and early frosts can damage the blossoms, so be sure to protect your tree by planting on the sunniest side of a building or your home.
Dig a hole twice as wide as the root ball and just as deep. Amend the soil around the hole with compost to ensure the tree has proper drainage. Place your tree inside the hole, making sure it is sitting straight. Cover the roots with soil, watering occasionally as you go along to remove any air pockets. Mulch around the base to conserve soil moisture.
2. Watering: Keep the soil around the tree moist. Typically, watering once a week by leaving a hose at the base of the tree for about 20 or 30 minutes is sufficient. Once the soil around the tree has dried, water the tree again.
3. Fertilizing: After your tree has been in the ground for 6 weeks and the danger of frost has passed, apply a well-balanced fertilizer formula, such as 12-12-12.
4. Pruning: Your tree will need to be pruned in the first two years in order to maintain an open center shape and encourage fruit production. Prune your tree in late winter or early spring using pruning shears and make your cuts at a 45-degree angle.
FGT Tip: Once your tree begins to fruit, thin your branches out to allow each 8 inches of space between the nectarines.
Shipping Details
Shipping Alert:
You can still order, but due to cold weather, we have delayed shipping to the areas shaded on the map below. We want your new plant to thrive right out of the box, so we will wait on shipping your order until the weather is ideal. This includes anyone in Growing Zones 3, 4, 5, & 6. If you are unsure of your growing zone, visit our Growing Zone Finder.

Some plants are not available for immediate shipment, and delayed delivery is noted.

We will resume normal shipping in the Spring. Please see the table below for your approximate ship date.
| | | |
| --- | --- | --- |
| | Growing Zone | Shipping Resumes |
| | Zones 3 & 4 | Week of May 2nd |
| | Zone 5 | Week of April 11th |
| | Zone 6 | Week of March 28th |
| | Zones 6 - 11 | Ships Now! |
Estimated Shipping Time: Most orders ship immediately. As noted on the website, some items are seasonal, and may only ship in spring or fall. Once your order is shipped, you'll receive an email with a tracking number.
| Amount of Order | Shipping Charge |
| --- | --- |
| Less than $15 | $11.95 |
| $15.00-$23.99 | $13.95 |
| $24.00-$39.99 | $16.95 |
| $40.00-$78.99 | $19.95 |
| $79 + | FREE SHIPPING! |
Customer

Reviews

& Photos

Customer Reviews

Write a Review

Ask a Question

Filter Reviews:
tree
condition
fruit
fact
leaves
company
Fast Growing Trees
ground
nectarine
rain
07/07/2021
TAIMOR K.

United States
05/28/2021
Kathy M.

United States
I recommend this product
Best Nectarine Tree
I love this Nectarine tree; in fact I bought another one the following year because it's such a great tree! It grows quickly and puts out fruit the first year. However, we wanted a stronger tree so we picked off little nectarines the first year. The second year, we let 2 nectarines grow. Now we have a bunch of fruit, which we will thin out so we don't overburden the tree. These taste amazing!!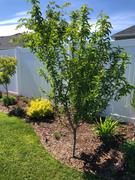 05/27/2021
James o.

United States
I recommend this product
Great tree, but exercise patience
Ordered the flavortop in fall of 2018. It came as a twig lol. But it did not deter me. In spring of 2019 it had a gorgeous bloom and two nectarines formed, but the tree self pruned. In 2020, I didn't care as much for it. It served a great blossom and some nectarines.formed, but none to fruition. This year I have about three dozen forming! Unfortunately some peach curl will taketh away,.but overall healthy and going strong! The red delicious and honeycrisp finally formed some apples too! Excited to see how the tree pans out this year before nature gets to it :)
11/05/2021
Leslee W.

United States
I recommend this product
Perfectly packaged
Once again, the trees I bought from this company were packaged so well to preventage breakage or drying out. They have been in the ground for weeks and still look great.
10/19/2021
Anonymous

United States
Beautiful healthy tree
We are very excited to see how things progress with our new addition to our orchard. So far so good.