Plant Care
View Full Planting & Care Instructions
Sunlight Fuji Apples thrive in full sun, so make sure you plant in a spot that receives at least 6 hours of direct sunlight each day.
Watering Water regularly each week when the soil gets dry 2-3 inches down. Make sure to water more often if the tree is potted or there is a period of drought.
Fertilizing Follow label instructions on an apple-specific fertilizer, usually applying several times from April until August.
---
Product Details
| | |
| --- | --- |
| Mature Height: | 10-15 ft. |
| Mature Width: | 10-15 ft. |
| Sunlight: | Full-Partial |
| Growth Rate: | Moderate |
| Harvest Time: | October-December |
| Year to Bear: | Can Fruit the 1st Year! |
| Botanical Name: | Malus domestica 'Fuji' |
| Does Not Ship To: | AZ, CA, ID, OR, WA |
| Grows Well In Zones: | 6-9 outdoors |
| You are in Growing Zone: | # |
Growing Zones: 6-9 outdoors
(hardy down to 0℉)
Product Description
Bring the Supermarket to Your Own Backyard
Why Fuji Apple Trees?
Delicious and meticulously nurtured, the Fuji Apple Tree produces crisp, super sweet apples – the perfect snack, right from your backyard. And with our Fuji, it's never been easier.
And whether you eat them straight from the tree or bake them into oven-fresh pastries, Red Fujis are known for their exceptional quality. Their versatility is what makes them the ideal pick for planting.
Why Fast-Growing-Trees.com is Better
The best part, though? Your new Fuji Apple Tree has been thoroughly cared for to promote extra branches. We've grafted and trained our Fuji Apple Trees for an increased number of well-developed branches. And more branches bring more fruit and faster production, so you can expect fruit sooner than seed grown trees.
So, we've done the extra work so that you don't have to. You get the promise of great-tasting, easily-grown apples, consistent from season to season, because our trees are grown and prepped for best results.
Imagine hassle-free, low-maintenance Fuji Apples, right from your backyard. Click to order your own Fuji Apple Tree today!
Pollination Info
Fuji Apple Tree Pollination
Fuji Apple Trees are not self-fertile. You will need to plant another variety to achieve fruiting. Below are the most effective pollinators we have chosen for your area...
Planting & Care
1. Planting: Once you've found a location with full to partial sun (an area with about 4 to 8 hours of sunlight per day) and well-drained soil, it's time to plant. Make your planting site hole twice the width of the root ball and just as deep. Then, gently comb your hands over the root ball to free up the roots, place your new Fuji Apple into the hole, and back fill your soil. Finally, tamp down the soil as you fill the hole and water the planting site to settle. We also recommend mulching around the base to prevent competing weeds and grasses from growing around the area.
*Tip: Make sure your mulch is not touching the base of the trunk.
2. Watering: Your Fuji Apple will benefit from a regular watering schedule each week. You may need to water more often in times of extreme heat or drought, but as long as your soil is consistently moist, you're good to go. If you're not sure when to water, simply check the surrounding soil (about 2 or 3 inches down) for dryness. If it's dry, it's time to water.
3. Pruning: Once your tree has become established and bears fruit, it will need some periodic, moderate pruning. Prune the tree during times of dormancy and remove any upright stems in the upper portion of the tree. Weak, damaged or dead branches should also be removed. Low-hanging, droopy branches should also be removed for best results.
Shipping Details
Shipping Alert:
You can still order, but due to cold weather, we have delayed shipping to the areas shaded on the map below. We want your new plant to thrive right out of the box, so we will wait on shipping your order until the weather is ideal. This includes anyone in Growing Zones 3, 4, 5, & 6. If you are unsure of your growing zone, visit our Growing Zone Finder.

Some plants are not available for immediate shipment, and delayed delivery is noted.

We will resume normal shipping in the Spring. Please see the table below for your approximate ship date.
| | | |
| --- | --- | --- |
| | Growing Zone | Shipping Resumes |
| | Zones 3 & 4 | Week of May 2nd |
| | Zone 5 | Week of April 11th |
| | Zone 6 | Week of March 28th |
| | Zones 6 - 11 | Ships Now! |
Estimated Shipping Time: Most orders ship immediately. As noted on the website, some items are seasonal, and may only ship in spring or fall. Once your order is shipped, you'll receive an email with a tracking number.
| Amount of Order | Shipping Charge |
| --- | --- |
| Less than $15 | $11.95 |
| $15.00-$23.99 | $13.95 |
| $24.00-$39.99 | $16.95 |
| $40.00-$78.99 | $19.95 |
| $79.00-$98.99 | $24.95 |
| $99.00-$128.99 | $29.95 |
| $129 + | FREE SHIPPING! |
Customer

Reviews

& Photos

Customer Reviews

Write a Review

Ask a Question

Filter Reviews:
tree
shape
leaves
FUJI
buds
shipping
experience
service
ground
customer service
10/20/2021
Christopher

United States
06/04/2021
Anonymous

United States
04/26/2021
Mary R.

United States
04/05/2021
Barbara R.

United States
I recommend this product
Great service two fruit trees Fuji and myer lemon both in great condition. Planted and they are doing fine. Called about my persimmon I order prior, freeze hit it over the weekend I was concerned about it. I called and they addressed my concern and told me to call them back if I didn't see any change within three weeks. They care about your purchases, awesome company. I love my fruit trees, and those at Fast Growing Trees.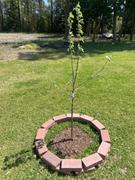 12/01/2021
Jerry E.

United States
I recommend this product
Fugi Apples
Tree arrived in good shape. Planted it next day. Winter is coming on, leaves have ropped, linbs have buds, ready for spring time. Looking forward to apples in a few years. How many, I dont know. We shall see.