Product Details
Growing Zones: 4-11 patio / 8-11 outdoors
(hardy down to 20℉)
4-11 patio
/
8-11 outdoors
Mature Height:

8 ft. pruned

Mature Width:

4-6 ft.

Sunlight:

Full-Partial

Growth Rate:

Moderate

Harvest Time:

June - August

Year to Bear:

Can Fruit the 1st year!

Botanical Name:

Citrus clementina

Does Not Ship To:

AZ, CA, FL, LA, TX
Product Description
The Sweeter Variety That's Virtually Seedless
Why EasyPeel Clementine Trees?
It's the sweeter variety commonly found in boxes at grocery stores. And the EasyPeel Clementine has it all: Irresistible sweetness, virtually seedless fruit, and effortless peeling. 
Plus, you can easily grow your own Clementines, no matter where you live. During the spring, it blooms and fills your home with the smell of jasmine. Through the summer, those blooms turn into baby clementines and by Christmas, you have a tree loaded with neon orange ornaments!
Why Fast-Growing-Trees.com is Better
Not only do they thrive indoors, but they're also super easy to grow. For starters, they ripen over several weeks, so you get to enjoy them longer without any effort on your part. And no pesticides are needed since the EasyPeel is naturally hardy, resisting both diseases and insects.
But the best part? We've planted, grown and nurtured our trees, so you get a greater chance of success in your own homescape. You get a well-rooted, healthier variety that's delivered right to your door, hassle-free.
Organic Clementines cost a fortune...but your tree will produce hundreds of clementines over its lifetime, paying for itself many times over. Now is the time to plant - get your own EasyPeel Clementine Tree today!
Pollination Info
EasyPeel Clementine Tree Pollination
EasyPeel Clementine Trees are self-fertile. You will get fruit with only one plant. However, adding an additional EasyPeel Clementine Tree will drastically increase the size of your crop.
Customer

Reviews

& Photos
Customer Reviews
Filter Reviews:
delivery
tree
leaves
roots
growth
citrus
deck
buds
weather
Michigan
11/19/2019
Renwick T.
United States
I recommend this product
Great
Fast shipping and a great looking tree. I can't wait until it matures.
10/22/2019
Stephanie V.
United States
I recommend this product
So far so good
For how small the shipping pot was (5"), my tree was rather large and in good shape. It has been temporarily transferred to a LARGE patio pot, and after 2 weeks seems quite happy. I lined the patio pot as not to disturb the roots again when I transfer the tree to it's permanent location (as soon as all those volunteer cantaloupe to ripen and I can rip out the vine!) Looking forward to this new adventure in citrus!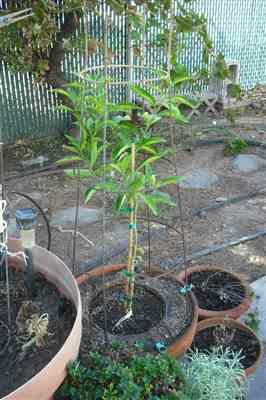 09/25/2019
Anonymous
United States
I recommend this product
Great tree!
I ordered a 5-6 ft clementine. I worried about how well it would dare in the delivery, but I was pleasantly surprised. It's 6 ft tall and very healthy. I've had it a week and so far it's done well indoors (in a well lit spot). I appreciated the enclosed note that explained that some leaf drop is normal this time of year. So far very few have but good to know not to worry.

09/07/2019
Anonymous
United States
I recommend this product
Easy Peel Clementine
I was very pleased with the delivery of my Clementine Tree. It was actually a bit larger than I thought and very healthy as well. I have not seen any flowers or buds yet but I'm sure that by next spring it will start to bloom. So far, everything that I have ordered from you has been a 5 star. Keep up the good work. Phil from Michigan.
08/19/2019
Anonymous
United States
Easy Peel Clementine
I like my little Clementine tree; just waiting for it to mature.
Planting & Care
1. Planting: If your winter temperatures are consistently below 40 degrees, plant your tree in a container that can easily be brought outside in the summer months and inside in the winter. Choose a pot slightly larger than what it was shipped in that has plenty of holes in the bottom to allow for drainage. Be sure to plant in well-draining potting soil, preferably recommended for acid-loving citrus plants.
Place your tree in an area of your home, preferably a south-facing window, where it is going to get plenty of sunlight. You may also need to create humidity for your tree by placing the pot on a saucer of pebbles or misting the leaves daily with water.
2. Watering: After watering (about once weekly), allow the top 2 to 3 inches of the soil to dry out completely before watering again.
You can also stick your index finger into the soil down to about 2 inches. If there is moisture present, hold off on watering until it feels drier at that depth. When you do water, stop once you see it escaping the drainage holes at the base of the pot.
3. Fertilizing: Feed your EasyPeel during the warmer spring and summer seasons with a citrus-specific fertilizer once every six weeks, like the one included in our Citrus Care Kit. Make sure to follow the application instructions written on the fertilizer bag.
4. Pruning: After the tree fruits, remove any dead wood and ventilate the center of the tree. Remove suckers as they form/grow from the base as they will steal away nutrients from the primary trunk of the tree. Pruning can be done at any time of the year.
5. Pollination: Our trees are self-fertile but you can pollinate by hand for indoor trees. Simply take a small, dry, fine-tipped paintbrush and stick it into the center of the bloom. Swirl it around and collect the pollen on the brush. Go to the next bloom and repeat the process until every bloom has been treated. Do this once daily and don't wash the paintbrush until you've completed the process.
Shipping Details
Most items ship the next business day unless otherwise noted
Estimated Shipping Time: Most orders ship immediately, however some orders may ship in 1-2 business days (we do not ship on the weekends) from date of purchase. As noted on the website, some items are seasonal, and may only ship in spring or fall. Once your order is shipped, you'll receive an email with a tracking number.
| Amount of Order | Shipping Charge |
| --- | --- |
| Less than $15 | $11.95 |
| $15.00-$23.99 | $13.95 |
| $24.00-$39.99 | $16.95 |
| $40.00-$79.99 | $19.95 |
| $80.00-$98.99 | $24.95 |
| $99.00-$118.99 | $29.95 |
| $119+ | FREE SHIPPING! |