---
Product Details
| | |
| --- | --- |
| Mature Height: | 30-40 Ft. |
| Mature Width: | 25-30 Ft. |
| Sunlight: | Full Sun |
| Growth Rate: | Fast |
| Botanical Name: | Betula nigra 'BNMTF' |
| Does Not Ship To: | AZ |
| Grows Well In Zones: | 4-9 outdoors |
| You are in Growing Zone: | # |
Growing Zones: 4-9 outdoors
(hardy down to -20℉)
Product Description
Several Seasons of Color From One Tough Tree
Why Dura Heat® River Birch Trees?
A beautiful, fast-growing shade tree that thrives from North to South, the Dura Heat® River Birch is one-of-a-kind. This lovely tree grows in cold areas and hot and humid conditions, a span that includes frigid Maine and Minnesota all the way down to hot and humid Florida and Texas.
Plus, River Birches tolerate soggy conditions where other trees won't grow. If you're trying to landscape a low-lying area that floods regularly, or you have heavy clay soil, this tree is exactly what you need. Its dense root system tolerates dense, wet soil, and even regular flooding and standing water.
Its fast growth means your landscape fills in quickly. These trees can grow up to three feet each year, so they reach mature heights much faster than other landscape trees. They're also fairly compact and can be planted as a specimen in an urban yard, where they tolerate pollutants with ease.
Why Fast-Growing-Trees.com is Better
Aside from its easy-growing benefits and beauty, with dense, glossy leaves and attractive, green foliage in warmer seasons and buttery-yellow foliage in the autumn, you get the promise of a strong beginning.
You get classic shade and a healthier, more developed root system. We ship your River Birch directly to your door with a head start on growing since we've grown and nurtured our trees for months before they arrive at your door.
Resistant to pests, disease, and tough conditions, the River Birch offers the best of both worlds. Get your own Dura Heat® River Birch today!
Planting & Care
1. Planting: Birch Trees can be grown in nearly any part of the country but prefer soils that are rich in nutrition.
Plant after all dangers of frost has passed. Select a spot that will receive about 6 to 8 hours of sunlight faily. Dig a hole that is three times as wide as the root ball and just as deep. Keep the tree as straight as possible and begin to backfill the hole. Continue until the hole is filled and the tree stands upright on its own. Younger trees may need to be staked.
Water deeply once the tree is planted. Put a slow release of water on a hose and leave next to the root system area for a couple of hours to be sure the depth is reached. Finally, spread a three-foot layer of mulch around the base of the tree with wood chips, shredded bark, or leaf compost.
FGT Tip: Stakes can typically be removed after a year of planting. A good way to determine if your tree ready to stand on its own: Shake the center - if the root ball has no movement, then your tree is ready to stand on its own.
2. Watering: Provide deep a watering for the Birch weekly, using a hose next to the base with a slow flow of water for 2 hours during growing season. You may need to increase to twice weekly during hot, dry summers. Reduce watering towards the end of August so your tree can winterize for its dormant stage.
3. Fertilizing: Birches should be fertilized once or twice a year, once in spring and again mid-summer. Fertilize in the late spring and early summer with a product that targets root growth. Use an acidified evergreen fertilizer, such as 10-10-10.
4. Pruning: The best time to prune is late summer or early autumn.
Start by removing side shoots and suckers first with a sterilized pair of shears and then decide which branches to remove. Be conservative with your pruning and do not remove more than 25% of the tree canopy. Cut back branches that are less than 2 inches wide as close to the trunk as possible.
Shipping Details
Estimated Shipping Time: Most orders ship immediately. As noted on the website, some items are seasonal, and may only ship in spring or fall. Once your order is shipped, you'll receive an email with a tracking number.
| Amount of Order | Shipping Charge |
| --- | --- |
| Less than $15 | $11.95 |
| $15.00-$23.99 | $13.95 |
| $24.00-$39.99 | $16.95 |
| $40.00-$79.99 | $19.95 |
| $80.00-$98.99 | $24.95 |
| $99.00-$128.99 | $29.95 |
| $129.00-$148.99 | $39.95 |
| $149 + | FREE SHIPPING! |
Customer

Reviews

& Photos

Customer Reviews

Write a Review

Ask a Question

Filter Reviews:
tree
condition
yard
leaves
experience
home
ground
shipping
company
shape
07/27/2021
JIM M.

United States
07/22/2021
Heidemarie D.

United States
I recommend this product
Nice Dura Heat River Birch
My multi-trunk river birch arrived in great condition; it will soon join previously ordered river birches on our lake property.
06/28/2021
RORY S.

United States
I recommend this product
Thriving
PART 2: I review previously when she had been in the ground for only 2 week and I was happy with the birch's conditioned and my experience with fast-growing trees. She has been in the ground for 4 months now and I couldn't be happier. It is THRIVING...at least 18" of added height and is covered in happy new leaves and shoots. Such a great tree.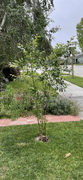 06/17/2021
Aaron B.

United States
I recommend this product
Dura Heat River Birch
Leaves were starting to turn yellow. I assume this is from being in a shipping box for a week. They were packaged well and in good condition when I received them. Planted the next morning and of the 3 days they've been in the ground, they are doing good. Time will tell. We'll see if they live up to their name, it's 102 today.
06/06/2021
Erica N.

United States