Product Details
Growing Zones: 7-10 outdoors
(hardy down to 10℉)
7-10 outdoors
Mature Height:

30 ft.

Mature Width:

15 ft.

Sunlight:

Full-Partial

Growth Rate:

Moderate

Botanical Name:

Prunus caroliniana Centre Court

Does Not Ship To:

AZ
Product Description
Perfect for Urban Settings
Here's why you should get to know Cherry Laurel:
Beautiful, resilient tree grows well in urban settings
Versatile and compact enough to use as a hedge or shrub
Incredible white blooms resemble cherry flowers
Sweet fragrance
The Cherry Tree that's also a Cherry Shrub
The versatility of the Cherry Laurel makes it a favorite among discriminating landscapers. The Cherry-or English Laurel as it's also known-can be pruned to form an ornamental hedge that will provide a showy screen for all to admire from either side. For those who love the look of a cherry without the edible fruit, the Laurel is a sweet alternative to common hedges.

Put a little English on it
Imagine lining your landscape's boundaries dressed with a hedge that's easy to care for as well as beautiful. That's what you get with the English Laurel. The rich, waxy green foliage is only outdone by the white, fragrant racemes that bloom in the spring. The soft, showy clusters of flowers give way to black berries to add the perfect accent.
Although the Cherry Laurel possesses a gentle beauty for a hedge, its ability to withstand the most challenging environments makes it a favorite among landscapers and home gardeners. Whether you plant it as a tree or incorporate it as a designer shrub, don't hedge!
Get your Cherry Laurel today.
Customer

Reviews

& Photos

Customer Reviews

Write a Review

Ask a Question

03/11/2020

Anonymous
United States
I recommend this product
Planting Cherry Laurels
Trees came quickly and in good condition. They have been planted and so far are doing well.
Beautiful Healthy and Fast Growing
We had Laurels planted in front of our previous home that were left by the former owners. Those bushes were appx 5 years old when we moved in and around 12 when we left. They were full tall and overall healthy. SO easy to care for. We loved them! Our "new" home was in desperate need of landscape quickly. I found these and bought 6 to begin landscaping around our country porch. Purchased and planted in June 2016. We did minimal soil prep with just planting soil and mulch. Almost Daily watering during the ****** Virginia summer days. Slowed to twice weekly watering at fall. It is now November 2016 and all of the Laurels are filling out growing at a great pace with healthy deep green leaves. We have done zero to baby them along. A few that are in shadier spots are growing a bit slower in height but are growing fuller. The plants in sunnier areas are growing taller more rapidly but are not getting as full as their friends in the shade. I just bought 2 more to replace some dead azaleas. They arrived very healthy - just waiting for their leaves to pop and unfurl. Photo shows the laurel I planted 6 mos ago next to one I planted a week ago. You can see how even the fallen oak leaves piled up around themshrubs are not damaging them. Beautiful hearty shrub!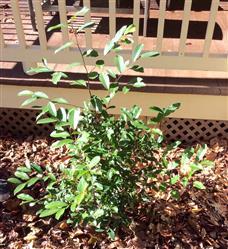 Shipping Details
Most items ship the next business day unless otherwise noted
Estimated Shipping Time: Most orders ship immediately, however some orders may ship in 1-2 business days (we do not ship on the weekends) from date of purchase. As noted on the website, some items are seasonal, and may only ship in spring or fall. Once your order is shipped, you'll receive an email with a tracking number.
| Amount of Order | Shipping Charge |
| --- | --- |
| Less than $15 | $11.95 |
| $15.00-$23.99 | $13.95 |
| $24.00-$39.99 | $16.95 |
| $40.00-$79.99 | $19.95 |
| $80.00-$98.99 | $24.95 |
| $99.00-$118.99 | $24.95 |
| $119 + | FREE SHIPPING! |
Shipping Alert:
You can still order, but due to cold weather, we have delayed shipping to the areas shaded on the map below. We want your new plant to thrive right out of the box, so we will wait on shipping your order until the weather is ideal. This includes anyone in Growing Zones 3 - 5. If you are unsure of your growing zone, visit our Growing Zone Finder.

Some plants are not available for immediate shipment, and delayed delivery is noted.

We will resume normal shipping in the Spring. Please see the table below for your approximate ship date.
| | | |
| --- | --- | --- |
| | Growing Zone | Shipping Resumes |
| | Zones 3 & 4 | Week of May 4th |
| | Zone 5 | Week of April 13th |
| | Zones 6 - 11 | Ships Now! |