* Images shown are of mature plants
---
Product Details
| | |
| --- | --- |
| Mature Height: | 8 ft. pruned |
| Mature Width: | 4-6 ft. |
| Sunlight: | Full-Partial |
| Growth Rate: | Moderate |
| Harvest Time: | Fall |
| Year to Bear: | 2-3 years |
| Botanical Name: | Citrus 'California Honey' |
| Does Not Ship To: | AZ, CA, GA, FL, TX |
| Grows Well In Zones: | 4-11 patio / 8-11 outdoors |
| You are in Growing Zone: | # |
Growing Zones: 4-11 patio / 8-11 outdoors
(hardy down to 20℉)
Product Description
The Best Tasting Mandarins Available
Why California Honey Mandarin Trees?
Enjoy the warm taste of cinnamon and honey with the California Honey Mandarin, often considered the best-tasting mandarin you can eat. With flavors reminiscent of honey, paired with the warmth of cinnamon, this unique taste is unforgettable. Once you take your first bite, you'll be hooked.
You won't find this tantalizing fruit at your local market. Most commercial growers market bigger, seedless mandarins, so you won't be likely to find this sweet fruit at your grocery store. Growing your own California Honey Mandarin Tree will ensure you always have access to this irresistible citrus.
And it's easy to grow. California Honey Mandarins don't just grow in California. Warmer climates like zones 9 and 10 can plant their trees outside, but if you live in a colder state, it's no problem. Plant your tree in a container and bring it inside during the cooler winter months.
Why Fast-Growing-Trees.com is Better
With our trees, you can grow your own California Honey Mandarins and discover their irresistible taste without the hassle. That's because we've planted, grown and shipped our California Honey Mandarins with care so that by the time they arrive at your door, they're ready to thrive. You get healthier roots, better branching, and faster fruit - you won't get the same experience at your local nursery or big box store.
Without easy access to this incredible fruit at a grocery store, everyone wants a tree of their own to grow. Order yours today and start growing your own healthy, sweet mandarins!
Pollination Info
California Honey Mandarin Tree Pollination
California Honey Mandarin Trees are self-fertile. You will get fruit with only one plant. However, adding an additional California Honey Mandarin Tree will drastically increase the size of your crop.
Planting & Care
1. Planting: Plant your tree in a large pot that gives the roots room to grow. Plant in well-draining, loose soil and make sure your container has proper drainage holes.
You can keep your plant outside during the warmest months, but when temperatures begin to drop below 60 degrees you'll need to begin training the tree to move indoors. Training is easy - simply bring your tree inside for 1 hour on the first day and increase the time inside by 2 to 3 hours each day. If you move your plant back outside during the summer, you'll need to retrain it in the same way. Always keep your tree in the sunniest location possible, whether indoors or outdoors.
2. Watering: Water new plants twice a week until established. Once the tree is established, only water every 7 to 10 days.
If you're not sure when to water your tree, simply check your soil about 3 inches down. If the soil is dry here, it's time to water your tree.
3. Fertilizing: Use a citrus fertilizer, like the one included in our Citrus Care Kit, in March, May, and June. Follow the instructions on the package, but divide the amount by three. When applying the fertilizer, water the tree lightly to dissolve the fertilizer into the soil.
4. Pruning: Prune in the spring when new growth emerges. Remove all dead and dying limbs or branches that grow from the bottom of the tree. During the first two years of growth, remove all the fruit once the blooms have died. This allows the tree the ability to use all the nutrients, and it encourages new growth.
5. Pollination: The California Mandarin is self-fertile, for indoor trees, you can pollinate by hand since most people do not keep a healthy bee population within their home. Simply take a small, dry, fine-tipped paintbrush and stick it into the center of the bloom. Swirl it around and collect the pollen on the brush. Go to the next bloom and repeat the process until every bloom has been treated. Do this once daily and don't wash the paintbrush until after the blooms have been pollinated. The bloom will fall off naturally and the fruit will begin to form in its place.
Shipping Details
Shipping Alert:
You can still order, but due to cold weather, we have delayed shipping to the areas shaded on the map below. We want your new plant to thrive right out of the box, so we will wait on shipping your order until the weather is ideal. This includes anyone in Growing Zones 3, 4, 5, & 6. If you are unsure of your growing zone, visit our Growing Zone Finder.

Some plants are not available for immediate shipment, and delayed delivery is noted.

We will resume normal shipping in the Spring. Please see the table below for your approximate ship date.
| | | |
| --- | --- | --- |
| | Growing Zone | Shipping Resumes |
| | Zones 3 & 4 | Week of May 2nd |
| | Zone 5 | Week of April 11th |
| | Zone 6 | Week of March 28th |
| | Zones 6 - 11 | Ships Now! |
Estimated Shipping Time: Most orders ship immediately. As noted on the website, some items are seasonal, and may only ship in spring or fall. Once your order is shipped, you'll receive an email with a tracking number.
| Amount of Order | Shipping Charge |
| --- | --- |
| Less than $15 | $11.95 |
| $15.00-$23.99 | $13.95 |
| $24.00-$39.99 | $16.95 |
| $40.00-$78.99 | $19.95 |
| $79 + | FREE SHIPPING! |
Customer

Reviews

& Photos

Customer Reviews

Write a Review

Ask a Question

Filter Reviews:
tree
condition
fruit
purchase
company
buds
flowers
leaves
fruit trees
customer service
03/04/2021
Richard B.

United States
I recommend this product
So far so good!
I purchased this tree with the intent to train it for bonsai. Three weeks after receiving it I have cut the bottom of the stem to fit a training pot. A week has passed since and the tree still seems to be thriving. It came from good stock and was well taken care of. I'll get back to you when I get some fruit.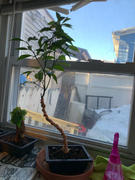 Too many oranges fall off the tree. It won't be producing as many as I thought it would.
Tree came with lots of blooms and started producing fruit almost immediately - but quite a few of the oranges dropped off after growing to the size of a pea. Now I only have about 5 oranges left that are still hanging on.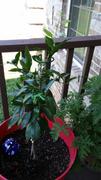 08/30/2021
Anonymous

United States
California Honey Mandarin tree
Tree is doing great. Very nice and tall. Can't wait to see it bear fruits.
07/02/2021
Tudor C.

United States
I recommend this product
Nothing to complain
Ordered a mandarin tree form this company, which arrived in perfect conditions, professionally packed. The tree is transplanted on a big pot and happy resting on our patio. We can't wait to see its first flowers.
06/27/2021
Raul G.

United States
Beautiful tree
Great so happy