1542365347892
12395
* Images shown are of mature plants
My FGT Yard Planner
You'll need to log in or create an account in order to save this item
---
Sweet Harvests, Made for California
Why Black Mission Fig Trees?
The most popular variety planted in California, the Black Mission Fig Tree is a versatile plant and producer of sweet-tasting, incredibly textured fruit. And because these Black Mission Trees are grown locally in California, they're going to perform well in your landscape.
So, it's even easier to grow. Unlike other fruit trees that require lots of pruning, fertilizing and waiting, the Black Mission Fig thrives without much fuss. Plus, it's adaptable to your needs – you can pot and prune the plant to keep it small, or you can plant it in your yard and watch it expand.
Why Fast-Growing-Trees.com is Better
For starters, you can use this tree's fruit fresh, dry or canned. And its strawberry-hued flesh imparts rich flavor that's second to none. Best of all, it's heavy-bearing, long-lived and acclimates to both coastal and inland areas, as a large yard variety or wonderful container plant. But the top benefit is that, because it's grown in California, it performs well for your California home.
Figs are loaded with healthy fiber, look good and are easy-to-grow, so they tick all the boxes of landscape excellence. If you live in California, this Black Mission Fig Tree is a must-have – order yours today!
Pollination Info
Black Mission Fig Pollination
Black Mission Figs are self-fertile. You will get fruit with only one plant. However, adding an additional Black Mission Fig will drastically increase the size of your crop.
Planting & Care
1. Planting: Plant your Black Mission Fig tree in a hole twice as wide and nearly as deep as the root's ball. You'll need to place it in a sunny spot in your yard that is protected from winter winds. You can also plant your Black Mission Fig in a container and bring it inside when it gets cold. When you're done planting, add 2" of compost mulch extending out 4" from the base of the tree. Water immediately after planting, and you're good to go!
2. Watering: You'll need to frequently water your Black Mission Fig until it is established. Pull back the mulch and feel the soil. If it is dry, you should water the tree. Once your tree is established, you can water every week or every 2 weeks in milder weather.
3. Fertilization: There's no need to fertilize your fig tree if you plant it in your garden. Instead, renew the compost mulch every month between spring and fall.
4. Pruning: Prune back any dead or diseased branches after the second harvest in summer or fall. To maintain the size of your tree in your yard or pot, prune to the desired size for the first 3 years. Established trees should not require much pruning, however.
5. Harvesting: Use gloves when harvesting your figs. Your Black Mission figs need to ripen on the tree. They will be ready to eat when they are easily plucked from the tree.
Shipping Details
Estimated Shipping Time: Most orders ship immediately. As noted on the website, some items are seasonal, and may only ship in spring or fall. Once your order is shipped, you'll receive an email with a tracking number.
| Amount of Order | Shipping Charge |
| --- | --- |
| Less than $129 | $19.95 |
| $129 + | FREE SHIPPING! |
| | |
| --- | --- |
| Mature Height: | 10-30 ft. |
| Mature Width: | 15-30 ft. |
| Sunlight: | Full-Partial |
| Growth Rate: | Moderate |
| Harvest Time: | June-September |
| Year to Bear: | Can Fruit the 1st year! |
| Botanical Name: | Dorstenia ficus 'Black Mission' |
| Does Not Ship To: | AZ,GA |
| Grows Well In Zones: | 7-10 outdoors |
| Your Growing Zone: | # |
Growing Zones: 7-10 outdoors
(hardy down to 10℉)
Customer

Reviews

& Photos

Customer Reviews

Write a Review

Ask a Question

Filter Reviews:
Can't Wait
second
fig trees
FASTGROWINGTREES
fruit
everything
tree
06/21/2021
Anonymous

United States
I recommend this product
A slice the Mediterranean
Love the tree. It's the second (the first being an olive tree) and I've purchased from FastGrowingTrees and I couldn't be happier.
06/15/2021
Anonymous

United States
I recommend this product
Black Mission Variety of Fig
Fast Growing Trees offered my very favorite fig for sale and shipping. Dark purple on the outside with a deep red, juicy fruit, I find this variety to be the very best. Not only did they (2) arrive in a timely fashion but the leaves were in perfect condition. They were packed beautifully AND they had three first of the season figs developing - can't get better than that!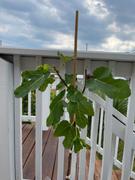 07/25/2020
Anonymous

United States
I recommend this product
Love my tree
My Black Mission Fig tree started growing immediately! It is very happy in a large pot in the morning sun. Very happy.
06/28/2020
Anonymous

United States
I recommend this product
Black Fig
Good experience.. immediately started growing after I planted it ..
04/08/2020
Anonymous

United States
I recommend this product
Good product
Got my fig trees planted and looking good. Can't Wait till they start to bear fruit.