* Images shown are of mature plants
My FGT Yard Planner
You'll need to log in or create an account in order to save this item
Add to Yard Planner
---
Cold-Hardy Figs, Organic and Hassle-Free
Why USDA Organic Cold Hardy Fig Trees?
Meticulously grown and nurtured to withstand some of the coldest winter temperatures, the Chicago Hardy Fig Tree is durable and even comes back strong after freezing…delivering rich, robust figs in the harshest climates of the country.
You get bushels of delectable figs a season after the most intense winter weather, and even better, you get them organically-grown. Organic, healthful growth means that pesticides and harsh sprays are unnecessary. Plus, the Chicago Hardy Fig can be trimmed and maintained at a height as short as 6 feet, so it fits in any space.
From apartment terraces to small spaces indoors, this tree grows plump, juicy figs with soft, delicious flesh and high-quality flavor. They're ideal for plucking, peeling and eating directly off the tree. And you can enjoy mouth-watering figs the first season after you plant, with a harvest in late summer to early fall. Best of all, the Chicago Hardy Fig Tree will provide as many as 12 gallons of figs each season!
Why Fast-Growing-Trees.com is Better
But the best part about your Chicago Fig is that it's grown for success, long before it arrives at your door. Because we've greenhouse-grown our organic Chicago Fig, you can get fruit in the first year, easy growth and all-natural results, guaranteed USDA-certified organic.
You won't get the same healthy, promising growth, year after year, from trees found at your local nursery or big box store.
Home-grown figs, organic and hardy, are just a click away. Get your own Chicago Hardy Fig Tree today!
Pollination Info
Chicago Hardy Fig Tree - USDA Organic Pollination
Chicago Hardy Fig Tree - USDA Organics are self-fertile. You will get fruit with only one plant. However, adding an additional Chicago Hardy Fig Tree - USDA Organic will drastically increase the size of your crop.
Planting & Care
1. Planting: Keep in mind that Fig Trees perform best in full sun (6 to 8 hours of sunlight per day). Fig Trees grown indoors should be placed by large, sunny windows or placed in a sunny spot on your patio.
Select a container that's slightly larger than the root ball (2 sizes larger than the initial container the fig came in works best). Add a mixture of potting soil and organic planting mix to the container before you place your tree in it. Make sure your tree stands straight up in its container and give it a good drink of water until you see water coming out the bottom of the pot. If your pot doesn't contain drainage holes, you can quickly add a few with a small drill.
2. Watering: For young Fig Trees, we recommend watering once or twice per week. Once established, your Fig Tree will need to be watered once a week or once every two weeks.
But if you're not sure when to water, feel your soil - if it feels like it's drying out close to the surface, then it's time to water your tree. Give your tree a drink until you see water draining from the holes at the bottom of the pot.
3. Fertilizing: Figs won't usually require fertilizing, but if you want to bolster your tree's growth, do so in the early spring with a slow-release, well-balanced organic fertilizer, like formula 10-10-10.
4. Pruning: Prune your Fig during winter by removing any low-growing branches or foliage (also called suckers). Also, remove any dead or damaged branches to encourage fruit growth.
Shipping Details
Estimated Shipping Time: Most orders ship immediately. As noted on the website, some items are seasonal, and may only ship in spring or fall. Once your order is shipped, you'll receive an email with a tracking number.
| Amount of Order | Shipping Charge |
| --- | --- |
| Less than $129 | $19.95 |
| $129 + | FREE SHIPPING! |
| | |
| --- | --- |
| Mature Height: | 15-30 ft. |
| Mature Width: | 15-30 ft. |
| Sunlight: | Full Sun |
| Growth Rate: | Moderate |
| Harvest Time: | July - October |
| Year to Bear: | Can Fruit the 1st year! |
| Botanical Name: | Ficus carica 'Chicago Hardy' |
| Does Not Ship To: | AZ,OR |
| Grows Well In Zones: | 5-10 outdoors |
| Your Growing Zone: | # |
Growing Zones: 5-10 outdoors
(hardy down to -10℉)
Customer

Reviews

& Photos

Customer Reviews

100

reviewers would recommend this product

Write a Review

Ask a Question

Filter Reviews:
tree
plant
leaves
stars
garage
condition
ordering
figs
twig
quality
12/30/2022
Robert D.

United States
I recommend this product
Great product
Great tree aived in good condition with visible growth poits
05/02/2021
Anonymous

United States
I recommend this product
Fig tree
Tree came in small pot I put in big pot it's sitting in garage waiting to go outside plant looks good
02/20/2021
Jessica A.

United States
I recommend this product
Sweet little fig
Ordered fig mid-Nov on a Covid quarantine shopping whim. Arrived well packaged and as expected for a quart sized plant. It sat as a lonely looking twig for the first 2.5 months but 2 weeks ago sprouted it's first beautiful leaves and has already grown ~4". Even if we don't get fruit this year I would definitely recommend this or any other tree from site.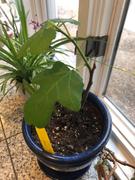 01/21/2021
Anonymous

United States
I recommend this product
Fig starts up
My experience with fast growing trees has been effortless and painless I look forward to making more purchases from fast growing trees in the feature
11/12/2020
Fiona H.

United States
I recommend this product
Arrived in good condition
My tree arrived in good condition. It is small, and I've planted it with protection around it, so we'll see how it fares through the winter.