Product Details
Growing Zones: 7-10 outdoors
(hardy down to 10℉)
7-10 outdoors
Mature Height:

10-30 ft.

Mature Width:

15-30 ft.

Sunlight:

Full-Partial

Growth Rate:

Moderate

Harvest Time:

June - September

Year to Bear:

Can Fruit the 1st Year!

Botanical Name:

Dorstenia ficus 'Black Mission'

Does Not Ship To:

AZ
Product Description
The Unique-Tasting Fig Preferred by Chefs
Why Black Mission Fig Trees?
Uniquely-sweet taste and incredible texture set the Black Mission Fig apart, making it highly desirable for cooking and difficult to find at supermarkets. But now, you can grow your own…saving you money and delivering a home-grown flavor that's second to none.
And the Black Mission is easy to grow. Unlike other fruit trees that require lots of pruning, fertilizing and waiting, the Black Mission Fig loves to produce fruit. Without even trying, you'll be picking delicious, sweet figs from your tree in no time. If it gets cold where you live, simply plant the tree in a pot and bring it indoors during the freeze.
Best of all, you get two harvests each year. Your tree will produce delicious, robust fruit in the early spring and early fall. So, you'll have plenty of this amazingly flavorful fruit for baking and beyond each year, with a taste that's compared to crème brûlée since it's so rich and sweet.
Why Fast-Growing-Trees.com is Better
First, the Black Mission Fig is hard to find in stores. But growing your own means getting these delectable figs right at home. And harvesting home-grown Black Mission Figs is easy because we've grown and nurtured your Black Mission Fig Trees for months before shipping, long before they arrive at your door. So, you reap the rewards of our hard work at the nursery: A healthy root system, more developed branching, and with our larger sizes, the ability to harvest fruit in the first year.
Black Mission Fig Trees are in high demand…and you won't find them at your local nursery or big box store. It's so easy to grow this delicious fruit from this tree, enjoying tons of harvests without hassle. Order your own Black Mission Fig today!
Pollination Info
Black Mission Fig Pollination
Black Mission Figs are self-fertile. You will get fruit with only one plant. However, adding an additional Black Mission Fig will drastically increase the size of your crop.
Customer

Reviews

& Photos

Customer Reviews

Write a Review

Ask a Question

Filter Reviews:
tree
leaves
condition
plant
trees
size
yard
shipping
plants
lots
04/06/2020
Jose R.
United States
I recommend this product
I recommend Fast Growing Tree
Fast shipping, My Plant its a good size and my plant came in good condition and healthy! Thank you :)
A
03/19/2020
Amber
United States
I recommend this product
First Fig
This is my first time ordering from this website. I read all the reviews so i was very hopeful. Was very fast shipping, and my plant is a good size, it came in dormant as well. Ive only had it for a week, i replanted it in a pot. Its already has leaves growing in beautifully from every angle
03/09/2020
Chester A.
United States
I recommend this product
Black mission fig
Package well. Arrived in timely manner. Good plants. Are budding.
02/17/2020
Francis B.
United States
I recommend this product
Fig Tree or Fig Bush
This is my second review of the "Black Mission Fig." In my first review, I questioned whether the specimen I received was supposed to be a tree as it had 3 "leaders." Making it more of a bush than a tree. The response from a representative of "Fast Growing Trees" suggested that I prune off the secondary leaders. However, I was reluctant to do this from lack of experience and not wanting to cause irreparable harm to the Fig. I'm relieved that I didn't follow that advice because, as of now, the figs is leafing out on the secondary leaders while the main "trunk" remains dormant. I will attempt to attach a photo that I took this morning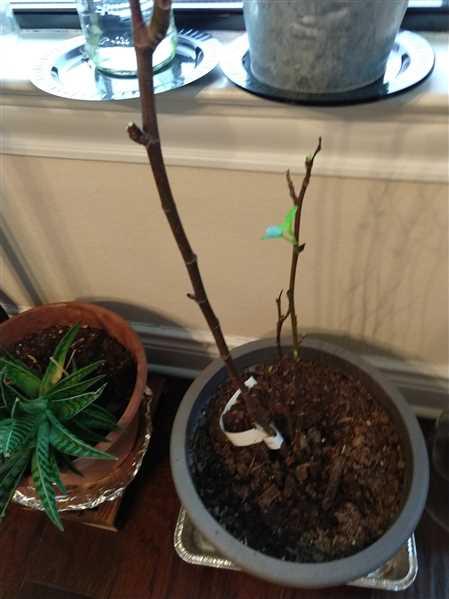 02/18/2020
Fast-Growing-Trees.com
We're sorry to see that one of the trunks isn't leafing out yet! It may just need some extra time, but if for some reason it does not fully leaf out by the end of May, please let us know and we'll happily cover it under our dormancy guarantee!
02/06/2020
Jan B.
United States
I recommend this product
Ok
So far so good, haven't planted it yet because of the weather.
Planting & Care
1. Planting: First, select an area with well-drained soil and full to partial sun (4 to 8 hours of sunlight per day). Then, plant your Black Mission Fig in a hole twice as wide and nearly as deep as the root's ball, and water after planting.
If you plant in a container to bring inside during winter, select a pot that's about twice the width of your plant's shipped container. Also, ensure the pot has drainage holes. Use organic planting mix, place your tree in the pot, and then water until you see water flowing from the drainage holes. Finally, place your Fig Tree in front of a sunny window indoors.
2. Watering: Feel the soil about 2 or 3 inches down – if it's dry, you should water the tree. Once your tree is established, you can water every week or every 2 weeks in milder weather.
3. Pruning: Prune back any dead or diseased branches after the second harvest in summer or fall. To maintain the size of your tree in your yard or pot, prune to your desired size for the first three years. Established trees should not require very much pruning at all.
Shipping Details
Most items ship the next business day unless otherwise noted
Estimated Shipping Time: Most orders ship immediately, however we are currently experiencing delays and could take up to 4-7 days from date of purchase. As noted on the website, some items are seasonal, and may only ship in spring or fall. Once your order is shipped, you'll receive an email with a tracking number.
| Amount of Order | Shipping Charge |
| --- | --- |
| Less than $15 | $11.95 |
| $15.00-$23.99 | $13.95 |
| $24.00-$39.99 | $16.95 |
| $40.00-$79.99 | $19.95 |
| $80.00-$98.99 | $24.95 |
| $99.00-$118.99 | $29.95 |
| $119.00- $148.99 | $34.95 |
| $149+ | FREE SHIPPING! |
Shipping Alert:
You can still order, but due to cold weather, we have delayed shipping to the areas shaded on the map below. We want your new plant to thrive right out of the box, so we will wait on shipping your order until the weather is ideal. This includes anyone in Growing Zones 3 & 4. If you are unsure of your growing zone, visit our Growing Zone Finder.

Some plants are not available for immediate shipment, and delayed delivery is noted.

We will resume normal shipping in the Spring. Please see the table below for your approximate ship date.
| | | |
| --- | --- | --- |
| | Growing Zone | Shipping Resumes |
| | Zones 3 & 4 | Week of May 4th |
| | Zones 5 - 11 | Ships Now! |