Product Details
Growing Zones: 3-7 outdoors
(hardy down to -30℉)
3-7 outdoors
Mature Height:

6-8 ft.

Mature Width:

5-6 ft.

Sunlight:

Full-Partial

Growth Rate:

Moderate

Botanical Name:

Cornus sericea

Does Not Ship To:

AZ, FL
Product Description
Uniquely Colorful + Year-Round Visual Interest
Why Yellow Twig Dogwood Shrubs?
From spring to winter, our Yellow Twig Dogwoods are groomed to provide colorful interest. The traditional deciduous shrub brightens up the winter months with vibrant yellow twigs, and as spring rolls around, yellow twigs transition to green and emerald green leaves accompanied by delicate white flowers. During the later summer months, the white flower clusters are joined by groups of white berries that attract birds and other wildlife. And just when you think this shrub can't be more impressive - it has another surprise in store each autumn.
As temperatures start to drop, so do the flowers, berries and green leaves. But there is nothing disappointing about it because the twigs transform to bright yellow. It's a wonderful gift to welcome the autumn season into your landscape. You'll be able to enjoy the vibrant crimson hues before the amazing shrub transitions back to its effervescent yellow throughout winter.
Plus, the Yellow Twig Dogwood thrives effortlessly. Thriving through the harsh winter months, the Yellow Twig welcomes most soil types and conditions - including snow! And you don't have to prune it unless you'd like to shape. Even better? It's drought-tolerant but also does well in flooded areas. Plant these in places that are "swampy" as they will help with erosion control.
Why Fast-Growing-Trees.com is Better
Our Yellow Twig Dogwoods have been nurtured for months, long before shipping, and are ready to perform for you. So, not only do you get a unique plant that's good-looking all year, but you also get a healthy, ready-to-succeed shrub that adapts and thrives in the toughest conditions.
There are only so many we can groom at our nursery each year, so the supply is limited. Take our word for it...you'll love this one for life. Order your own Yellow Twig Dogwood Today!
Customer

Reviews

& Photos

Customer Reviews

Write a Review

Ask a Question

06/07/2019

Bryan D.
United States
Excellent little plant
So far it is in the ground and healthy. Looking forward to it 'doing its thing'!
Yellow twig
Can't wait to see in winter, tree came healthy
Yellow Twig Dogwood
I recently purchased these plants so I have only had them in the ground for 2 months or less. They arrived in great shape and look amazing in front of the Autumn Blaze Maple. I am looking forward to seeing the yellow twigs this winter.
Received in good condition and seemingly good health.
Sorry for the poor quality of the photo but I had no backdrop other than the green grass. It's been in the ground for about three weeks and looks pretty much as it did as when I planted it. Although they cannot be seen in the photo there is new leaf growth and has not shed any of the older leaves. A word of warning June Bugs (May Beetles) love to eat the leaves so constant attention must be paid or you'll wind up with only twigs. I've bought several plants from here and have not been disappointed.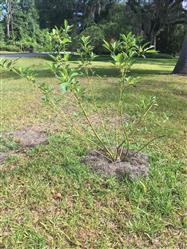 Easy to care for
Really looks healthy. Seems very hardy. It doesn't have yellow twigs yet but it seems to be new growth
Planting & Care
1. Planting: Select an area with well-drained soil and full sun (6 to 8 hours of sunlight per day). They will tolerate partial shade, but their signature yellow bark will be brightest if they are planted in full sun.
When you're ready to plant, dig your planting hole twice the width of the root ball and just as deep. Remove the plant from the container by gently tapping on the ground and easing the plant out of the container. Place the shrub in the planting hole and backfill with your blend of native and gardening soil and gently tap down to secure the plant. This will help keep the dogwood straight and eliminate any air pockets that may have formed. Water the planting site to settle the soil then mulch to retain soil moisture.
2. Watering: Create a mulch barrier around the tree's trunk at planting. Keep the mulch five or six inches away from the trunk itself to help the tree retain water. Water the yellow twig dogwood thoroughly about once or twice weekly.
If you're not sure when to water, simply check the surrounding soil at a depth of 2 or 3 inches. If the soil is dry here, it's time to water.
Shipping Details
Most items ship the next business day unless otherwise noted
Estimated Shipping Time: Most orders ship immediately, however some orders may ship in 1-2 business days (we do not ship on the weekends) from date of purchase. As noted on the website, some items are seasonal, and may only ship in spring or fall. Once your order is shipped, you'll receive an email with a tracking number.
| Amount of Order | Shipping Charge |
| --- | --- |
| Less than $15 | $11.95 |
| $15.00-$23.99 | $13.95 |
| $24.00-$39.99 | $16.95 |
| $40.00-$79.99 | $19.95 |
| $80.00-$98.99 | $24.95 |
| $99.00-$124.99 | $24.95 |
| $125 + | FREE SHIPPING! |
Shipping Alert:
You can still order, but due to cold weather, we have delayed shipping to the areas shaded on the map below. We want your new plant to thrive right out of the box, so we will wait on shipping your order until the weather is ideal. This includes anyone in Growing Zones 3 - 5. If you are unsure of your growing zone, visit our Growing Zone Finder.

Some plants are not available for immediate shipment, and delayed delivery is noted.

We will resume normal shipping in the Spring. Please see the table below for your approximate ship date.
| | | |
| --- | --- | --- |
| | Growing Zone | Shipping Resumes |
| | Zones 3 & 4 | Week of May 4th |
| | Zone 5 | Week of April 13th |
| | Zones 6 - 11 | Ships Now! |