---
Product Details
| | |
| --- | --- |
| Mature Height: | 40-50 ft. |
| Mature Width: | 30-40 ft. |
| Sunlight: | Full-Partial |
| Growth Rate: | Fast |
| Botanical Name: | Paulownia elongata |
| Does Not Ship To: | AZ, ME, WI |
| Grows Well In Zones: | 7-11 outdoors |
| You are in Growing Zone: | # |
Growing Zones: 7-11 outdoors
(hardy down to 10℉)
Product Description
World's Fastest-Growing Tree
Why Royal Empress Trees?

The Royal Empress is an entertaining tree year-round. In the winter, its branches are covered with furry, pea-sized buds, just waiting to burst into huge flowers. At the first sign of spring, the tree explodes with purple blooms. And the fragrance is incredible...like a cross between gardenia and jasmine.

But our Royal Empress Tree is really known for its fast, dense growth. When summer comes, the tree forms a dense canopy that can drastically cut your power bills. The tropical-inspired leaves are huge, measuring about a foot wide. Plus, bigger leaves mean fewer branches, so you get more sunlight and natural heat coming through in the winter when you need it most.
Best of all, the Royal Empress Tree is hassle-free. It grows almost anywhere, from Mexico to Canada, and has no significant insect or disease problems. And it tolerates drought and grows in almost any kind of soil, even toxic ones. It's a hardwood tree that lives to old age. Your Empress Tree is a hard worker, from its ability to cut household costs to its large leaves that act as giant air filters, pulling pollution out of the air at a remarkable rate.

Why Fast-Growing-Trees.com is Better

But the top benefit: Our Royal Empress is grown to give you results. Some nurseries use wild seed that doesn't grow as quickly and can be the invasive Tomentosa variety...and this means disappointing results. But we use proven stock that's less invasive, faster-growing, and hardier, so your tree arrives ready for explosive growth. Our Elongata variety is sterile, and we carefully propagate cuttings from known sterile trees that we trust so that you get the best results possible.
Don't wait - order your Royal Empress today!
Planting & Care
1. Planting: Empress Trees are nearly indestructible once they have become established but do require some care in their early stages of growth. Full sun is best for its exposure and well-draining soil is essential to the health of the tree. Ensure you plant well away from structures.
Plant your tree after the last frost or when surrounding plants begin to bud out. For best results, mix in potting soil or soil conditioner, especially if planting in clay or poor soil. Make your hole twice as wide and just as deep as the root ball, place the tree in the hole, and spread the roots out evenly. Water the area to moisten/settle the soil and then broadcast a good layer of mulch to preserve soil moisture and keep weeds and grasses back.
2. Watering: When the top 2 to 3 inches of the soil is dry, add water. As a rule, let the soil surrounding the tree dry out before watering. If your tree is wet upon arrival, skip the initial watering for two days.
3. Fertilizing: Empress Trees love organic fertilizer high in nitrogen. Just be sure the 1st of the three numbers on your organic fertilizer is higher than the others indicating an extra boost of nitrogen (Example: 20-10-10). You can fertilize twice a month in the growing season. Stop fertilizing before the tree goes back into dormancy. Additional fertilizing should only be done after the first year.
4. Pruning: Let your tree grow for one entire year. If your Empress Tree did not grow at least 4 feet before winter dormancy, we recommend that you cut it to the ground at the very start of spring (a process called "coppicing"). This may seem odd, but it will grow a bunch of small sprouts. Select the "alpha" of the bunch and pinch the others off. This will focus all of the nutrients into that one growth and become a very straight, beautiful tree.
Shipping Details
Estimated Shipping Time: Most orders ship immediately. As noted on the website, some items are seasonal, and may only ship in spring or fall. Once your order is shipped, you'll receive an email with a tracking number.
| Amount of Order | Shipping Charge |
| --- | --- |
| Less than $15 | $11.95 |
| $15.00-$23.99 | $13.95 |
| $24.00-$39.99 | $16.95 |
| $40.00-$79.99 | $19.95 |
| $80.00-$98.99 | $24.95 |
| $99.00-$128.99 | $29.95 |
| $129 + | FREE SHIPPING! |
Customer

Reviews

& Photos

Customer Reviews

Write a Review

Ask a Question

Filter Reviews:
tree
leaves
ground
yard
shade
Royal Empress
season
shipping
fence
picture
10/27/2021
Linda L.

United States
10/26/2021
Brianne L.

United States
I recommend this product
Pretty trees
I have one in my front yard , planted 8 years ago, I love it! The neighbors always ask what kind of tree it is, they love it too. It has blossomed for the past 4 years and it's so pretty. I just bought 4 more to plant along the back fence. Since we are headed into dormant season, I just planted them in large containers and plan to put them in the ground come spring. The only real unknown is whether the fedex delay hurt the root ball. But having the tree in the front, I know they are very resilient and should bounce back just fine. I plan to cut them to the ground at least once in their grow cycle.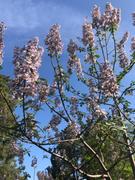 10/25/2021
Tana

United States
I recommend this product
Love the tree but not sterile
I love my tree and how fast it's growing. Bought over 2 years ago and still looks good. Only problem is I bought this because it's supposed to be sterile and I have little sproutlings popping up now.
10/20/2021
Anonymous

United States
I recommend this product
Good
They look good when they arrived here. Can't wait to see flowers blooming next year.
10/08/2021
Anonymous

United States
I recommend this product
Healthy & Thriving
I was hesitant to purchase this late in the season but, went for it. Tree was late to arrive but, this was the shipping company. Arrived very well packaged. No damage, leaves were a little wilted but, still green. I planted it immediately,watered well and it has already put on 5 new leaves. Very happy in full morning sun.