4346666844222
KNO-PET2QT
* Images shown are of mature plants
My FGT Yard Planner
You'll need to log in or create an account in order to save this item
Have Questions? Call Now
---
True Red Roses on a Compact Form
Why Petite Knock Out® Roses?
The latest addition to the Knock Out® family, the Petite Knock Out® Rose Shrub gives you the best of both worlds: True red blooms on a small form and the carefree Knock Out® benefits you love. So, you get big red blooms from spring through fall, upgrading your curb appeal for months at a time...just in a smaller, more compact form.
And the Petite requires virtually no upkeep. Despite its compact size and delicate appearance, the Petite couldn't be stronger, producing huge clusters of red flowers. The best part? It has all of the Knock Out family's famous resistance to common rose problems.
The Petite is unlike any other - from container plants next to your entryway to vibrant borders along your driveway, the Petite makes a huge statement in a small, easy silhouette.
Disease-resistant, drought-tolerant and self-cleaning, the Petite's roses transform any garden space. Now, you'll have the best yard in the neighborhood without hours spent fussing, fertilizing, or pruning. The only work will be finding the perfect place for your Petite!
Why Fast-Growing-Trees.com is Better
Because it's the newest Knock Out® introduction, years in the making, it's almost impossible to find this rose anywhere else.
But when you order your Petite Knock Out® from Fast Growing Trees, you'll not only get the consistent color and huge, carefree blooms of the Petite for yourself...you'll also get the promise of tried-and-true performance.
Most big-box retailers and chain garden centers ship bare-root. We plant and grow your Petite Knock Out® in nutrient-rich soil, with healthy roots and better growth than ever before.
Our painstaking process means that you reap the rewards of blooms without all the fuss. But don't wait - get your Petite Knock Out® Rose Shrub today!
Looking for more roses to add to your collection? Check out our guide to popular types of roses.
Planting & Care
1. Planting: Select a location with well-drained soil and full sun to partial sun (any area that receives 3 to 6 hours of sunlight per day). After you've selected your location, dig a hole that's at least two or three times wider than your tree's root ball. Once you've placed it, backfill the soil, tamp down to avoid air pockets and lastly, water to help establish its roots.
If you're planting in a container, select a pot that's about twice the width of your shrub's shipped container, use organic soil, and place your shrub.


2. Watering: Water approximately once weekly until the plant is more established – once it's established, you may taper off watering. If you're not sure when to water, simply check the surrounding soil about 2 to 3 inches down – if the soil is dry, it's time to water.

3. Pruning: Prune as needed for shaping during the late winter or early spring, and remove dead leaves as needed. Deadheading is unnecessary since the plants drop their spent blooms.
Shipping Details
Estimated Shipping Time: Most orders ship immediately. As noted on the website, some items are seasonal, and may only ship in spring or fall. Once your order is shipped, you'll receive an email with a tracking number.
| Amount of Order | Shipping Charge |
| --- | --- |
| Less than $125 | $19.95 |
| $125 + | FREE SHIPPING! |
| | |
| --- | --- |
| Mature Height: | 1-2 ft. |
| Mature Width: | 1-2 ft. |
| Sunlight: | Full-Partial |
| Growth Rate: | Moderate |
| Botanical Name: | Rosa meibenbino PP 30811 |
| Does Not Ship To: | AZ |
| Grows Well In Zones: | 5-10 outdoors |
| Your Growing Zone: | # |
Growing Zones: 5-10 outdoors
(hardy down to -10℉)
Customer

Reviews

& Photos

Customer Reviews

100

reviewers would recommend this product

Write a Review

Ask a Question

Filter Reviews:
shed
window
delivery
turnaround
condition
another
packing
roses
health
foliage
05/30/2022
Kristen

United States
I recommend this product
Meet Petite: Big Things In A Small Package!
I can not say enough good things about these little roses!! I've had other Knock Out roses in the past, and these are different. The roses are so abundant and so beautiful and they bloom, and keep blooming and keep blooming well into fall, simply amazing! In 2021 they were tiny little plants, but still produced an insane amount of flowers. This year they are huge (relative to original size) beautiful, full plants and they've already exploded I can't recommend enough these are freaking amazing!! Honestly, I'm a bad gardener, these Rose's thrive on neglect. However, for every deadhead, you will be rewarded with twice that amount in flowers!! 2 pics from 2022 and 1 pic of 2021 when I first planted.
05/24/2022
Marianna K.

United States
I recommend this product
Great quality, healthy, beautiful flowers
Ordering from the company for the first time. The plants arrived undamaged and not too weary of the trip. (The box has openings for breathing, but the plants are in plastic bags, not sealed surely). I had to keep them inside for a week or so before I had planters and soil. They didn't mind the wait. The plant arrived with several closed buds and one, then a few more opened soon after replanting. Thankfully the page for this particular plant has replanting instruction for a pot. I used organic soil from Whole Foods. I live in NJ, zone 7 and put the rose on the balcony for the morning sun.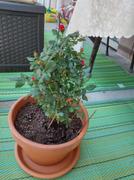 05/19/2022
Laura

United States
05/02/2022
Anonymous

United States
I recommend this product
I'm now a happy camper
Packing for delivery to So Cal was excellent; young roses arrived quickly, intact, and alive. I was excited to have received them in good condition. I potted them immediately, following written recommendations. For several months they looked sad. I worried but I didn't give up on them. I kept an eye on them. It's taken almost two years to see a turnaround in appearance and health. They are finally blooming; their foliage is a nice shiny green. We finally got used to living with one another. They are perfect for my somewhat small garden.
05/19/2021
Anonymous

United States
I recommend this product
Excellent
Start to delivery excellent