---
Product Details
| | |
| --- | --- |
| Mature Height: | 4-6 ft. |
| Mature Width: | 3-4 ft. |
| Sunlight: | Full Sun |
| Growth Rate: | Moderate |
| Harvest Time: | August |
| Year to Bear: | Can Fruit the 1st Year! |
| Botanical Name: | Ficus carica 'Little Miss Figgy |
| Does Not Ship To: | AZ |
| Grows Well In Zones: | 7-11 outdoors |
| You are in Growing Zone: | # |
Growing Zones: 7-11 outdoors
(hardy down to 10℉)
Product Description
Huge Harvests in a Small Space
Why Little Miss Figgy™ Trees?
If you want to harvest your own home-grown figs but don't have much space, the Little Miss Figgy™ is for you. Living up to its name, this tree is small in stature, perfect for tight spaces, but big in fig production.
When you order our larger sizes, you'll have fruit in the first year. And if you live in a colder climate, this tree works in containers…simply place your tree indoors, in front of a sunny window, and watch the growth take off. Before long, you'll be picking your own figs and biting into the smooth, strawberry-red flesh of this fig that's famous for its delicious flavor. This tree delivers pure sweetness, consistently and abundantly, with very little care.
Why Fast-Growing-Trees.com is Better
You won't find this variety at local supermarkets or your local big box store. So, the only way to experience the full flavor of this fruit is to grow it yourself.
And because we deliver the Little Miss Figgy™ Tree straight to your door, you'll have delectable flavor in no time. Not only do we offer this rare variety, but we also plant, grow and ship it with care. Now, you get a healthier root system, a head start on growth, and your own tasty harvests in one growing season or sooner.
Year after year, your tree will allow you to enjoy an abundance of fruit, producing fresh figs for salads, baking, drying, or simply for eating, fresh off of the branches.
Don't wait – experience this one-of-a-kind flavor for yourself. Your 'Little Miss Figgy™ is waiting to meet you!
Pollination Info
Little Miss Figgy™ Tree Pollination
Little Miss Figgy™ Trees are self-fertile. You will get fruit with only one plant. However, adding an additional Little Miss Figgy™ Tree will drastically increase the size of your crop.
Planting & Care
1. Planting: The Fig performs best in full sun (6 to 8 hours of sunlight per day) but can tolerate some shade, but prefer full sun. Container-grown Figs should be placed by a large sunny window indoors, or in a sunny area on your porch.
Select a container that's slightly larger than the root ball (2 sizes larger than the initial container the fig came in works best). Add a mixture of potting soil and organic planting mix to the container before you place your tree in it. Make sure your tree stands straight up in its container and give it a good drink of water until you see water coming out the bottom of the pot. If your pot doesn't contain drainage holes, you can quickly add some with a small drill. Allow the top 2 inches of the soil to dry before watering again.
2. Watering: Water your tree once or twice a week or feel your soil if you're not sure when to water. If it feels like it's drying out close to the surface, then it's time to water your tree.
3. Fertilizing: Generally, your Fig Tree won't need fertilizer. If you notice slow or stalled growth, use a slow-release, well-balanced organic fertilizer, like formula 10-10-10.
Shipping Details
Shipping Alert:
You can still order, but due to cold weather, we have delayed shipping to the areas shaded on the map below. We want your new plant to thrive right out of the box, so we will wait on shipping your order until the weather is ideal. This includes anyone in Growing Zones 3, 4, & 5. If you are unsure of your growing zone, visit our Growing Zone Finder.

Some plants are not available for immediate shipment, and delayed delivery is noted.

We will resume normal shipping in the Spring. Please see the table below for your approximate ship date.
| | | |
| --- | --- | --- |
| | Growing Zone | Shipping Resumes |
| | Zones 3 & 4 | Week of May 3rd |
| | Zone 5 | Week of April 10th |
| | Zones 6 - 11 | Ships Now! |
Estimated Shipping Time: Most orders ship immediately. As noted on the website, some items are seasonal, and may only ship in spring or fall. Once your order is shipped, you'll receive an email with a tracking number.
| Amount of Order | Shipping Charge |
| --- | --- |
| Less than $15 | $11.95 |
| $15.00-$23.99 | $13.95 |
| $24.00-$39.99 | $16.95 |
| $40.00-$79.99 | $19.95 |
| $80.00-$98.99 | $24.95 |
| $99.00-$128.99 | $29.95 |
| $129.00-$148.99 | $39.95 |
| $149.00-$178.99 | $49.95 |
| $179.00-$198.99 | $59.95 |
| $199 + | FREE SHIPPING! |
Customer

Reviews

& Photos

Customer Reviews

Write a Review

Ask a Question

Filter Reviews:
tree
leaves
figs
plants
condition
shape
problem
purchase
size
deck
04/16/2021
Sally

United States
I recommend this product
Despite poor packing-plants look good
I ordered 2 trees & was Surprised to open 1 box containing both trees! Lying flat the soil had come out of the pots-dumped into plastics wrappings. Other nurseries wrap & box each tree separately. I debated 3/4 stars, but they look good now -1week & lots of TLC later. So hopefully they will continue to do well.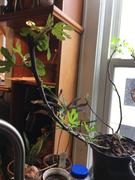 04/15/2021
Judy B.

United States
I recommend this product
BEAUTIFUL BABY!
Little Miss Figgy arrived in perfect condition and is already sprouting severl new leaves. looking forward to watching her grow on our sun porch.
04/14/2021
Berta F.

United States
I recommend this product
Fast grower
I purchased the 3 gallon Little Miss Figgy. Wow! I've only had it for a couple weeks and it has already grown out so many leaves and there are 5 figs that have also been multiplying by size!
04/14/2021
Anonymous

United States
I recommend this product
Miss figgy
Arrived upside down, gathered her soul and replanted her. She immediately sprouted a leaf, and then another. Now she has many lovely leaves
04/02/2021
Katy

United States
I recommend this product
Cute little tree
I ordered the 3 gallon size. I received it in completely dormant condition with no damage. I repotted it quickly and was getting nervous when weeks went by and no growth but finally I started seeing signs of waking up! I have a few tiny leaves and the branches are covered in buds. Really looking forward to seeing what this does, I think it's my favorite tree I've gotten from FGT, it's just very cute and endearing.