* Images shown are of mature plants
---
Product Details
| | |
| --- | --- |
| Mature Height: | 8-12 ft. |
| Mature Width: | 2-3 ft. |
| Sunlight: | Full Sun |
| Growth Rate: | Moderate |
| Harvest Time: | September |
| Year to Bear: | Can Fruit the 1st year! |
| Botanical Name: | Malus 'Green' |
| Does Not Ship To: | AZ, CA, ID, OR |
| Grows Well In Zones: | 4-8 outdoors |
| You are in Growing Zone: | # |
Growing Zones: 4-8 outdoors
(hardy down to -20℉)
Product Description
Great-Tasting Apples for the Smallest Spaces
Why Green Columnar Apple Trees?
With a convenient shape and size that fits almost anywhere, the Green Columnar Apple Tree is perfect for those who want home-grown apples but don't have space for an at-home orchard.
There's so much to love about the Green Columnar Apple - from its hardy growth to its heavy yield. Not only does it tolerate temperatures over 100 degrees and as low as -20 degrees, but it can also produce a ton of apples in its very first year.
These green apples have a sweet, tart taste, perfect for baking, juicing and snacking fresh off the tree. The best part? You can pick them from your very own patio or terrace.

You get the power and production of an at-home orchard, in the smallest spaces. Ascending vertically on apartment terraces, balconies and even indoors, this wonderfully compact tree produces full-sized apples with ease.
Why Fast-Growing-Trees.com is Better
There's a reason so many apple enthusiasts love this tree. And because we've grown, nurtured and shipped your Green Columnar Apple with care, yours is even better. This variety is hard to find at local garden centers...especially with a healthy root system.
When you order your Green Columnar Apple Tree from Fast Growing Trees, you won't have to worry about getting a dying tree on its last leg...you'll get a well-developed, robust root system that's ready to produce delectable apples for years to come. And your Green Columnar Apple is grafted, combining the best benefits of more than one Apple Tree in one compact package.
Sweet and delectable, the Green Columnar Apple's crisp texture and juicy flavor will satisfy the most discerning apple fan. Get your Green Columnar Apple Tree today!
Pollination Info
Green Columnar Apple Tree Pollination
Green Columnar Apple Trees are not self-fertile. You will need to plant another variety to achieve fruiting. Below are the most effective pollinators we have chosen for your area...
Planting & Care
1. Planting: Select an area with full sun (6 to 8 hours) and well-drained soil.
Then, select a pot that's about twice the width of your plant's shipped container. Select a well-draining, quality potting soil mix to fill the pot. Add soil to the bottom of the pot, place your tree, and fill the pot until there is about a 2-inch space from the rim to the top of the soil.
2. Watering: Water slowly when you irrigate the tree to ensure even moisturizing of the soil. When the tree is in a dormant state, only provide enough water to keep the soil slightly moistened. As soon as you see newer growth coming out of the tree, you can water whenever the top 2 inches of the soil feels dry.
3. Pruning: Once you have your tree potted and comfortable, prune the branches back at a 45-degree angle with a pair of clean shears.
Shipping Details
Estimated Shipping Time: Most orders ship immediately. As noted on the website, some items are seasonal, and may only ship in spring or fall. Once your order is shipped, you'll receive an email with a tracking number.
| Amount of Order | Shipping Charge |
| --- | --- |
| Less than $15 | $11.95 |
| $15.00-$23.99 | $13.95 |
| $24.00-$39.99 | $16.95 |
| $40.00-$79.99 | $19.95 |
| $80.00-$98.99 | $24.95 |
| $99.00-$128.99 | $29.95 |
| $129.00-$148.99 | $39.95 |
| $149 + | FREE SHIPPING! |
Customer

Reviews

& Photos

Customer Reviews

Write a Review

Ask a Question

Filter Reviews:
tree
season changes
hedge barrier
Scarlet Red
Northpole
Blushing Lady
columnar
property line
line
Four
02/19/2021
Shaina W.

United States
I recommend this product
Not what I expected
Only gave it a four star because this wasn't the tree I ordered, but it arrive strong and healthy. I'm hoping it pollinates with the other apple tree I have. I got mixed responses when I asked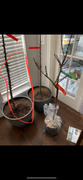 02/19/2021
Fast-Growing-Trees.com
We're so sorry for the confusion and that you received the incorrect tree! As long as you have 2 different varieties then they will work to pollinate each other. Please do not hesitate to reach out with any further questions or concerns!
04/17/2020
TNWhiskey

United States
09/26/2019
Anonymous

United States
I recommend this product
Green Columnar Apple
Tree came as expected….about 2-3' tall and healthy. Planted it a few weeks ago (early Sept) once it arrived and it seems to be doing okay. Hopefully all is well next spring / summer.
07/16/2019
Sean C.

United States
Awesome, unique fruit trees.
Ordered 3 of these (left side of row in photo), and all arrived healthy in great shape. I planted along side a Northpole columnar, Blushing Lady columnar, and Scarlet Red columnar, 2 feet apart to create a natural hedge barrier on my property line once they mature. Hoping to add the golden columnar variety to the line next!