* Images shown are of mature plants
My FGT Yard Planner
You'll need to log in or create an account in order to save this item
---
Unique Leaves for Bright Yellow Fall Foliage
Why Ginkgo Trees?
Colorful, unique foliage, as well as pest and drought resistance, set the Ginkgo Tree apart. An unusual ornamental tree famous for its interesting shape and vibrant foliage, the Ginkgo stands out with its tall, rounded form and delicately-crafted leaves.

In fact, this is one of the first trees to change colors in the autumn months. While other trees are still green, the Ginkgo transitions to a fluorescent yellow. And it thrives all over the United States. It's especially perfect for urban areas since it won't be bothered by smog and other pollution.
The best part about growth at our nursery is that it means a head start for you and long-lived, healthy results in your own landscape. Adaptable to many different types of soil, our Ginkgo is also resistant to pests and will be drought resistant in maturity.
So, reap the rewards of our hard work at the nursery. Get your own Ginkgo Tree today!
Planting & Care
1. Planting: Select a spot that takes the mature height and width of your Ginkgo Tree into consideration. And give it an area surrounded by well-draining, preferably sandy soil, as well as ample sunlight.
When you're ready to plant, dig a hole twice as wide and a little deeper than the root ball. Soak the Ginkgo Tree in a bucket of water before planting. Once the roots are hydrated, place the tree in the hole. The surface of the root ball should be about 1 inch below ground level. Replace the soil you removed from the bottom of the hole, filling in around the root ball, then water the planting site.
2. Watering: Water your Ginkgo Tree regularly each week and more often as necessary during hot, dry periods.
3. Fertilizing: There is no need to add fertilizer as Ginkgo Trees will thrive with the nutrients available in the soil. If you do, you can fertilize with a general purpose fertilizer before new growth begins in the spring.
4. Pruning: Pruning early to develop one central leader is highly recommended to ensure healthy, strong development.
FAQs
Is the ginkgo tree poisonous?
All parts of the ginkgo contain toxins, but it's consumed in some cultures as teas and other dishes with careful preparation. We don't advise consuming any part of the ginkgo tree.
Where do ginkgo trees grow best?
Ginkgos thrive in areas with slightly acidic, well-draining soils and sun. They are thought to originate from China but will grow well along the East Coast in the U.S.
Shipping Details
Estimated Shipping Time: Most orders ship immediately. As noted on the website, some items are seasonal, and may only ship in spring or fall. Once your order is shipped, you'll receive an email with a tracking number.
| Amount of Order | Shipping Charge |
| --- | --- |
| Less than $129 | $19.95 |
| $129 + | FREE SHIPPING! |
| | |
| --- | --- |
| Mature Height: | 40-70 ft. |
| Mature Width: | 30-40 ft. |
| Sunlight: | Full-Partial |
| Growth Rate: | Moderate |
| Botanical Name: | Ginkgo biloba |
| Does Not Ship To: | AZ,OR |
| Grows Well In Zones: | 3-9 outdoors |
| Your Growing Zone: | # |
Growing Zones: 3-9 outdoors
(hardy down to -30℉)
Customer

Reviews

& Photos

Customer Reviews

100

reviewers would recommend this product

Write a Review

Ask a Question

Filter Reviews:
tree
leaves
condition
growth
shape
experience
height
ginkgo
care
delivery
03/11/2023
Anonymous

United States
I recommend this product
Healthy and growing!
The tree arrived safely, slightly faster than expected. I had to wait a few days for the utilities to be marked so I could dig the hole, so it got stored safely until planting. It's now been in the ground a week and a half and has leafed out wonderfully! I dropped a star just because of the extra work this specimen will require. The natural leader is cut, but wasn't cut back to the next node. So what would've been the natural straight trunk is no longer a growth path for the tree. Additionally, there are two competing secondary leaders coming out at the next growth node down, so I'll have to lop off one of those to create a primary leader. I'm waiting until this fall/winter since trimming it now would limit the number of leaves available to generate nutrients and good root growth this year. Hopefully this year's growth being split between those two competing secondary leaders won't slow down this tree's eventual climb to greatness!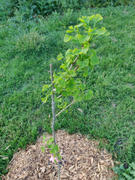 02/15/2023
Monique

United States
I recommend this product
Love this guy!!!
I just took this picture this morning, it marks the second bloom we've gotten out of our gingko tree. Approx this time last year we planted him and got blooms immediately. I was worried by the hard winter we got but as spring is around the corner so are the little buds and leaves on my baby! So excited to watch it continue to grow!!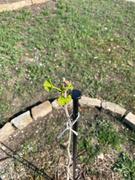 11/29/2022
Doc C.

United States
I recommend this product
We'll See...
The tree arrived in a timely manner. When we planted our Ginko tree the burlap sack broke apart. Right now it looks like a stick in the ground. Haha! So we'll see how it does in the spring. Very hopeful!
11/21/2022
Colleen R.

United States
I recommend this product
Great tree
When I received this tree, it seemed in rough shape. We planted it anyway. I sent a photo to the company and asked if they thought it would make it. They ended up sending me a new tree. So now we have two ginkgo biloba trees and I can't wait unti they grow!!
09/01/2022
Anonymous

United States
I recommend this product
Beautiful
I love the Ginkgo trees. one arrived broken which was promptly replaced. Great customer service. This variety says that it grows up to zone 9, we are zone 9a so fingers crossed. I'm not aware of any Ginkgo trees in this area, I am so hoping they will be successful. Fascinating trees.