Bushel and Berry® Peach Sorbet™ Blueberry Bush
Vaccinium corymbosum 'ZF06-043' PP23325
---
* Images shown are of mature plants
---
Product Details
| | |
| --- | --- |
| Mature Height: | 1-2 ft. |
| Mature Width: | 1-2 ft. |
| Sunlight: | Full Sun |
| Growth Rate: | Moderate |
| Harvest Time: | July |
| Year to Bear: | Can Fruit the 1st Year! |
| Botanical Name: | Vaccinium corymbosum 'ZF06-043' PP23325 |
| Does Not Ship To: | AZ, CA, OR, WA |
| Grows Well In Zones: | 5-10 outdoors |
| You are in Growing Zone: | # |
Growing Zones: 5-10 outdoors
(hardy down to -10℉)
Product Description
Sweet Blueberries from a Cold Hardy Plant
Large Harvest of Blueberries
Bushel and Berry® Peach Sorbet™ Blueberry Bush is one of the most acclaimed fruiting shrubs we carry. Unlike traditional blueberry bushes which grow tall, leggy, and need to be staked - these grow into a compact shrub. Perfect for container growing. The bigger the container, the bigger your harvest.
Sweetest Tasting Berries You Can Grow
Traditional blueberries can have some tart, bitter flavors if picked too soon...not the Peach Sorbet™! These berries taste like a combination of a homemade peach cobbler and traditional, sweet blueberries. This blueberry is a favorite with our nursery staff and will likely be your favorite as well. It produces delicious, large berries with a firm texture.
Cold Hardy
You're welcome to plant this bush in the ground. It won't get out of control and only reaches about 2 feet in height. They're cold hardy, so you won't need to worry about them in the winter all the way up to zone 5. If you decide to plant it in a container, you won't need to hassle with bringing it inside when the temperatures drop. Enjoy it on your patio all year through - from zones 5-10.
Year-Round Color and Interest
Not only is this plant unique for the flavorful berries that it produces, but it also has colorful foliage. Leaf colors range from a pinkish-yellow in the spring, to dark green in the summer, and then in the fall and winter the leaves turn a dark shade of purple. This berry will keep its leaves through winter so it does not look like other blueberry bushes that look like dead twigs.
Order Now
We have a limited selection of these special blueberry bushes, so place your order now. We'll ship it to you the next business day.
Pollination Info
Bushel and Berry® Peach Sorbet™ Blueberry Bush Pollination
Bushel and Berry® Peach Sorbet™ Blueberry Bushs are self-fertile. You will get fruit with only one plant. However, adding an additional Bushel and Berry® Peach Sorbet™ Blueberry Bush will drastically increase the size of your crop.
Planting & Care
1. Planting: Dig a hole with the shovel that is about twice the size of the root ball of the bush. Make sure the hole is the same depth as the container it comes in. When planting more than one blueberry bush, dig holes that are at least five feet apart in rows that are 10 feet apart. Amend the soil from the hole with peat moss. Make sure to thoroughly mix the peat moss with the soil from the hole. Place the Blueberry bush in the hole. Cover the roots with soil-peat moss mix.

2. Watering: Your blueberry bushes will need to be watered regularly to make certain that the root system becomes well established. The soil surrounding your tree should be moist, but never saturated. Light green leaves can be a sign of overwatering, while drooping leaves can be a sign of both over or under-watering.
3. Fertilizing: You do not need to fertilize the Blueberry bush at the time of planting. Fertilize the Blueberry bush twice a year, once in the spring and once after harvest.
4. Pruning: Blueberries require only minimal pruning. Lower limbs can be thinned out to keep the fruit from touching the soil, and excessively vigorous upright shoots can be thinned out several feet from the ground to keep the center of the bush open, and to keep the bearing surface within reach. Spindly, weak, or dead branches should be thinned out annually during the dormant season.
5. Pollination: This blueberry is self-fertile, but you'll see a greater yield with two or more varieties to pollinate each other.
Shipping Details
Shipping Alert:
You can still order, but due to cold weather, we have delayed shipping to the areas shaded on the map below. We want your new plant to thrive right out of the box, so we will wait on shipping your order until the weather is ideal. This includes anyone in Growing Zones 3, 4, 5, & 6. If you are unsure of your growing zone, visit our Growing Zone Finder.

Some plants are not available for immediate shipment, and delayed delivery is noted.

We will resume normal shipping in the Spring. Please see the table below for your approximate ship date.
| | | |
| --- | --- | --- |
| | Growing Zone | Shipping Resumes |
| | Zones 3 & 4 | Week of May 2nd |
| | Zone 5 | Week of April 11th |
| | Zone 6 | Week of March 28th |
| | Zones 6 - 11 | Ships Now! |
Estimated Shipping Time: Most orders ship immediately. As noted on the website, some items are seasonal, and may only ship in spring or fall. Once your order is shipped, you'll receive an email with a tracking number.
| Amount of Order | Shipping Charge |
| --- | --- |
| Less than $15 | $11.95 |
| $15.00-$23.99 | $13.95 |
| $24.00-$39.99 | $16.95 |
| $40.00-$78.99 | $19.95 |
| $79 + | FREE SHIPPING! |
Customer

Reviews

& Photos

Customer Reviews

Write a Review

Ask a Question

Filter Reviews:
berries
bushes
shape
blueberry bush
deck
season
daughter
blossoms
planting
service
Very healthy and vibrant blue berry bush
I ordered this blueberry bush about 3 months ago. The bush arrived healthy and recovered quickly from the shipping and transplant shock. The bush arrived already producing small berries which my kids loved and after about 6 weeks the bush started producing a significant amount of new growth. We're all very excited to see what this bush does next year as this is the last in our group of 3 which should all help each other produce more blueberries. Very good experience with everything from fast growing trees so far and I recommend them to my friends and family.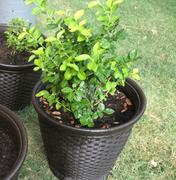 11/04/2021
Anonymous

United States
I recommend this product
Blueberry Bush
The plants came promptly and in good shape . They have been replanted and are doing great . I feel they are going to be alright and should produce berries next season .
07/28/2021
Anonymous

United States
I recommend this product
Great! Love it!!
Still pulling berries off this little plant. Love it! Acclimated just fine!
07/27/2021
David W.

United States
I recommend this product
Perfect!
It came fast, was in perfect shape and they are doing wonderfully!!
07/23/2021
Anonymous

United States
I recommend this product
Amazingly delicious!
The most delicious blueberries I've ever had! Considering buying more bushes! They are beautiful to boot!