Product Details
Growing Zones: 4-11 patio / 9-11 outdoors
(hardy down to 30℉)
4-11 patio
/
9-11 outdoors
Mature Height:

8-10 ft.

Mature Width:

6-8 ft.

Sunlight:

Full-Partial

Growth Rate:

Fast

Harvest Time:

January

Botanical Name:

Musa acuminata

Does Not Ship To:

AZ
Product Description
Grow Delicious Bananas Indoors or Out!
Why Dwarf Cavendish Banana Trees?
Superfruit, right from home. That's what you'll get with the Dwarf Cavendish Banana Tree. Bananas are ultra-healthful, packed with fiber, potassium calcium and iron, plus the good looks for a tropical-inspired tree.
Even better? Dwarf Cavendish Bananas easily thrive in growing zones 4 through 11. Warmer climates enable vigorous growth when this tree planted in the ground, but because our Cavendish is uniquely dwarf-sized, it also thrives when it's container planted. Plus, it only matures to 8 to 10 feet in height, so you'll be able to transport it from the patio to your kitchen or sunroom with ease.
The Dwarf Cavendish means you'll have a tropical air in any space. The leaves of the Cavendish grow up to 4 feet long, are extremely lush, and provide shade and privacy. Young leaves may tinge with red while the majority of the leaves are a fresh green color for extra visual interest, complemented by sizable flowers that drop prior to the development of your delectable bananas.
Why Fast-Growing-Trees.com is Better
Best of all, your Dwarf Cavendish will be delivered with care. We use special attention when packing and shipping your prized tree, and during the growing season, you'll see fresh new leaves appear every few days. Plus, because we've planted and grown each Dwarf Cavendish for success, you get a proven performer in your homescape. You get healthful roots and developed branching because we've put in the hard work at our nursery, months ahead of time.
Our Dwarf Cavendish is a best-seller with bushels of delicious treats you'll harvest right from home - order your very own today!
Pollination Info
Dwarf Cavendish Banana Tree Pollination
Dwarf Cavendish Banana Trees are self-fertile. You will get fruit with only one plant. However, adding an additional Dwarf Cavendish Banana Tree will drastically increase the size of your crop.
Customer

Reviews

& Photos
Customer Reviews
Filter Reviews:
tree
leaves
condition
plant
roots
trees
size
bananas
banana tree
11/09/2019
Tom A.
United States
Excellent Experience!
I have waited to review my trees for about six months so that I can be sure it is an accurate assessment. My banana tree was purchased for a greenhouse in Southwest Colorado. I put it in a pot and it is now growing strong and about 4 feet tall. Lots of beautiful leaves. It was a big success. No bananas yet but I planted it in the spring and hope next year I will see some fruit. Love it!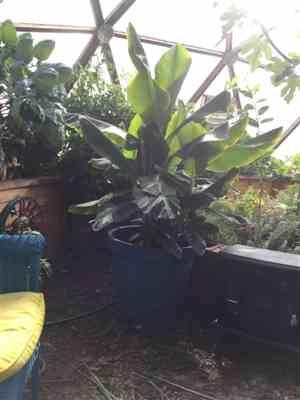 10/29/2019
marilyn r.
United States
Banana tree
It real good it growing very good. Naples fla
10/29/2019
Rita F.
United States
I love plants.
Healthy and big plant. Will enjoy it seeing growing.
10/28/2019
Anonymous
United States
10/15/2019
Mike H.
United States
Banana .tree
Great.service.and.fast Deliver
Planting & Care
1. Planting: Place your Cavendish Banana in a sunny location with Southern or Western exposure so that it can receive as much afternoon sunlight as possible. If growing indoors, place next to a large, bright window with the same exposure, turning the plant when necessary to avoid plant growth that tilts toward the light source. Outdoor planting should be done in the summer months to avoid the possibility of frost damage.
Once you're ready to plant, dig the hole large enough to accommodate your Cavendish's root system, place your plant, gently backfill the soil and tamp down to avoid air pockets.
If you're planting in a container, select a pot that's twice the size of your shipped container, and make sure it has drainage holes. Use organic soil mix and place your tree in the pot, then move in front of a sunny window.
2. Watering: Water two or three times weekly, or more often in dry conditions. If you're not sure when to water, simply check the surrounding soil about 2 or 3 inches down...if the soil is dry, it's time to water.
3. Fertilizing: To fertilize organically, use compost, well-composted manure or other organic fertilizers. Spent banana leaves and cuttings can be used as mulch to help return potassium to the soil.
4. Pruning: When bananas begin to sprout, cut off the main flower - this will encourage larger banana growth.
Shipping Details
Most items ship the next business day unless otherwise noted
Estimated Shipping Time: Most orders ship immediately, however some orders may ship in 1-2 business days (we do not ship on the weekends) from date of purchase. As noted on the website, some items are seasonal, and may only ship in spring or fall. Once your order is shipped, you'll receive an email with a tracking number.
| Amount of Order | Shipping Charge |
| --- | --- |
| Less than $15 | $11.95 |
| $15.00-$23.99 | $13.95 |
| $24.00-$39.99 | $16.95 |
| $40.00-$79.99 | $19.95 |
| $80.00-$98.99 | $24.95 |
| $99+ | FREE SHIPPING with code SHIP99 |