Product Details
Growing Zones: 5-8 outdoors
(hardy down to -10℉)
5-8 outdoors
Mature Height:
60-80 ft.
Mature Width:
40-50 ft.
Sunlight:
Full Sun
Growth Rate:
Moderate
Botanical Name:
Zelkova serrata
Does Not Ship To:
AZ
Product Description
A Hardy Alternative to the American Elm
Why 'Green Vase' Zelkova Trees?
The Green Vase Zelkova has everything you could ever want in a shade tree, from its ornamental interest in every season and pest and disease resistance to hardy, tolerant growth.
Covered in oblong, dark green leaves in the spring and summer, the vase-shaped tree brings spectacular color and visual interest for months at a time. The Zelcova's autumn show will impress with a variety of colors from rusted orange, to bronze, and even pale yellow.
This Japanese native's branches grow in a striking scaffolding pattern, and the peeling gray bark reveals a deep orange color beneath…making the dormant season ornamental, too. Even better is the fact that it's drought-tolerant with no serious disease or pest issues, able to grow in climates with hot, dry summers, and tolerant of pollution and urban conditions.
Why Fast-Growing-Trees.com is Better
This hardier alternative to the American Elm offers more ornamental value and disease resistance, along with the guarantee of easy, thriving growth. That's because we've planted, grown and nurtured our Green Vase Trees for amazing results. Now, you reap the rewards of our hard work at the nursery with a thriving tree that's hassle-free.
Order yours today and create a solitary showpiece, or order several and plant a jaw-dropping line of shade trees for your driveway or large landscape!
Customer

Reviews

& Photos

Customer Reviews

Write a Review

Ask a Question

Filter Reviews:
tree
leaves
condition
instructions
everything
ones
size
family
vendor
mulch
08/19/2020
Anonymous
United States
I recommend this product
Green Vase Zelkova Tree
It shipped promptly and arrived beautifully. It is a very healthy tree.
05/12/2020
Anonymous
United States
I recommend this product
Zelkova Tree
The tree arrived in good condition and we planted it immediately. So far it seems to be doing well.
09/13/2019
Scott D.
United States
I recommend this product
Most beautiful tree ever
I love this tree. It was packaged so well. I planted it a couple days after it arrived. It looked like it was dead to be honest with the curled up brown leaves on top but I planted it as the instructions said and in a weeks time those leaves fell off and beautiful yellow green ones took its place. I put mulch around it after the second week and its taking off. It seems like theres new grow every other day. I'd highly recommend this tree. My family and I can't stop staring at it. It was about 7ft when we got it and it must be almost another foot now. Amazing and beautiful, can't wait till it's fully grown!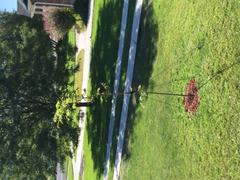 09/10/2019
Melody W.
United States
I recommend this product
Green Vase Zelkova
These trees arrived in excellent condition. Even though Hurricane Dorian flew thru they are still holding up well.
09/01/2019
Curby P.
United States
I recommend this product
Tree arrived fast and in excellent condition
Great seller I will be buying from them again and already recommended to friends!
Planting & Care
1. Planting: The Green Vase Zelkova is easy to plant in your yard. Because of its tolerance to most soil conditions, you can plant this tree anywhere you like as long as it's in full sun (6 to 8 hours of sunlight per day). Also, adding mulch to the base of your tree will help keep the moisture in and prevent weeds and grass competition. You don't need to add anything to your soil when planting - simply plant in a hole twice as wide and just as deep as the root ball.
2. Watering: This tree can tolerate wet or dry conditions. Be sure to water the tree weekly in its young life to ensure proper growth. After a couple of years, you only need to water the tree during very dry spells.
If you're not sure when to water, simply check the surrounding soil about 3 inches down. If the soil is dry here, it's time to water your tree.
3. Pruning: You don't need to prune the Green Vase Zelkova, but it can be helpful to remove dead bark and branches in the fall.
Shipping Details
Estimated Shipping Time: Most orders ship immediately, however we are currently experiencing delays and could take up to 11-14 days from date of purchase. As noted on the website, some items are seasonal, and may only ship in spring or fall. Once your order is shipped, you'll receive an email with a tracking number.
| Amount of Order | Shipping Charge |
| --- | --- |
| Less than $15 | $11.95 |
| $15.00-$23.99 | $13.95 |
| $24.00-$39.99 | $16.95 |
| $40.00-$79.99 | $19.95 |
| $80.00-$98.99 | $24.95 |
| $99.00-$124.99 | $29.95 |
| $125.00-$148.99 | $39.95 |
| $149 + | FREE SHIPPING! |