---
Product Details
| | |
| --- | --- |
| Mature Height: | 15-20 ft. |
| Mature Width: | 8-10 ft. |
| Sunlight: | Full Sun |
| Growth Rate: | Fast |
| Harvest Time: | April - May |
| Year to Bear: | Can Fruit the 1st year! |
| Botanical Name: | Prunus avium sp. |
| Does Not Ship To: | AZ, CA, ID, WA |
| Grows Well In Zones: | 5-8 outdoors |
| You are in Growing Zone: | # |
Growing Zones: 5-8 outdoors
(hardy down to -10℉)
Product Description
Grow 3 Cherry Varieties on One Tree
Why get 1 Cherry Tree when you can get 3-in-1?
Compact tree suitable for a multitude of planting locations
Grows 3 distinct cherry varieties all on one tree
Great producer yields heavy clusters of large fruit
Sweet, delicious early and late harvest cherries
How Sweet it is
Nothing embodies the fresh, sweet flavors of summer quite like a cherry. Now, the 3-in-1 Cherry tree offers enthusiasts the best of 3 varieties, all on one tree. The true genius of this incredible specimen is that the production of each variety is staggered throughout the season. So you'll get to look forward to a different cherry with every harvest. That way you can continuously enjoy the freshest, most plump, juicy cherries imaginable. Easy to care for and self-pollinating, just plant it and get ready to celebrate your very own cherry jubilee.
3-in-1 Cherry offers many sweet returns
Meticulously grafted to grow successfully and produce abundantly, the 3-in-1 offers not only a cold-hardy variety but 3 of the most flavorful cherries available. Deep red cherry varieties are complemented by a yellow blushed with red, combining to give you a cherry assortment that you'll look forward to each season.
Whether it's fresh, homemade cherry pies or cherry-topped sundaes on a warm summer night, the 3-in-1 will have you believe that life is a bowl of cherries.
While we can't guarantee the exact types of cherries that you will receive on this tree, you will receive three of the varieties listed:
Bing Cherry
Black Tartarian Cherry
Lapins Cherry
Meteor Cherry
Montmorency Cherry
Northstar Cherry
Rainier Cherry
Stella Cherry
Van Cherry
Pollination Info
3-in-1 Cherry Tree Pollination
3-in-1 Cherry Trees are self-fertile. You will get fruit with only one plant. However, adding an additional 3-in-1 Cherry Tree will drastically increase the size of your crop.
Planting & Care
The multi-grafted cherry is a unique tree that gives you several varieties of cherries with just one tree, this multiple graft cherry (Prunus avium sp.) is a pleasure to watch bloom and fruit. Growing in USDA zones 5-8, they can tolerate cold down to -10 degrees and do not require a lot of chill hours, so they can also grow in the south and still produce fruit. This semi-dwarf fruit tree does not take up a lot of space in your landscape while still providing you with multiple varieties of cherries. Only reaching 15-20 feet tall and 10 feet wide, it's a great way to have several varieties of cherry without having to have an orchard to do so. The multi-grafted cherry does not require a pollinator as the different grafts naturally cross-pollinate with one another!
Location: Choose a sunny spot that will give your cherry tree a minimum of 6 hours of direct sunlight per day. Although it will thrive in almost any kind of soil, avoid locations where the soil will remain soggy for prolonged lengths of time.
Planting Instructions:
1) Dig a hole that is as deep as the root ball and three times as wide.
2) Place the roots in the hole and fill the hole about half-way with soil, tamp to remove air pockets then fill the hole completely.
3) Water to secure the tree and remove any additional air pockets in the soil.
4) Add more soil if necessary after settling.
5) Spread a layer of mulch over the soil around your cherry tree to help keep the soil moist, encourage healthy growth and protect your tree against competing growth.
Watering: During the growing season, if your tree receives at least an inch of rain every 10 days then no additional irrigation is necessary. If the season is hot and dry then you may need to provide some additional water. The best way to water is by using a slow trickling garden hose left at the base of the tree. This will allow the water to penetrate the soil more deeply and prevent it from running off over the soil surface. Make sure the ground is fully moisturized all around the root system. Mulching will greatly assist in maintaining soil moisture.
Pruning: A year after planting your cherry tree, prune your tree in the late to end of winter while dormant. Shape the tree to encourage horizontal branch growth with space between branches. Prune once a year as necessary to remove weak, drooping branches. These are usually poor fruit-bearing branches and removing them will encourage positive air flow and healthy growth. Also, make sure light can penetrate the center of the canopy.
Fertilization: Good, nutrient-rich soil should only require the addition of nitrogen. Fertilize in the spring and midsummer using nitrogen fertilizer twice annually applying 2 weeks after planting and 4 weeks after the first application. Use a complete fertilizer such as 10-10-10 and apply at the rate of 0.05 pounds of actual nitrogen per dose. Fertilizer application ratios vary upon the formulation so be sure to follow package directions. When applying, be sure fertilizer is 6 to 8 inches away from the trunk around the tree to prevent the roots from burning. Organic fertilizers such as manure or blood meal are highly discouraged as their nitrogen levels cannot be measured. Keep in mind that cherry trees require high levels of nitrogen early in the season and lower levels during the late summer.
Pests: Cherry trees can be susceptible to brown rot. The best prevention for this problem is proper pruning to provide good air circulation. Be sure there is ample room between branches. Remove any infected blossoms, fruit or leaves and inspect your tree continuously to catch any early signs of the disease. To spot brown rot, look for brown, soggy flowers or mummified looking fruit on your tree. For control once the disease is recognized, use a sulfur spray 4 times: when flower buds are pink, when flowers are open, right after petal fall, and 2 weeks after petal fall.
Shipping Details
Estimated Shipping Time: Most orders ship immediately. As noted on the website, some items are seasonal, and may only ship in spring or fall. Once your order is shipped, you'll receive an email with a tracking number.
| Amount of Order | Shipping Charge |
| --- | --- |
| Less than $15 | $11.95 |
| $15.00-$23.99 | $13.95 |
| $24.00-$39.99 | $16.95 |
| $40.00-$79.99 | $19.95 |
| $80.00-$98.99 | $24.95 |
| $99.00-$128.99 | $29.95 |
| $129 + | FREE SHIPPING! |
Customer

Reviews

& Photos

Customer Reviews

Write a Review

Ask a Question

Filter Reviews:
tree
cherries
bing cherry branch
tartian
sweets
types
taste
size tree
lapin
leafs
04/30/2021
Anonymous

United States
I recommend this product
Three in one cherry tree
Love my three in one cherry tree! Tree was very strong and healthy when delivered and planted!
04/29/2021
Anonymous

United States
I recommend this product
3 in 1 cherry tree
We love our new tree and are very happy with the 3 types of cherries that we have on our tree. The tree has been planted for a week and every branch is bouncing back well. The leaves on the bing cherry branch are still a bit crispy, but we are hopeful. Thank you!
04/21/2021
Amanda O.

United States
I recommend this product
Sweet cherries galore
This tree came in bigger than six feet with lapin van and black tartian all sweets which for me make me happy as I love sweet cherries. Nice size tree. Lapin does not have leafs yet but van and black tartian do. It is still April so not too surprised hoping I get one that fruits the first year honestly for the size of the tree and appearance the price was actually a decent deal.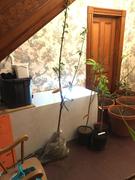 03/20/2020
Anonymous

United States
I recommend this product
Looking good...
First time buying online. A little expensive for my taste but hopefully worth it. Tree looking very good and happy so I'm happy.
Mixed up and severely dehydrated
Well the first problem is that I received the wrong tree. I ordered this particular tree because it offered me our favorite eating cherry Bing with my must have baking cherry Montmorency. The one I received had Lambert in place of the baking cherry. However when I notified them about the problem they quickly offered and sent a Montmorency tree. I give it a 3 star rating because the tree didn't look good at all very dehydrated. We planted it that same evening trying to help it through the shock sooner. It's been a few weeks and I think it's finally coming out of it. The leaves that clung on and weren't too dry and damaged are lifting now so I think it will make it. Oddly enough when the replacement tree came it looked wonderfully healthy and has never dropped a single leaf.